Genetic Diversity and Population Structure of Busseola segeta Bowden (Lepidoptera; Noctuidae): A Case Study of Host Use Diversification in Guineo-Congolian Rainforest Relic Area, Kenya
1
School of Biological Science, College of Physical and Biological Sciences (Chiromo Campus), University of Nairobi, Nairobi 30197, Kenya
2
Unité de Recherche IRD 072, International Centre of Insect Physiology and Ecology (ICIPE), Nairobi 30772, Kenya
3
Unité de Recherche IRD 072, International Centre of Insect Physiology and Ecology (ICIPE), Université Paris-Sud 11, Orsay cedex 91405, France
4
Unité de Recherche IRD 072, CNRS, Laboratoire Evolution, Génomes et spéciation, UPR 9034, 91198 Gif-sur-Yvette cedex, France et Université Paris-Sud 11, Orsay cedex 91405, France
*
Author to whom correspondence should be addressed.
Received: 27 July 2012 / Revised: 22 August 2012 / Accepted: 30 August 2012 / Published: 6 November 2012
Abstract
Habitat modification and fragmentation are considered as some of the factors that drive organism distribution and host use diversification. Indigenous African stem borer pests are thought to have diversified their host ranges to include maize [
Zea mays
L.] and sorghum [
Sorghum bicolor
(L.) Moench] in response to their increased availability through extensive cultivation. However, management efforts have been geared towards reducing pest populations in the cultivated fields with few attempts to understand possible evolution of "new" pest species. Recovery and growing persistence of
Busseola segeta
Bowden on maize (
Zea mays
L.) in Kakamega called for studies on the role of wild host plants on the invasion of crops by wild borer species. A two-year survey was carried out in a small agricultural landscape along the edge of Kakamega forest (Kenya) to assess host range and population genetic
structure of
B
.
segeta.
The larvae of
B
.
segeta
were found on nine different plant species with the majority occurring on maize and sorghum. Of forty cytochrome
b
haplotypes identified, twenty-three occurred in both wild and cultivated habitats. The moths appear to fly long distances across the habitats with genetic analyses revealing weak differentiation between hosts in different habitats (
F
ST
= 0.016;
p
= 0.015). However, there was strong evidence of variation in genetic composition between growing seasons in the wild habitat (
F
ST
= 0.060;
p
< 0.001) with emergence or disappearance of haplotypes between habitats.
Busseola
segeta
is an example of a phytophagous insect that utilizes plants with a human induced distribution range, maize, but does not show evidence of host race formation or reduction of gene flow among populations using different hosts. However,
B
.
segeta
is capable of becoming an important pest in the area and the current low densities may be attributed to the general low infestation levels and presence of a wide range of alternative hosts in the area.
View Full-Text
►

▼

Figures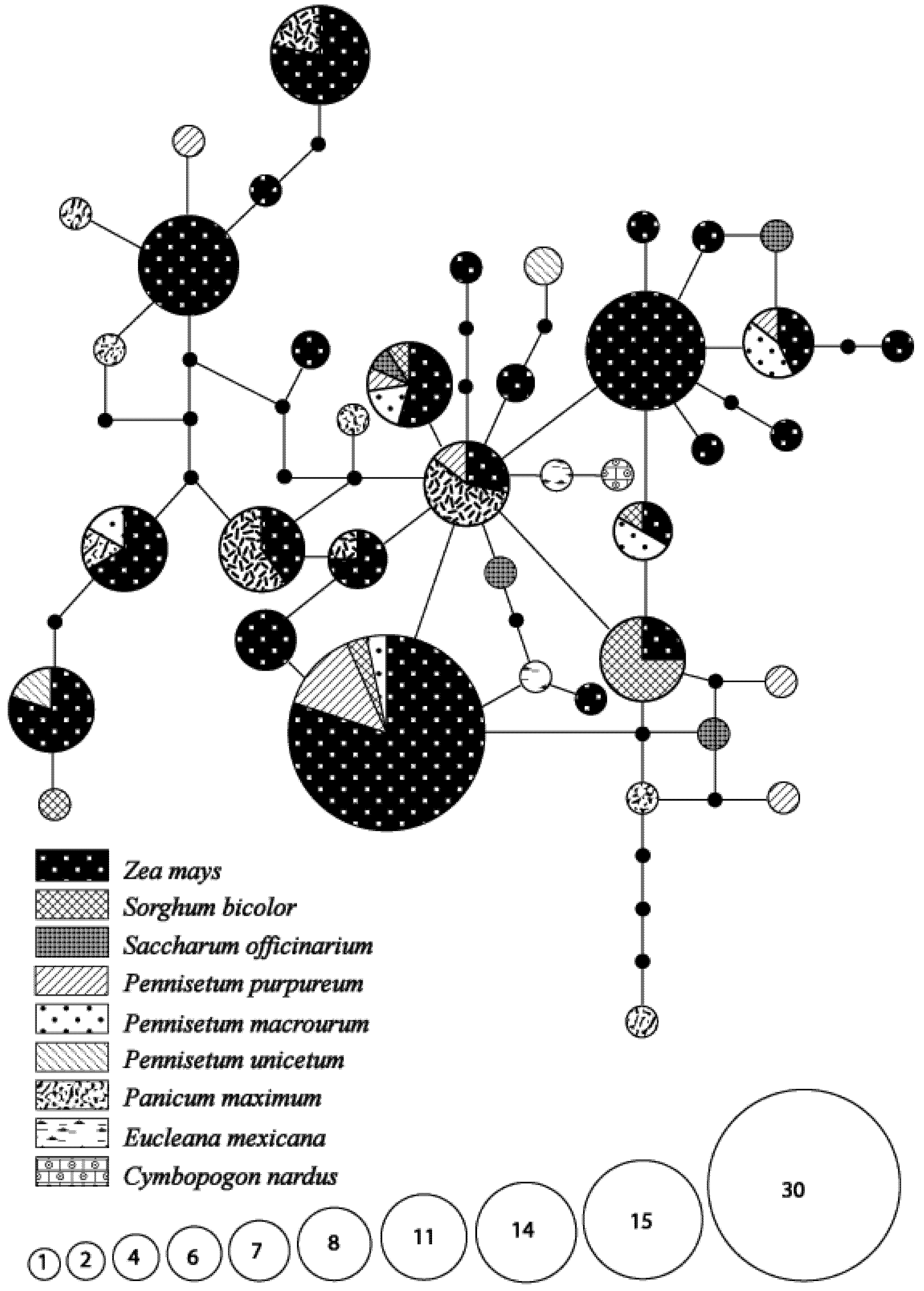 Figure 1
Share & Cite This Article
MDPI and ACS Style
Ong'amo, G.O.; Ru, B.P.L.; Campagne, P.; Branca, A.; Calatayud, P.-A.; Capdevielle-Dulac, C.; Silvain, J.-F. Genetic Diversity and Population Structure of Busseola segeta Bowden (Lepidoptera; Noctuidae): A Case Study of Host Use Diversification in Guineo-Congolian Rainforest Relic Area, Kenya. Insects 2012, 3, 1156-1170.
Related Articles
Comments
[Return to top]