Gut Transcription in Helicoverpa zea is Dynamically Altered in Response to Baculovirus Infection
1
Department of Biological Sciences, Western Illinois University, Waggoner Hall 358, Macomb, IL 61455, USA
2
USDA Agricultural Research Service, Arthropod-Borne Animal Diseases Research Unit, 1515 College Avenue, Manhattan, KS 66502, USA
3
USDA Agricultural Research Service, Biological Control of Insects Research Laboratory, 1503 S. Providence, Columbia, MO 65203, USA
4
Department of Entomology, Max Planck Institute for Chemical Ecology, Beutenberg Campus, Jena 07745, Germany
*
Author to whom correspondence should be addressed.
Received: 15 July 2013 / Revised: 4 September 2013 / Accepted: 16 September 2013 / Published: 23 September 2013
Abstract
The
Helicoverpa zea
transcriptome was analyzed 24 h after
H. zea
larvae fed on artificial diet laced with
Helicoverpa zea
single nucleopolyhedrovirus (HzSNPV). Significant differential regulation of 1,139 putative genes (
p
< 0.05 T-test with Benjamini and Hochberg False Discovery Rate) was detected in the gut epithelial tissue; where 63% of these genes were down-regulated and 37% of genes were up-regulated compared to the mock-infected control. Genes that play important roles in digestive physiology were noted as being generally down-regulated. Among these were aminopeptidases, trypsin-like serine proteases, lipases, esterases and serine proteases. Genes related to the immune response reacted in a complex nature having peptidoglycan binding and viral antigen recognition proteins and antiviral pathway systems down-regulated, whereas antimicrobial peptides and prophenoloxidase were up-regulated. In general, detoxification genes, specifically cytochrome P450 and glutathione S-transferase were down-regulated as a result of infection. This report offers the first comparative transcriptomic study of
H. zea
compared to HzSNPV infected
H. zea
and provides further groundwork that will lead to a larger understanding of transcriptional perturbations associated with viral infection and the host response to the viral insult in what is likely the most heavily infected tissue in the insect.
View Full-Text
►

▼

Figures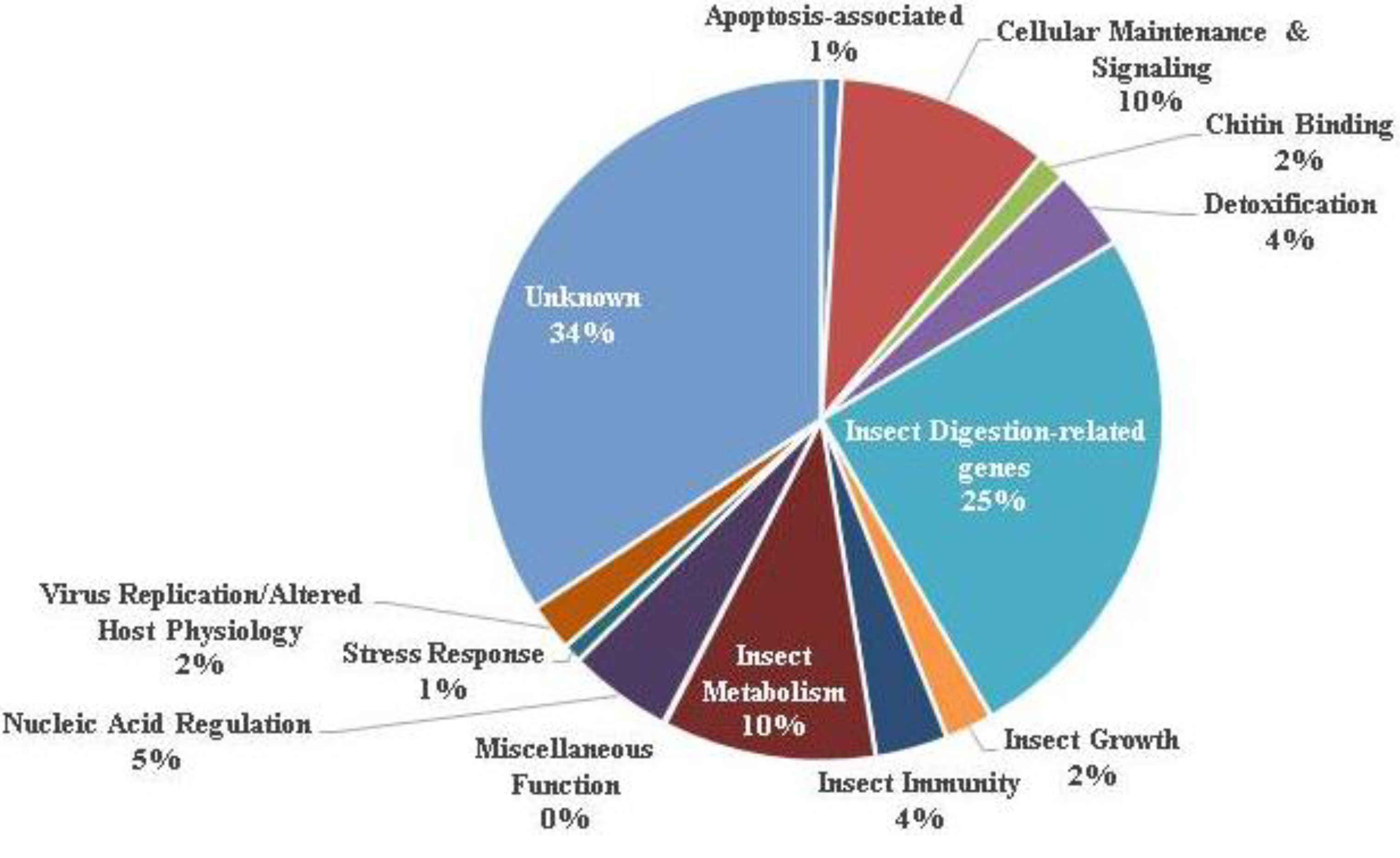 Figure 1
Share & Cite This Article
MDPI and ACS Style
Noland, J.E.; Breitenbach, J.E.; Popham, H.J.R.; Hum-Musser, S.M.; Vogel, H.; Musser, R.O. Gut Transcription in Helicoverpa zea is Dynamically Altered in Response to Baculovirus Infection. Insects 2013, 4, 506-520.
Related Articles
Comments
[Return to top]