Defensin Production by Human Limbo-Corneal Fibroblasts Infected with Mycobacteria
1
Department of Immunology, Escuela Nacional de Ciencias Biológicas, Instituto Politécnico Nacional, Prolongación de Carpio y Plan de Ayala S/N, 11340 México, D.F., Mexico
2
Research Unit, Instituto de Oftalmología Conde de Valenciana, Chimalpopoca 14 Colonia Obrera, 06800 México DF, Mexico
3
Biomedical Research Center, Hospital Nuestra Señora de la Luz, IAP. Ezequiel Montes 135, 06030 México DF, Mexico
*
Author to whom correspondence should be addressed.
Received: 9 December 2012 / Revised: 24 December 2012 / Accepted: 24 January 2013 / Published: 4 February 2013
Abstract
Epithelial cells of the cornea and the conjunctiva constitutively produce antimicrobial peptides; however, the production of defensins by other cell types located around the eye has not been investigated. We analyzed the production of beta-defensins (hBD) and cathelicidin LL-37 during the infection of primary limbo-corneal fibroblasts with
M. tuberculosis
(MTB),
M. abscessus
(MAB), and
M. smegmatis
(MSM). The intracellular survival of each mycobacterium, the production of cytokines and the changes on the distribution of the actin filaments during the infection were also analyzed. Fibroblasts produce basal levels of hBD1 and LL-37 and under PMA stimulation they produce hBD2, hBD3 and overexpress hBD1 and LL-37. MAB induced the highest levels of hBD1 and LL-37 and intermediate levels of IL-6; however, MAB was not eliminated. In addition, MAB induced the greatest change to the distribution of the actin filaments. MTB also produced changes in the structure of the cytoskeleton and induced low levels of hBD1 and IL-6, and intermediate levels of LL-37. The balance of these molecules induced by MTB appeared to contribute to the non-replicative state observed in the limbo-corneal cells. MSM induced the lowest levels of hBD1 and LL-37 but the highest levels of IL-6; MSM was eliminated. The results suggest that mycobacterial infections regulate the production of antimicrobial peptides and cytokines, which in conjunction can contribute to the control of the bacilli.
View Full-Text
►

▼

Figures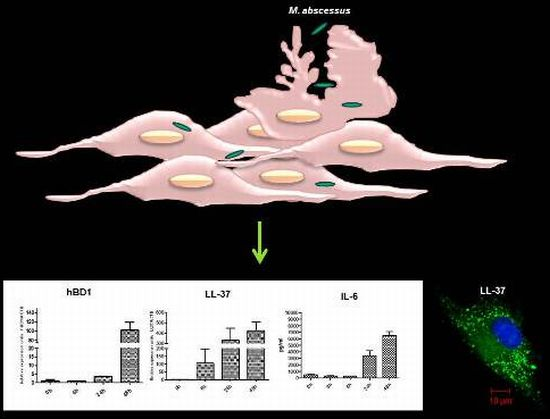 Share & Cite This Article
MDPI and ACS Style
Castañeda-Sánchez, J.I.; García-Pérez, B.E.; Muñoz-Duarte, A.R.; Baltierra-Uribe, S.L.; Mejia-López, H.; López-López, C.; Bautista-De Lucio, V.M.; Robles-Contreras, A.; Luna-Herrera, J. Defensin Production by Human Limbo-Corneal Fibroblasts Infected with Mycobacteria. Pathogens 2013, 2, 13-32.
Related Articles
Comments
[Return to top]