The Protective Effect of Glibenclamide in a Model of Hemorrhagic Encephalopathy of Prematurity
1
Department of Neurosurgery, University of Maryland School of Medicine, Baltimore, MD 21201, USA
2
Department of Pathology, University of Maryland School of Medicine, Baltimore, MD 21201, USA
3
Department of Physiology, University of Maryland School of Medicine, Baltimore, MD 21201, USA
*
Author to whom correspondence should be addressed.
Received: 6 January 2013 / Revised: 21 February 2013 / Accepted: 22 February 2013 / Published: 7 March 2013
Abstract
We studied a model of hemorrhagic encephalopathy of prematurity (EP) that closely recapitulates findings in humans with hemorrhagic EP. This model involves tandem insults of 20 min intrauterine ischemia (IUI) plus an episode of elevated venous pressure induced by intraperitoneal glycerol on post-natal day (P) 0. We examined Sur1 expression, which is upregulated after focal ischemia but has not been studied after brief global ischemia including IUI. We found that 20 min IUI resulted in robust upregulation of Sur1 in periventricular microvessels and tissues. We studied tandem insult pups from untreated or vehicle-treated dams (TI-CTR), and tandem insult pups from dams administered a low-dose, non-hypoglycemogenic infusion of the Sur1 blocker, glibenclamide, for 1 week after IUI (TI-GLIB). Compared to pups from the TI-CTR group, pups from the TI-GLIB group had significantly fewer and less severe hemorrhages on P1, performed significantly better on the beam walk and accelerating Rotarod on P35 and in tests of thigmotaxis and rapid learning on P35–49, and had significantly greater body and brain weights at P52. We conclude that low-dose glibenclamide administered to the mother at the end of pregnancy protects pups subjected to IUI from post-natal events of elevated venous pressure and its consequences.
View Full-Text
►

▼

Figures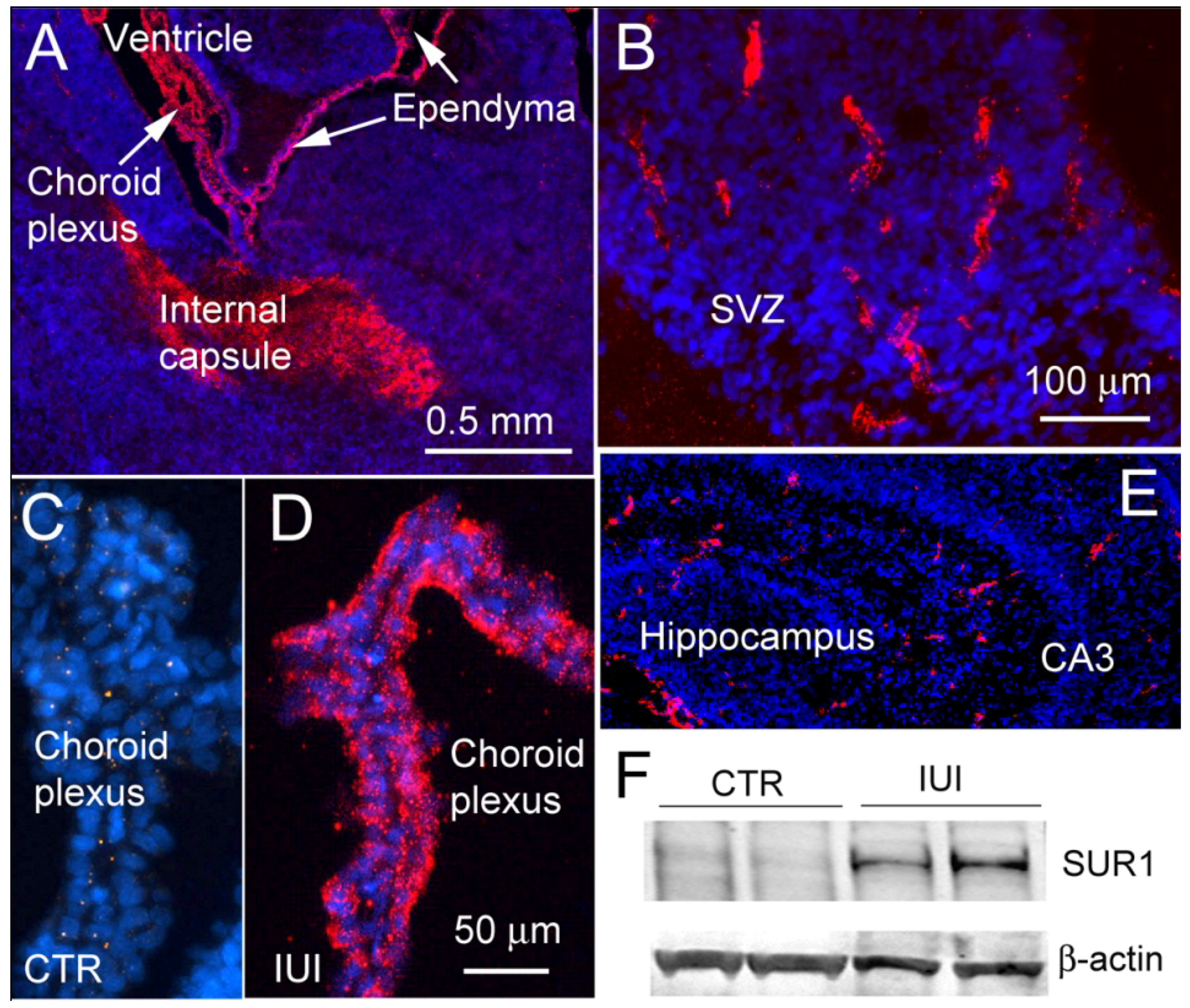 Figure 1
Share & Cite This Article
MDPI and ACS Style
Tosun, C.; Koltz, M.T.; Kurland, D.B.; Ijaz, H.; Gurakar, M.; Schwartzbauer, G.; Coksaygan, T.; Ivanova, S.; Gerzanich, V.; Simard, J.M. The Protective Effect of Glibenclamide in a Model of Hemorrhagic Encephalopathy of Prematurity. Brain Sci. 2013, 3, 215-238.
Related Articles
Comments
[Return to top]