Involvement of Sphingolipids in Ethanol Neurotoxicity in the Developing Brain
1
Division of Neurochemistry, Nathan S. Kline Institute for Psychiatric Research, 140 Old Orangeburg Rd., Orangeburg, NY 10962, USA
2
Department of Psychiatry, New York University Langone Medical Center, 550 First Ave., New York, NY 10016, USA
3
Division of Analytical Psychopharmacology, Nathan S. Kline Institute for Psychiatric Research, 140 Old Orangeburg Rd., Orangeburg, NY 10962, USA
*
Author to whom correspondence should be addressed.
Received: 21 February 2013 / Revised: 30 March 2013 / Accepted: 12 April 2013 / Published: 26 April 2013
Abstract
Ethanol-induced neuronal death during a sensitive period of brain development is considered one of the significant causes of fetal alcohol spectrum disorders (FASD). In rodent models, ethanol triggers robust apoptotic neurodegeneration during a period of active synaptogenesis that occurs around the first two postnatal weeks, equivalent to the third trimester in human fetuses. The ethanol-induced apoptosis is mitochondria-dependent, involving Bax and caspase-3 activation. Such apoptotic pathways are often mediated by sphingolipids, a class of bioactive lipids ubiquitously present in eukaryotic cellular membranes. While the central role of lipids in ethanol liver toxicity is well recognized, the involvement of sphingolipids in ethanol neurotoxicity is less explored despite mounting evidence of their importance in neuronal apoptosis. Nevertheless, recent studies indicate that ethanol-induced neuronal apoptosis in animal models of FASD is mediated or regulated by cellular sphingolipids, including via the pro-apoptotic action of ceramide and through the neuroprotective action of GM1 ganglioside. Such sphingolipid involvement in ethanol neurotoxicity in the developing brain may provide unique targets for therapeutic applications against FASD. Here we summarize findings describing the involvement of sphingolipids in ethanol-induced apoptosis and discuss the possibility that the combined action of various sphingolipids in mitochondria may control neuronal cell fate.
View Full-Text
►

▼

Figures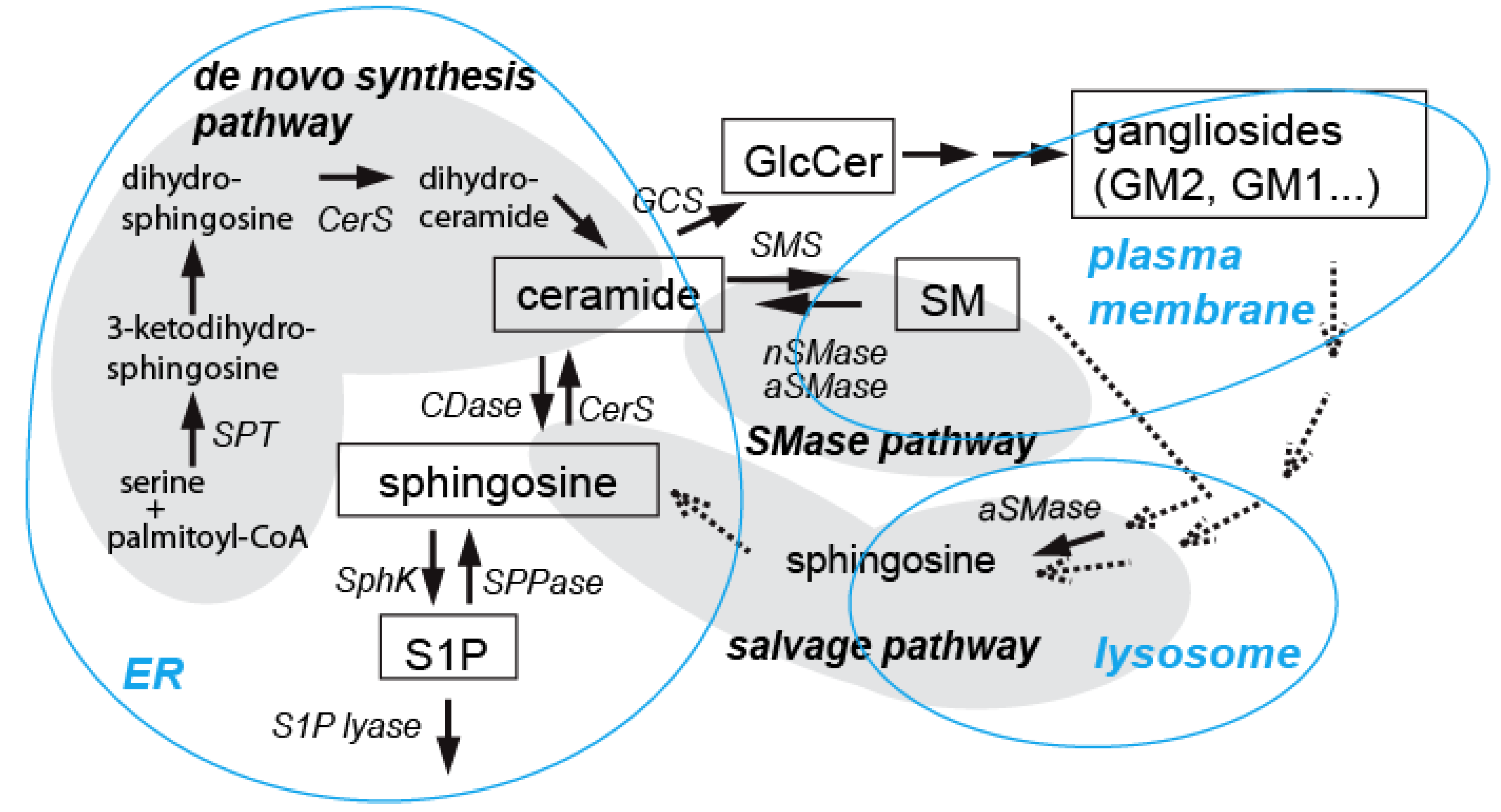 Figure 1
Share & Cite This Article
MDPI and ACS Style
Saito, M.; Saito, M. Involvement of Sphingolipids in Ethanol Neurotoxicity in the Developing Brain. Brain Sci. 2013, 3, 670-703.
Related Articles
Comments
[Return to top]