The Soft- and Hard-Heartedness of Cardiac Fibroblasts: Mechanotransduction Signaling Pathways in Fibrosis of the Heart
1
Institute for Experimental Medical Research, Oslo University Hospital and University of Oslo, 0450 Oslo, Norway
2
Center for Heart Failure Research, Oslo University Hospital, 0450 Oslo, Norway
3
Department of Bioengineering, University of California San Diego, La Jolla, CA 92093, USA
4
Department of Medicine, University of California San Diego, La Jolla, CA 92093, USA
*
Author to whom correspondence should be addressed.
Academic Editors: Carsten Tschöpe and Sophie Van Linthout
Received: 31 March 2017 / Revised: 4 May 2017 / Accepted: 8 May 2017 / Published: 19 May 2017
Abstract
Cardiac fibrosis, the excessive accumulation of extracellular matrix (ECM), remains an unresolved problem in most forms of heart disease. In order to be successful in preventing, attenuating or reversing cardiac fibrosis, it is essential to understand the processes leading to ECM production and accumulation. Cardiac fibroblasts are the main producers of cardiac ECM, and harbor great phenotypic plasticity. They are activated by the disease-associated changes in mechanical properties of the heart, including stretch and increased tissue stiffness. Despite much remaining unknown, an interesting body of evidence exists on how mechanical forces are translated into transcriptional responses important for determination of fibroblast phenotype and production of ECM constituents. Such mechanotransduction can occur at multiple cellular locations including the plasma membrane, cytoskeleton and nucleus. Moreover, the ECM functions as a reservoir of pro-fibrotic signaling molecules that can be released upon mechanical stress. We here review the current status of knowledge of mechanotransduction signaling pathways in cardiac fibroblasts that culminate in pro-fibrotic gene expression.
View Full-Text
►

▼

Figures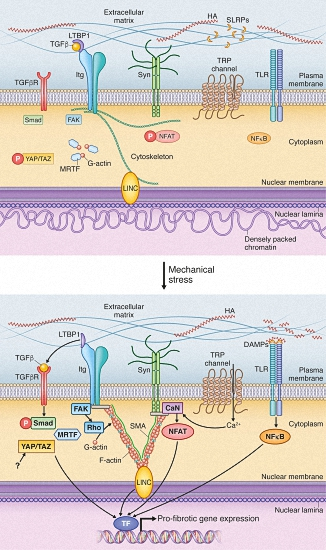 This is an open access article distributed under the
Creative Commons Attribution License
which permits unrestricted use, distribution, and reproduction in any medium, provided the original work is properly cited. (CC BY 4.0).
Share & Cite This Article
MDPI and ACS Style
Herum, K.M.; Lunde, I.G.; McCulloch, A.D.; Christensen, G. The Soft- and Hard-Heartedness of Cardiac Fibroblasts: Mechanotransduction Signaling Pathways in Fibrosis of the Heart. J. Clin. Med. 2017, 6, 53.
Note that from the first issue of 2016, MDPI journals use article numbers instead of page numbers. See further details here.
Related Articles
Comments
[Return to top]