5-Hydroxymethylfurfural (5-HMF) Production from Hexoses: Limits of Heterogeneous Catalysis in Hydrothermal Conditions and Potential of Concentrated Aqueous Organic Acids as Reactive Solvent System
Institut de Recherche sur la Catalyse et l'Environnement de Lyon, IRCELYON, CNRS, Université Lyon 1, 2 avenue Albert Einstein 69626 Villeurbanne, France
*
Author to whom correspondence should be addressed.
Received: 25 July 2012 / Accepted: 22 August 2012 / Published: 13 September 2012
Abstract
5-Hydroxymethylfurfural (5-HMF) is an important bio-sourced intermediate, formed from carbohydrates such as glucose or fructose. The treatment at 150–250 °C of glucose or fructose in pure water and batch conditions, with catalytic amounts of most of the usual acid-basic solid catalysts, gave limited yields in 5-HMF, due mainly to the fast formation of soluble oligomers. Niobic acid, which possesses both Lewis and Brønsted acid sites, gave the highest 5-HMF yield, 28%, when high catalyst/glucose ratio is used. By contrast, we disclose in this work that the reaction of fructose in concentrated aqueous solutions of carboxylic acids, formic, acetic or lactic acids, used as reactive solvent media, leads to the selective dehydration of fructose in 5-HMF with yields up to 64% after 2 hours at 150 °C. This shows the potential of such solvent systems for the clean and easy production of 5-HMF from carbohydrates. The influence of adding solid catalysts to the carboxylic acid media was also reported, starting from glucose.
View Full-Text
►

▼

Figures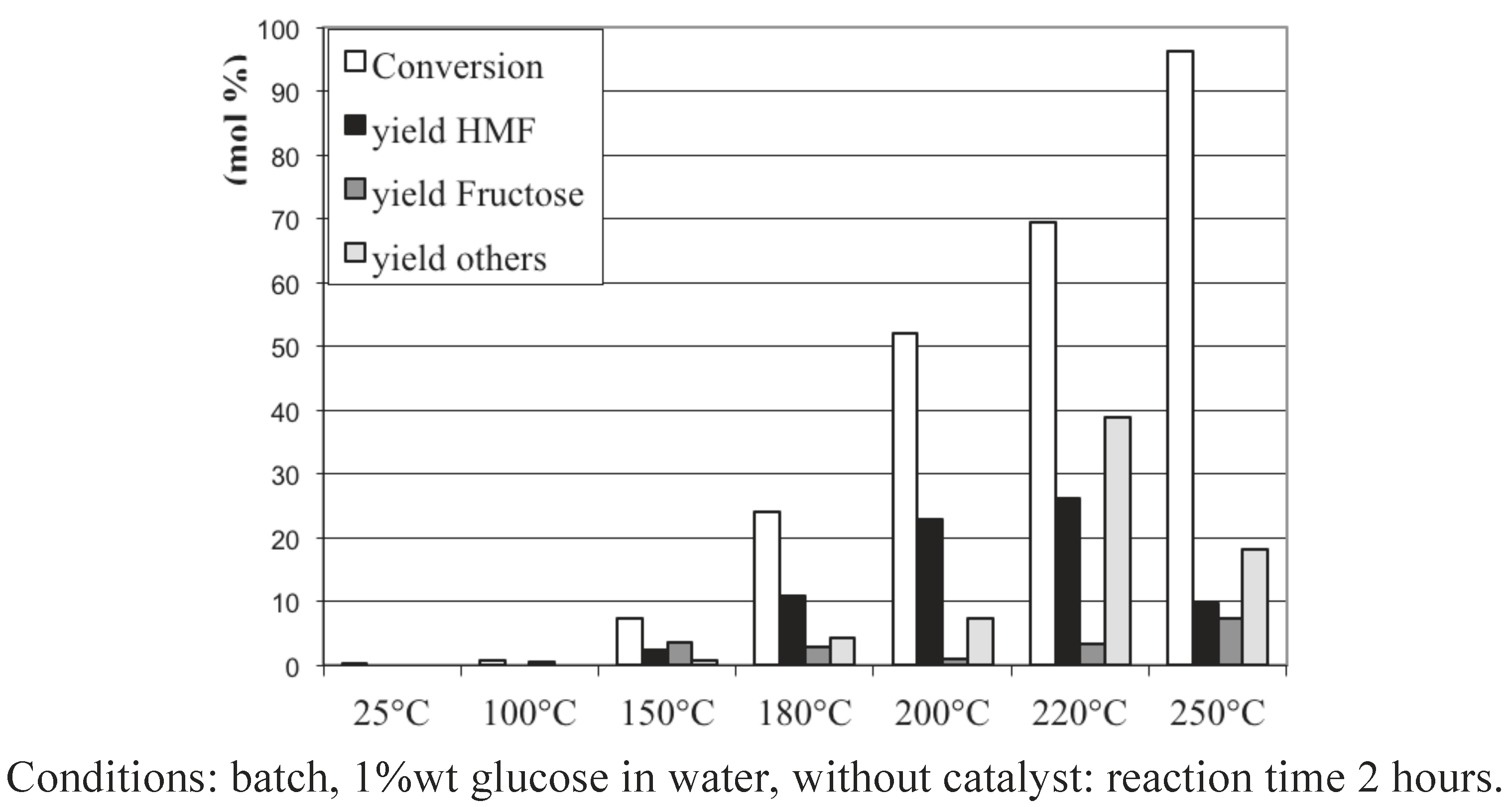 Figure 1
Share & Cite This Article
MDPI and ACS Style
de Souza, R.L.; Yu, H.; Rataboul, F.; Essayem, N. 5-Hydroxymethylfurfural (5-HMF) Production from Hexoses: Limits of Heterogeneous Catalysis in Hydrothermal Conditions and Potential of Concentrated Aqueous Organic Acids as Reactive Solvent System. Challenges 2012, 3, 212-232.
Related Articles
Comments
[Return to top]