Properties of Newly-Synthesized Cationic Semi-Interpenetrating Hydrogels Containing Either Hyaluronan or Chondroitin Sulfate in a Methacrylic Matrix
Department of Experimental Medicine, Second University of Naples, Via L. De Crecchio 7, Naples 80138, Italy
*
Author to whom correspondence should be addressed.
Received: 2 December 2011 / Revised: 23 February 2012 / Accepted: 12 March 2012 / Published: 23 March 2012
Abstract
Extracellular matrix components such as hyaluronan (HA) and chondroitin sulfate (CS) were combined with a synthetic matrix of p(HEMA-co-METAC) (poly(2-hydroxyethylmethacrylate-co-2-methacryloxyethyltrimethylammonium)) at 1% and 2% w/w concentration following a previously developed procedure. The resulting semi-interpenetrating hydrogels were able to extensively swell in water incrementing their dry weight up to 13 fold depending on the glycosamminoglycan content and nature. When swollen in physiological solution, materials water uptake significantly decreased, and the differences in swelling capability became negligible. In physiological conditions, HA was released from the materials up to 38%w/w while CS was found almost fully retained. Materials were not cytotoxic and a biological evaluation, performed using 3T3 fibroblasts and an original time lapse videomicroscopy station, revealed their appropriateness for cell adhesion and proliferation. Slight differences observed in the morphology of adherent cells suggested a better performance of CS containing hydrogels.
View Full-Text
►

▼

Figures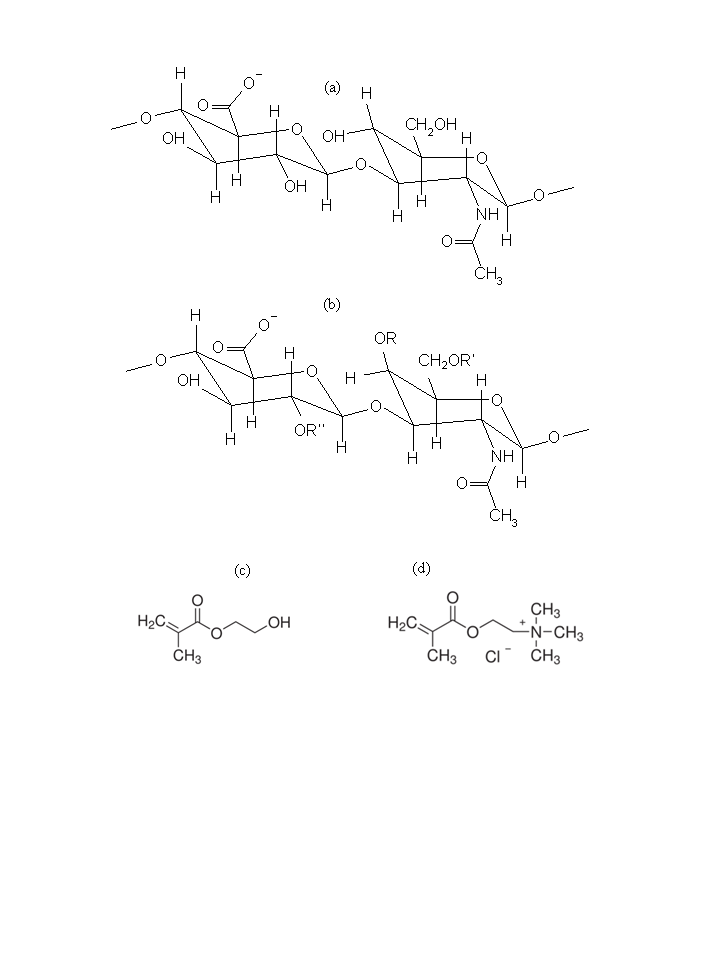 Share & Cite This Article
MDPI and ACS Style
Gatta, A.L.; Schiraldi, C.; D'Agostino, A.; Papa, A.; Rosa, M.D. Properties of Newly-Synthesized Cationic Semi-Interpenetrating Hydrogels Containing Either Hyaluronan or Chondroitin Sulfate in a Methacrylic Matrix. J. Funct. Biomater. 2012, 3, 225-238.
Related Articles
Comments
[Return to top]