Development of an Interaction Assay between Single-Stranded Nucleic Acids Trapped with Silica Particles and Fluorescent Compounds
1
Department of Life and Environment Engineering, Faculty of Environmental Engineering, University of Kitakyushu, 1-1, Hibikino, Wakamatsu, Kitakyushu 808-0135, Japan
2
Department of Life and Environment Engineering, Graduate School of Environmental Engineering, University of Kitakyushu, 1-1, Hibikino, Wakamatsu, Kitakyushu 808-0135, Japan
*
Author to whom correspondence should be addressed.
Received: 13 July 2012 / Revised: 7 August 2012 / Accepted: 21 August 2012 / Published: 5 September 2012
Abstract
Biopolymers are easily denatured by heating, a change in pH or chemical substances when they are immobilized on a substrate. To prevent denaturation of biopolymers, we developed a method to trap a polynucleotide on a substrate by hydrogen bonding using silica particles with surfaces modified by aminoalkyl chains ([A-AM silane]/SiO
2
). [A-AM silane]/SiO
2
was synthesized by silane coupling reaction of N-2-(aminoethyl)-3-aminopropyltrimethoxysilane (A-AM silane) with SiO
2
particles with a diameter of 5 μm at 100 °C for 20 min. The surface chemical structure of [A-AM silane]/SiO
2
was characterized by Fourier transform infrared spectroscopy and molecular orbital calculations. The surface of the silica particles was modified with A-AM silane and primary amine groups were formed. [A-AM silane]/SiO
2
was trapped with single-stranded nucleic acids [(Poly-X; X = A (adenine), G (guanine) and C (cytosine)] in PBS solution at 37 °C for 1 h. The single-stranded nucleic acids were trapped on the surface of the [A-AM silane]/SiO
2
by hydrogen bonding to form conjugated materials. The resulting complexes were further conjugated by derivatives of acridine orange (AO) as fluorescent labels under the same conditions to form [AO:Poly-X:A-AM silane]/SiO
2
complexes. Changes in the fluorescence intensity of these complexes originating from interactions between the single-stranded nucleic acid and aromatic compounds were also evaluated. The change in intensity displayed the order [AO: Poly-G: A-AM silane]/SiO
2
> [AO:Poly-A:A-AM silane]/SiO
2
>> [AO:Poly-C:A-AM silane]/SiO
2
. This suggests that the single-stranded nucleic acids conjugated with aminoalkyl chains on the surfaces of SiO
2
particles and the change in fluorescence intensity reflected the molecular interaction between AO and the nucleic-acid base in a polynucleotide.
View Full-Text
►

▼

Figures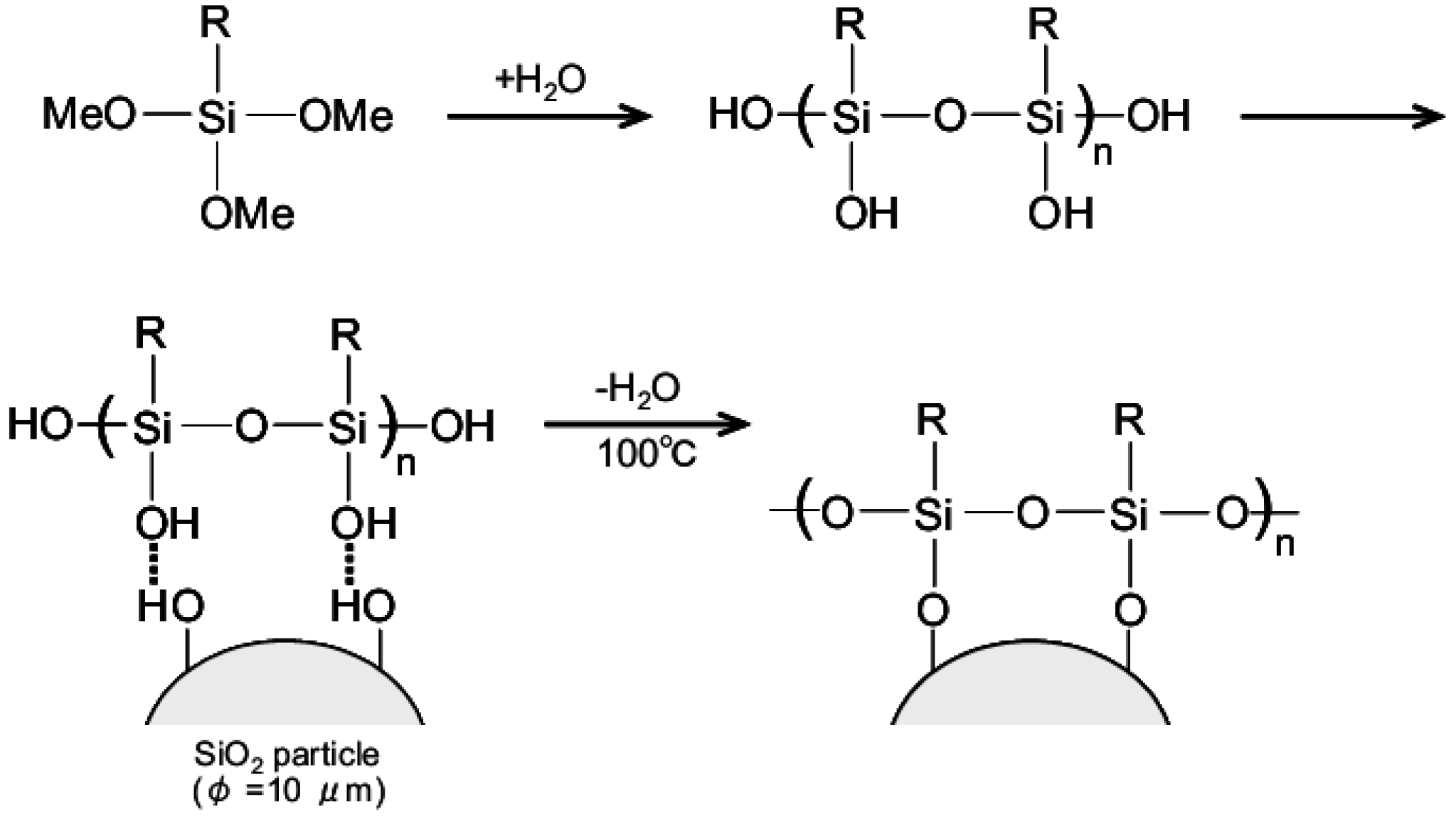 Figure 1
Share & Cite This Article
MDPI and ACS Style
Isoda, T.; Maeda, R. Development of an Interaction Assay between Single-Stranded Nucleic Acids Trapped with Silica Particles and Fluorescent Compounds. J. Funct. Biomater. 2012, 3, 601-614.
Related Articles
Comments
[Return to top]