Synthesis of a Functionalized Polypyrrole Coated Electrotextile for Use in Biosensors
1
Biosystems and Agricultural Engineering, Michigan State University, 524 S. Shaw Lane, 115 Farrall Hall, East Lansing, MI 48824, USA
2
Food Protection Team, US Army Natick Soldier Research, Development, and Engineering Center (NSRDEC), Natick, MA 01760, USA
3
Macromolecular Sciences and Engineering Team, US Army NSRDEC, Natick, MA 01760, USA
*
Author to whom correspondence should be addressed.
Received: 20 October 2012 / Revised: 15 November 2012 / Accepted: 20 November 2012 / Published: 29 November 2012
Abstract
An electrotextile with a biosensing focus composed of conductive polymer coated microfibers that contain functional attachment sites for biorecognition elements was developed. Experiments were conducted to select a compound with a pendant functional group for inclusion in the polymer, a fiber platform, and polymerization solvent. The effects of dopant inclusion and post-polymerization wash steps were also analyzed. Finally, the successful attachment of avidin, which was then used to capture biotin, to the electrotextile was achieved. The initial results show a nonwoven fiber matrix can be successfully coated in a conductive, functionalized polymer while still maintaining surface area and fiber durability. A polypropylene fiber platform with a conductive polypyrrole coating using iron (III) chloride as an oxidant, water as a solvent, and 5-sulfosalicylic acid as a dopant exhibited the best coating consistency, material durability, and lowest resistance. Biological attachment of avidin was achieved on the fibers through the inclusion of a carboxyl functional group via 3-thiopheneacetic acid in the monomer. The immobilized avidin was then successfully used to capture biotin. This was confirmed through the use of fluorescent quantum dots and confocal microscopy. A preliminary electrochemical experiment using avidin for biotin detection was conducted. This technology will be extremely useful in the formation of electrotextiles for use in biosensor systems.
View Full-Text
►

▼

Figures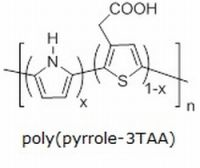 Share & Cite This Article
MDPI and ACS Style
McGraw, S.K.; Alocilja, E.; Senecal, A.; Senecal, K. Synthesis of a Functionalized Polypyrrole Coated Electrotextile for Use in Biosensors. Biosensors 2012, 2, 465-478.
Related Articles
Comments
[Return to top]