Characterization of Flavan-3-ols and Expression of MYB and Late Pathway Genes Involved in Proanthocyanidin Biosynthesis in Foliage of Vitis bellula
1
Hunan Provincial Key Laboratory of Plant Resources Conservation and Utilization, College of Biology and Environmental Sciences, Jishou University, No.120 Ren Min Nan Lu, Jishou City, Hunan Province, 416000, China
2
Department of Plant Biology, North Carolina State University, 100 Derieux Place, Raleigh, NC 27695, USA
*
Author to whom correspondence should be addressed.
Received: 25 December 2012 / Revised: 4 February 2013 / Accepted: 7 March 2013 / Published: 19 March 2013
Abstract
Proanthocyanidins (PAs) are fundamental nutritional metabolites in different types of grape products consumed by human beings. Although the biosynthesis of PAs in berry of
Vitis vinifera
has gained intensive investigations, the understanding of PAs in other
Vitis
species is limited. In this study, we report PA formation and characterization of gene expression involved in PA biosynthesis in leaves of
V. bellula
, a wild edible grape species native to south and south-west China. Leaves are collected at five developmental stages defined by sizes ranging from 0.5 to 5 cm in length. Analyses of thin layer chromatography (TLC) and high performance liquid chromatography-photodiode array detector (HPLC-PAD) show the formation of (+)-catechin, (−)-epicatechin, (+)-gallocatechin and (−)-epigallocatechin during the entire development of leaves. Analyses of butanol-HCl boiling cleavage coupled with spectrometry measurement at 550 nm show a temporal trend of extractable PA levels, which is characterized by an increase from 0.5 cm to 1.5 cm long leaves followed by a decrease in late stages. TLC and HPLC-PAD analyses identify cyanidin, delphinidin and pelargonidin produced from the cleavage of PAs in the butanol-HCl boiling, showing that the foliage PAs of
V. bellula
include three different types of extension units. Four cDNAs, which encode
VbANR
,
VbDFR
,
VbLAR1
and
VbLAR2
, respectively, are cloned from young leaves. The expression patterns of
VbANR
and
VbLAR2
but not
VbLAR1
and
VbDFR
follow a similar trend as the accumulation patterns of PAs. Two cDNAs encoding VbMYBPA1 and VbMYB5a, the homologs of which have been demonstrated to regulate the expression of both
ANR
and
LAR
in
V. vinifera
, are also cloned and their expression profiles are similar to those of
VbANR
and
VbLAR2
. In contrast, the expression profiles of
MYBA1
and
2
homologs involved in anthocyanin biosynthesis are different from those of
VbANR
and
VbLAR2
. Our data show that both ANR and LAR branches are involved in PA biosynthesis in leaves of
V. bellula
.
View Full-Text
►

▼

Figures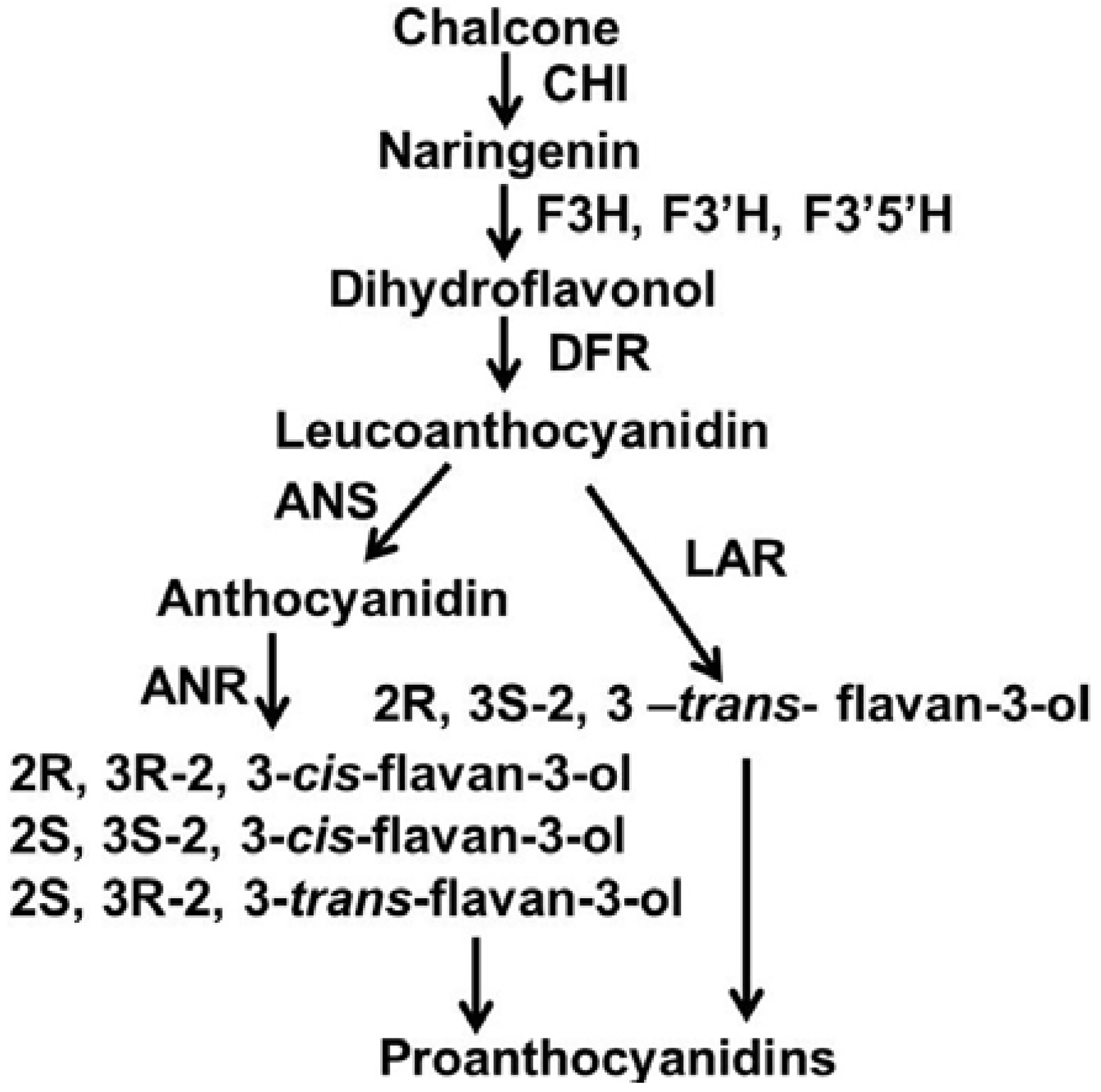 Figure 1
Share & Cite This Article
MDPI and ACS Style
Zhu, Y.; Peng, Q.-Z.; Du, C.; Li, K.-G.; Xie, D.-Y. Characterization of Flavan-3-ols and Expression of MYB and Late Pathway Genes Involved in Proanthocyanidin Biosynthesis in Foliage of Vitis bellula. Metabolites 2013, 3, 185-203.
Related Articles
Comments
[Return to top]