Special Issue "Wound Care"
A special issue of Healthcare (ISSN 2227-9032).
Deadline for manuscript submissions: closed (30 April 2015)
Special Issue Editor
Guest Editor
Professor & Head of the School of Nursing & Midwifery, Royal College of Surgeons in Ireland, 123 St Stephens Green, Dublin 2, Ireland
Interests:
wound healing and tissue repair; pressure ulcer prevention and management; quantitative research methods; design, conduct and analysis of clinical trials; epidemiology; clinical nurse specialists; evidence based practice; research implementation; systematic reviews; quality of life; health economics
Special Issue Information
Dear Colleagues,
Wounds and the many associated problems have challenged health care providers for centuries and today, despite the wealth of knowledge available, neither the incidence nor prevalence of wounds is reducing. Furthermore, in view of our changing demographic profile and the projected increase in the older population, it is likely that wound management will become an ever increasing burden to the individual, health care services and society as a whole. The annual incidence of wounds in the EU-27 is approximately 4 million, and between 25% and 50% of acute hospital beds are occupied by patients with a wound, with up to 60% of these representing non-healing wounds (infected surgical wounds, pressure ulcers, leg/foot ulcers) The increasing prevalence and incidence of non-wounds healing is closely linked with quality of care and, as such, these rising figures reduce society's confidence in the health service's ability to deliver care that is timely, appropriate and effective. Thus, for those involved in this specialist area of clinical practice, the fundamental goal is to improve clinical outcomes, reduce the burden of wounds and improve health related quality of life.
Prof. Zena Moore
Guest Editor
Submission
Manuscripts should be submitted online at www.mdpi.com by registering and logging in to this website. Once you are registered, click here to go to the submission form. Manuscripts can be submitted until the deadline. Papers will be published continuously (as soon as accepted) and will be listed together on the special issue website. Research articles, review articles as well as communications are invited. For planned papers, a title and short abstract (about 100 words) can be sent to the Editorial Office for announcement on this website.
Submitted manuscripts should not have been published previously, nor be under consideration for publication elsewhere (except conference proceedings papers). All manuscripts are refereed through a peer-review process. A guide for authors and other relevant information for submission of manuscripts is available on the Instructions for Authors page. Healthcare is an international peer-reviewed Open Access quarterly journal published by MDPI.
Please visit the Instructions for Authors page before submitting a manuscript. The Article Processing Charge (APC) for publication in this open access journal is 300 CHF (Swiss Francs). English correction and/or formatting fees of 250 CHF (Swiss Francs) will be charged in certain cases for those articles accepted for publication that require extensive additional formatting and/or English corrections.
Print Edition available!
A Print Edition of this Special Issue is available
here
.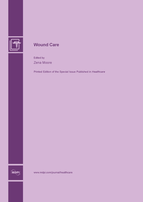 | Name | Pice* | Download or order |
| --- | --- | --- |
| Wound Care | 36.50 CHF | here |
For contributing authors or bulk orders special prices may apply.
Prices include shipping.
Keywords
wound care
pressure ulcer
diabetic foot ulcer
leg ulcer
non-healing wound
health related quality of life
cost effectiveness
Planned Papers
The below list represents only planned manuscripts. Some of these manuscripts have not been received by the Editorial Office yet. Papers submitted to MDPI journals are subject to peer-review.
Type of Paper: Review
Title: Complex Abdominal Wall Reconstruction
Authors: Miss S Das Mohapatra DNB, FRCS; Locum Consultant Colorectal Surgeon, St George's Hospital NHS Trust, London SW17 0QT; E-Mail: mittydm@yahoo.com; Alastair C Windsor MD, FRCS; Consultant Colorectal Surgeon, UCLH, London NW1 2B; E-Mail: alwindsor@aol.com
Abstract: Abdominal wall defects arise as a result of one or more missing component layers of the abdominal wall. A multiplicity of surgical procedures are associated with complex, recurrent abdominal wall defects, which can occur as a result of failed endeavor at previous repair, trauma, infection, radiation, necrosis, or malignancy. In the acute setting post operative open abdominal wound also poses a significant challenge. There has been a balanced increase in availability of a variety of synthetic materials and biological meshes for the repair of such defects. The use of prosthetic materials is now being replaced by the biologic mesh due to the perceived reduction in infection, recurrence and mesh extrusion rates. This review discusses the pros and cons of the currently available reconstruction options for such complex defects in the abdominal wall.
Title: The application of bactericidal silver nanoparticles in wound treatment systems
Authors: Geewoo Nam and Joon Myong Song*
Affiliation: College of Pharmacy, Seoul National University, Seoul 151-742, South Korea
Abstract:Even with the high level of prevalence of wounds, the medical technology of efficiently managing skin damage is still primitive. Wound healing is a complex and significant process of the human body. An immeasurable number of cellular and chemical actions are involved in the multi-phased restoration. Disruption of any of these processes may present problems for the time-sensitive healing of the skin. Bacterial infection is one of the major obstacles of proper wound healing that may compromise the health of the patient. Thus, the use of antibacterial activity in wound management systems is imperative in keeping the wound bacteria-free. Silver has been used historically to treat wounds for their bactericidal properties to treat wounds. More specifically, Silver nanoparticles have been reported for their enhanced antibacterial activity. This review explores the application of various types of silver nanoparticles in wound treatments.
Title: Restoring Quality of Life for Patients with Infected Acute Wounds
Authors: Linda LL Benskin
Affiliations: Church of Christ Mission Clinic, Yendi, Ghana, and Ferris Mfg. Corp., Fort Worth, TX.
Abstract: Patients with acute wounds may not seek medical assistance until their wounds are severely infected. Keeping the wounds clean, decreasing pain, and a quick return to normal activities are these patients' primary goals. At our clinic in northern Ghana, we found that polymeric membrane dressings (PMDs) efficiently met these needs. PMDs can provide dramatic pain relief by subduing and focusing the nociceptor response. PMDs' components work with the body to donate moisture to dry wound areas while absorbing excess exudate. PMDs' non-toxic cleansing system continuously atraumatically loosens slough from the wound bed, pulling it onto the PMD to be discarded at dressing changes. This process usually keeps wounds clean without routine rinsing. Three example patients are described. After initial cleansing/debriding, an appropriate configuration of PMDs was applied to all exposed surfaces of the wounds. Dressings were simply replaced when saturated, usually without rinsing. All three patients' wounds healed quickly without return of infection. Managing these infected acute wounds with PMDs allowed us to meet patient quality of life goals: freedom from infection, decreased pain, quick healing, and minimal inconvenience. Because PMDs have a built-in continuous cleansing system, these patients also required very little clinic staff time through complete wound closure.
Keywords: polymeric membrane dressings; PMD; infected; wound; acute; cost; efficient; pain; quality of life; clean
Title: Pressure ulcer in Norway — a snapshot of prevalence across various care settings and recommendations for improved preventive care.
Authors: Johansen1, E., Bakken1, L. and Moore2, Z.
Affiliations: 1 Buskerud and Vestfold University College, Drammen, Norway. 2 Royal College of Surgeons in Ireland, Dublin, Ireland.
Abstract: Pressure ulcers (PU) are common in all care settings although most ulcers are preventable. Much evidence exist on Hospital Acquired Pressure Ulcers (HAPU), however, few studies describe PU in community care. From a Norwegian perspective, little is known about pressure ulcer prevalence and prevention strategies across the variety of healthcare sectors. Therefore, this study explored PU prevalence and preventive care in home care, nursing homes and hospitals. 17 postgraduate wound care students collected data. A data collection instrument by Jordan O'Brien and Cowman was used together with an online forum in which students discussed existing care provision and the potential for improved practice to reduce PU incidence. This study showed that pressure ulcers are a problem across all care settings in Norway; however, considerable geographical variations exist in both prevalence and available preventive care. Therefore, Norwegian patients at risk receive differences in care across institutions and home care districts. Recommendations for improvements are based on the Norwegian Patient Safety Programme. In order to ensure systematic application of quality standards across care settings, several aspects needs further attention, for example the requirement for equipment to be readily available, development of competency among staff and not least, enhanced attention to PU prevention across all care sectors.
Keywords: Pressure ulcer epidemiology, prevalence, prevention, Norway
Title: Development of new polysaccharide-based fibres for moderate to heavy bleeding wounds
Authors: M. Miraftab, I. R. Sweeney and R. Masood
Affiliations: University of Bolton
Keywords: Wound dressings, Alginate, Chitosan, Psyllium
Title: Improving Educational, Clinical and Economic Outcomes by Implementing a Pressure Ulcer Prevention Program (PUPP) at a 560 bed Academic Medical Center in South East, FL
Authors: Amparo Cano, Daniel L. Young, Hope Stamp, Joaquin, Fortunata, Jennifer A. Lopez, Lori Lupe, Stephanie Moss, and Debbie Anglade.
Affiliations: 1University of Miami Hospital, Miami FL; 2Brandon Regional Hospital, Brandon FL; 3University of Nevada, Las Vegas, Las Vegas NV.
E-Mails: a.cano11@med.miami.edu; Daniel.Young@unlv.edu; HStamp@med.miami.edu; FJoaquin@med.miami.edu; JLopez13@med.miami.edu; LLupe@med.miami.edu; Stephanie.Moss2@hcahealthcare.com; d.anglade@miami.edu
Abstract: Pressure Ulcers (PUs) in hospitalized patients are a high cost, high impact medical condition that is considered to be reasonably preventable through implementation of evidence-based prevention measures. In the United States alone, (PUs) annually affect 1 to 2.5 million patients, at an estimated cost of $11 billion with a mortality of approximately 60,000 individuals.
There are multiple complications attributed to pressure ulcers, PU-associated sepsis is one of the most significant complications. Studies have shown that for every 10,000 hospital discharges there are 3.5 cases of PU-associated sepsis.
This paper describes results of a comprehensive Pressure Ulcer Prevention Program (PUPP) implemented at a large academic medical center. The success of this PUPP was likely tied to: 1) Implementation of Evidence-Based practice, 2) Evidence-Based product selection, 3) Clinician education.
Keywords: pressure ulcers; sepsis; Pressure Ulcer Prevention Program (PUPP); cost
Title: Nursing Interventions in the Prevention and cicatrization of ulcer Leg: Systematic Literature Review. Literature Review.
Authors: César Fonseca 1, Manuel Lopes 2, Ana Ramos 3, Vitor Santos 4.
Affiliations: 1. RN, Ph.D. Candidate. Universidade de Évora, Portugal; 2. RN, Ph.D. Universidade de Évora; 3. RN, MSc, North Lisbon Hospital Center; 4. RN, MCs, West Hospital, IberWounds West
Abstract: Objective: To identify the nursing interventions for people with leg ulcers of venous, arterial or mixed. Methodology: Carried out research in the EBSCO search engine: CINAHL Plus with Full Text, MEDLINE with Full Text, MedicLatina, Academic Search Complete, sought full text articles, published between 2008/01/01 and 2015/01/31, with the following keywords: [(MM "leg ulcer") OR (wound care) OR (wound healing)] AND [(nursing) OR (nursing assessment) OR (nursing intervention)], filtered through initial question in PI[C]O format.
Results: The different leg ulcer etiologies require a therapeutic and prophylactic specific approach. Factors were identified that promote healing: individualization of care, interpersonal relationship, pain management, control of exudate, education for self-management, self-care, therapeutic adherence, implementation of guidelines, audit and feedback from practices.
Conclusion: The person-centered care and evidence-based practice increases health outcomes in the prevention and treatment of leg ulcers.
Keywords: Leg ulcer; Nursing Interventions
Title: Tailoring the Implementation of International Pressure Ulcer Prevention Guidelines for Developing Countries: A Protocol
Authors: Rose Ekama Ilesanmi, Brigid M. Gillespie, Prisca Olabisi Adejumo, Wendy Chaboyer
Affiliations: University of Ibadan & Griffith University
E-Mails: b.gillespie@griffith.edu.au
Abstract: Background: The 2014 International Pressure Ulcer Prevention (PUP) Clinical Practice Guidelines (CPG) provide the most current evidence based strategies to prevent PU. The evidence upon which these guidelines have been developed has predominantly been generated from research conducted in developed countries. Some of these guidelines may not be feasible in developing countries due to structural and resource issues; therefore there is a need to adapt these guidelines to the context. Aim: To present a protocol detailing the tailoring of PUPCPG into a care bundle in the Nigerian context. Methods: Guided by the Knowledge to Action (KTA) framework, a two phased study will be undertaken. In Phase 1, the Delphi technique with stakeholder leaders will be used to review the current PUPCPG, identifying core strategies that are feasible to be adopted in Nigeria. These core strategies will become components of a PUP care bundle. In Phase 2, key stakeholder interviews will be used to identify the barriers, facilitators and potential implementation strategies to promote uptake of the PUP care bundle. Results: PUP care bundle, with three to eight components is expected to be developed from Phase 1. Implementation strategies to promote adoption of the PUP care bundle into clinical practice in several Nigerian hospitals is expected to result from Phase 2. Engagement of key stakeholders and consumers in the project should promote successful implementation and translate into better patient care. Conclusion: Using KTA, a knowledge translation framework to guide the implementation of PUPCPG will enhance the likelihood of successful adoption in clinical practice. In implementing a PUP care bundle, developing countries face a number of challenges such as the feasibility of its components and the required resources.
Keywords: pressure injury; care bundle; knowledge translation; less developed economies


Title: Magnifying Successful Outcomes using Evidence-based Research: Bolstering Student Learning while Accentuating Pressure Ulcer Care
Authors: Melissa Kaufman
Affiliations: Chatham University, Pittsburgh, PA, USA
E-Mails: kaufman44m@gmail.com
Abstract: Early identification and initiation of preventive measures for those at risk for developing pressure ulcers (PUs) is essential in the inpatient, outpatient, and home settings. Current research indicates that 10% of hospitalized patients have PUs, and the elderly are at the greatest risk. The increasing number of patients who are developing hospital-acquired pressure ulcers (HAPUs) is an added concern. When a HAPU develops, it affects the patient's quality of life, prolongs hospitalization, and is costly to treat. High HAPU rates suggest poor quality care. While helping patients during clinical training, nursing students can play a pivotal role in PU prevention and in early HAPU identification. To facilitate this, nursing educators need to reinforce the initial didactic instruction that students receive on PUs throughout the semester. This paper describes reasons why HAPU rates need to decline. Educational methods for reinforcing student learning are provided. This paper concludes with a review of the literature reflecting how nursing students have positively impacted PU patient outcomes while bolstering their personal knowledge on skin care.
Keywords: pressure ulcers, nursing students, hospital-acquired pressure ulcers, nursing education, simulation, nursing homes, evidence-based practice, quality care


Title: Chronic Wound Pain Management Transposing the Patient Experience
Authors: Eula Fahie-Romero
E-Mails: eulacf@aol.com
Abstract: Chronic wound pain is not a new concept. The management of chronic wound pain and its clinical significance continues to evolve. It challenges healthcare providers to gain an understanding of the physical, psychological and psychosocial impact on the patient's lived experience. Multiple scales, models and guidelines are established to guide the nurse or health caregiver in the management of chronic wound pain. The subjective sensation of chronic wound pain creates difficulty to always accurately measure the experience. It sets up a dominance which illicit a spiral of emotions; fear, anxiety, helplessness and loss of hope. A literature review was completed to define chronic wound pain, identify interventions, and associated emotions. Historical similarities of the patient with chronic wound pain show emotions remains unchanged. Changes have occurred with the recent concern for the patient experience, cost effective care and improved outcomes. Improvement with innovative products, and processes, can decrease or eliminate chronic wound pain. The goal is to gain and apply knowledge that connects with the patient experience to eliminate the impact of chronic wound pain. Further studies will be needed to examine ideas and concepts and close the gap in knowledge for chronic wound pain management.
Keywords: pain; chronic wound pain; transpose