Open Access
Article
Proteomic Analysis of Hylocereus polyrhizus Reveals Metabolic Pathway Changes
Received: 3 July 2016 / Revised: 3 September 2016 / Accepted: 13 September 2016 / Published: 28 September 2016
PDF Full-text (1209 KB) | HTML Full-text | XML Full-text | Supplementary Files
Abstract
Red dragon fruit or red pitaya (
Hylocereus polyrhizus
) is the only edible fruit that contains betalains. The color of betalains ranges from red and violet to yellow in plants. Betalains may also serve as an important component of health-promoting and
[...] Read more.
Red dragon fruit or red pitaya (
Hylocereus polyrhizus
) is the only edible fruit that contains betalains. The color of betalains ranges from red and violet to yellow in plants. Betalains may also serve as an important component of health-promoting and disease-preventing functional food. Currently, the biosynthetic and regulatory pathways for betalain production remain to be fully deciphered. In this study, isobaric tags for relative and absolute quantitation (iTRAQ)-based proteomic analyses were used to reveal the molecular mechanism of betalain biosynthesis in
H. polyrhizus
fruits at white and red pulp stages, respectively. A total of 1946 proteins were identified as the differentially expressed between the two samples, and 936 of them were significantly highly expressed at the red pulp stage of
H. polyrhizus
. RNA-seq and iTRAQ analyses showed that some transcripts and proteins were positively correlated; they belonged to "phenylpropanoid biosynthesis", "tyrosine metabolism", "flavonoid biosynthesis", "ascorbate and aldarate metabolism", "betalains biosynthesis" and "anthocyanin biosynthesis". In betalains biosynthesis pathway, several proteins/enzymes such as polyphenol oxidase, CYP76AD3 and 4,5-dihydroxy-phenylalanine (DOPA) dioxygenase extradiol-like protein were identified. The present study provides a new insight into the molecular mechanism of the betalain biosynthesis at the posttranscriptional level.
Full article
►

▼

Figures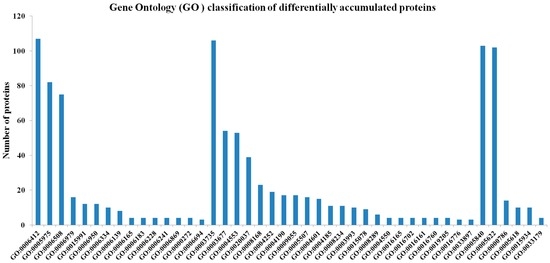 Figure 1