Open Access
Article
Dual Roles of Ascidian Chondromodulin-1: Promoting Cell Proliferation Whilst Suppressing the Growth of Tumor Cells
Received: 10 December 2017 / Revised: 31 January 2018 / Accepted: 9 February 2018 / Published: 11 February 2018
PDF Full-text (5871 KB) | HTML Full-text | XML Full-text | Supplementary Files
Abstract
Chondromodulin-1 (ChM-1) is an extracellular matrix protein that plays crucial roles in tumor cell growth and angiogenesis in vertebrates and humans. ChM-1 is highly expressed in the invertebrate Ciona savignyi, a marine ascidian chosen as a model. The effect of the recombinant
[...] Read more.
Chondromodulin-1 (ChM-1) is an extracellular matrix protein that plays crucial roles in tumor cell growth and angiogenesis in vertebrates and humans. ChM-1 is highly expressed in the invertebrate
Ciona savignyi
, a marine ascidian chosen as a model. The effect of the recombinant
Ciona
mature ChM-1 peptide (Cs-mChM-1) on cell proliferation, migration and angiogenesis was evaluated on cultured cells. The results revealed that low concentrations of Cs-mChM-1 (12.5 nM) promoted osteoblastic cell (MC3T3-E1) growth and protected cells from H
2
O
2
-induced damage. However, a higher concentration of Cs-mChM-1 (i.e., 500 nM) not only suppressed both growth and migration of tumor cells, including human cervical cancer (HeLa) cells and human neuroblastoma (SH-SY5Y) cells, but also significantly inhibited proliferation and angiogenesis of human umbilical vein endothelial cells (HUVECs). The expression levels of cyclinD1 and mitogen-activated protein kinase 1 (MAPK1) were slightly increased in Cs-mChM-1 treated MC3T3-E1 cells, whereas these genes decreased in treated HeLa cells, SH-SY5Y cells and HUVECs. This result indicates that Cs-mChM-1 modifies cell behavior by regulating cell cycle and cell adhesion. Thus, the present results reveal that recombinant peptides of ChM-1 from invertebrates can play a dual role in cell proliferation and migration of different cell types. The inhibition effects on tumor cell growth and angiogenesis indicate potential pharmaceutical applications for recombinant Cs-mChM-1.
Full article
►

▼

Figures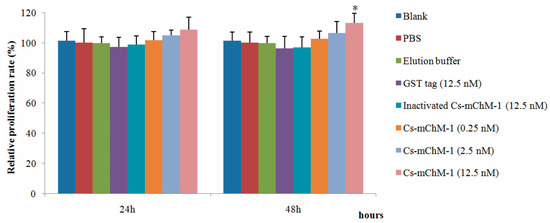 Figure 1