Open Access
Article
Proteomic Analysis of the Chlorophyta Dunaliella New Strain AL-1 Revealed Global Changes of Metabolism during High Carotenoid Production
Received: 20 July 2017 / Revised: 27 August 2017 / Accepted: 31 August 2017 / Published: 20 September 2017
PDF Full-text (2160 KB) | HTML Full-text | XML Full-text
Abstract
The green microalgae Dunaliella genus is known for the production of high added value molecules. In this study, strain AL-1 was isolated from the Sebkha of Sidi El Hani (Sousse, Tunisia). This isolate was identified both morphologically and genetically via 18S rRNA gene
[...] Read more.
The green microalgae
Dunaliella
genus is known for the production of high added value molecules. In this study, strain AL-1 was isolated from the Sebkha of Sidi El Hani (Sousse, Tunisia). This isolate was identified both morphologically and genetically via 18S rRNA gene sequence as a member of the genus
Dunaliella
. Strain AL-1 was found to be closely related to
Dunaliella salina
,
Dunaliella quartolecta
and
Dunaliella polymorpha
with more than 97% similarity. Response surface methodology was used to maximize carotenoid production by strain AL-1 by optimizing its growth conditions. The highest carotenoid content was obtained at salinity: 51, light intensity: 189.89 μmol photons·m
−2
·s
−1
, and nitrogen: 60 mg·L
−1
. Proteomic profiling, using two-dimensional gel electrophoresis, was performed from standard and optimized cultures. We detected 127 protein spots which were significantly differentially expressed between standard and optimized cultures. Among them 16 protein spots were identified with mass spectrometry and grouped into different functional categories using KEGG (Kyoto Encyclopedia of Genes and Genomes) such as photosynthetic Calvin cycle, regulation/defense, energy metabolism, glycolysis, and cellular processes. The current study could be of great interest in providing information on the effect of stressful conditions in microalgae carotenoid production.
Full article
►

▼

Figures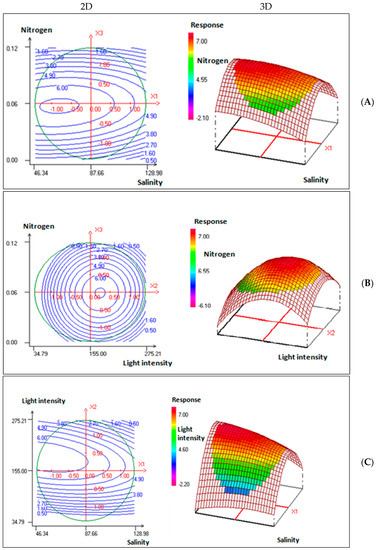 Figure 1