Open Access
Article
Synthesis and Fungicidal Activity of Lansiumamide A and B and Their Derivatives
Received: 29 May 2018 / Revised: 12 June 2018 / Accepted: 21 June 2018 / Published: 21 June 2018
PDF Full-text (488 KB) | HTML Full-text | XML Full-text | Supplementary Files
Abstract
A efficient 2-step protocol has been applied for the synthesis of Lansiumamide B (N-methyl-N-cis-styryl-cinnamamide, 2) derivatives by various substitution on the amide nitrogen with alkyl, allyl, propargyl, benzyl or ester groups. The structures of nine new
[...] Read more.
A efficient 2-step protocol has been applied for the synthesis of Lansiumamide B (
N
-methyl-
N
-
cis
-styryl-cinnamamide,
2
) derivatives by various substitution on the amide nitrogen with alkyl, allyl, propargyl, benzyl or ester groups. The structures of nine new compounds were characterized by HRMS,
1
H NMR, and
13
C NMR spectra. These compounds were tested in vitro against 10 strains of phytopathogenic fungi and showed a wide antifungal spectrum. The relationship between different substituents on the amide nitrogen and antifungal activity of Lansiumamide B derivatives were compared and analyzed. The result indicates that the length and steric hindrance of
N
-substitution have a significant impact on biological activities. It is noteworthy that the methyl or ethyl substituent on the amide nitrogen is critical for the antifungal activities.
Full article
►

▼

Figures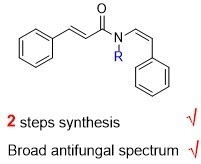 Graphical abstract