Open Access
Article
OTA Prevention and Detoxification by Actinobacterial Strains and Activated Carbon Fibers: Preliminary Results
Received: 16 March 2018 / Revised: 20 March 2018 / Accepted: 22 March 2018 / Published: 24 March 2018
PDF Full-text (13747 KB) | HTML Full-text | XML Full-text
Abstract
Ochratoxin A (OTA) is a mycotoxin produced by several species of Aspergillus and Penicillium that contaminate food and feed raw materials. To reduce OTA contamination, we first tested in vitro, actinobacterial strains as potential biocontrol agents and afterward, through a physical decontamination method
[...] Read more.
Ochratoxin A (OTA) is a mycotoxin produced by several species of
Aspergillus
and
Penicillium
that contaminate food and feed raw materials. To reduce OTA contamination, we first tested in vitro, actinobacterial strains as potential biocontrol agents and afterward, through a physical decontamination method using activated carbon fibers (ACFs). Actinobacterial strains were screened for their ability to reduce OTA in solid co-culture with
A. carbonarius
, which is the major OTA-producing species in European vineyards. Four strains showed a high affinity for removing OTA (67%–83%) with no significant effect on fungal growth (<20%). The mechanism of action was first studied by analyzing the expression of OTA cluster genes (
acOTApks
,
acOTAnrps
,
acOTAhal
) by RT-qPCR showing a drastic reduction in all genes (7–15 times). Second, the ability of these strains to degrade OTA was assessed in vitro on ISP2 solid medium supplemented with OTA (100 µg/L). Two strains reduced OTA to undetectable levels. As for the physical method, high adsorption rates were obtained for ACFs at 0.8 g/L with a 50% adsorption of OTA in red wine by AC15 and 52% in grape juice by AC20 within 24 h. These promising methods could be complementarily applied toward reducing OTA contamination in food chains, which promotes food safety and quality.
Full article
►

▼

Figures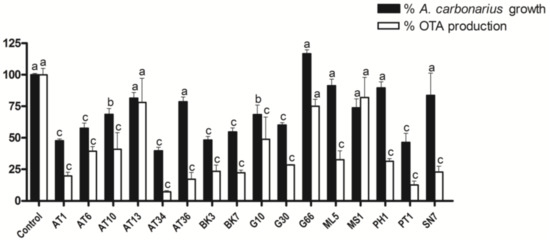 Figure 1