Open Access
Article
Prevalence and Genetic Characteristics of Staphylococcus aureus and Staphylococcus argenteus Isolates Harboring Panton-Valentine Leukocidin, Enterotoxins, and TSST-1 Genes from Food Handlers in Myanmar
Received: 25 June 2017 / Revised: 26 July 2017 / Accepted: 2 August 2017 / Published: 4 August 2017
PDF Full-text (932 KB) | HTML Full-text | XML Full-text | Supplementary Files
Abstract
Asymptomatic carriers of toxigenic Staphylococcus aureus are potential source of diseases, including food poisoning. Toxigenic potential and genetic traits of colonizing S. aureus were investigated for 563 healthy food handlers in Myanmar. Carriage of S. aureus was found in 110 individuals (19.5%), and
[...] Read more.
Asymptomatic carriers of toxigenic
Staphylococcus aureus
are potential source of diseases, including food poisoning. Toxigenic potential and genetic traits of colonizing
S. aureus
were investigated for 563 healthy food handlers in Myanmar. Carriage of
S. aureus
was found in 110 individuals (19.5%), and a total of 144
S. aureus
isolates were recovered from nasal cavities (110 isolates) and hands (34 isolates). Panton-Valentine leucocidin genes (
pvl
) were detected in 18 isolates (12.5%), among which 11 isolates were classified into
coa
-VIa,
agr
type III, and ST1930 (CC96) that had been also detected in
pvl
-positive clinical isolates in Myanmar. A
pvl
-positive, ST2250 nasal isolate was identified as
S. argenteus
, a novel coagulase-positive staphylococcus species. Toxic shock syndrome toxin-1 (TSST-1) gene was detected in five
pvl
-negative isolates. All of the 144 isolates harbored at least one of the 21 enterotoxin(-like) gene(s). The most prevalent enterotoxin(-like) gene was
selw
(98%), followed by
selx
(97%),
sei
(28%),
sely
(28%),
sem
(26%),
sel
(24%), and
sea
and
sec
(22% each). Considerable genetic diversity with five groups was detected for
selw
. The present study revealed the relatively high rate of
pvl
, as well as the wide distribution of enterotoxin(-like) genes among colonizing
S. aureus
in Myanmar.
Full article
►

▼

Figures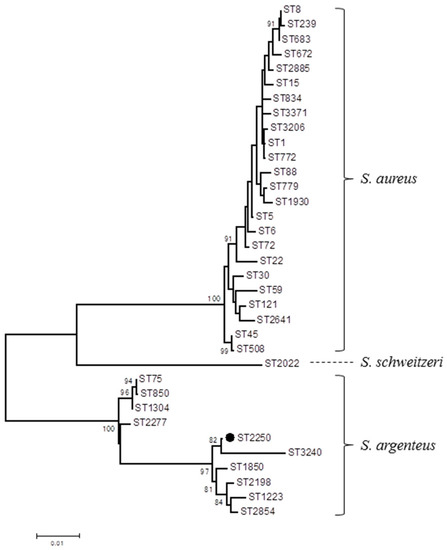 Figure 1