Effects of Ellagic Acid on Angiogenic Factors in Prostate Cancer Cells
1
Department of Drug Science, Section of Biochemistry, University of Catania, I-95125 Catania, Italy
2
Department of Bio-Medical Sciences, Section of Physiology, University of Catania, I-95125, Catania, Italy
3
Joan C. Edwards School of Medicine, Marshall University, Huntington, WV 25701, USA
*
Author to whom correspondence should be addressed.
Received: 3 May 2013 / Revised: 31 May 2013 / Accepted: 7 June 2013 / Published: 19 June 2013
Abstract
Background
: Several natural antioxidants, including ellagic acid (EA), have been reported to have chemotherapeutic activity
in vivo
and
in vitro
settings. Cytochrome P450 (CYP) activity and synthesis of both epoxyeicosatrienoic acids (EETs) and 20-hydroxy-5,8,11,14-eicosatetraenoic acid (20-HETE), together with vascular endothelial growth factor (VEGF) and heme oxygenase system (HO) have emerged as important modulators of tumor growth and metastasis.
Methods
: The anti-angiogenic effects of EA were investigated in the human prostatic cancer cell line LnCap. HO-1, HO-2, CYP2J2 and soluble epoxyde hydrolase (sEH) expressions were evaluated by western blotting. Levels of VEGF and osteoprotegerin (OPG) were determined in the culture supernatant using an ELISA assay, while CYP mRNAs were determined by qRT-PCR.
Results
: EA treatment induced a significant decrease (
p
< 0.05) in HO-1, HO-2 and CYP2J2 expression, and in VEGF and OPG levels. Similarly CYP2J2, CYP4F2 and CYPA22 mRNAs were significantly (
p
< 0.05) down-regulated by EA treatment. The decrease in CYP2J2 mRNA was associated with an increase in sEH expression.
Conclusions
: Results reported in the present study highlighted the ability of EA to modulate a new pathway, in addition to anti-proliferative and pro-differentiation properties, via a mechanism that involves a decrease in eicosanoid synthesis and a down-regulation of the HO system in prostate cancer.
View Full-Text
►

▼

Figures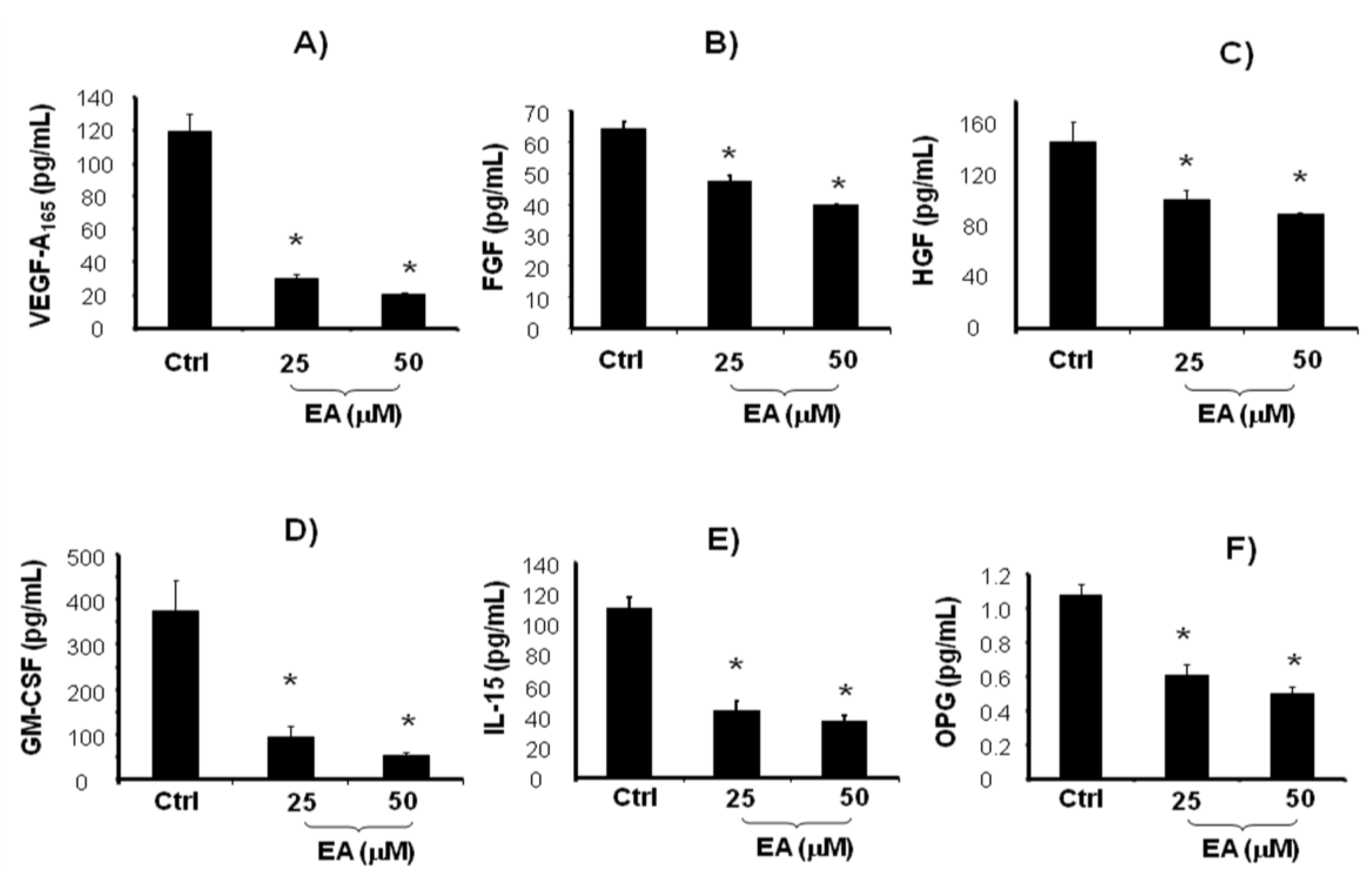 Figure 1
Share & Cite This Article
MDPI and ACS Style
Vanella, L.; Di Giacomo, C.; Acquaviva, R.; Barbagallo, I.; Li Volti, G.; Cardile, V.; Abraham, N.G.; Sorrenti, V. Effects of Ellagic Acid on Angiogenic Factors in Prostate Cancer Cells. Cancers 2013, 5, 726-738.
Related Articles
Comments
[Return to top]