A Facile Synthesis of New Monoazo Disperse Dyes Derived from 4-Hydroxyphenylazopyrazole-5-amines: Evaluation of Microwave Assisted Dyeing Behavior
1
Natural Science Department, College of Health Science, Public Authority for Applied Education and Training, P.O. Box 14281, Fayha 72853, Kuwait
2
Chemistry Department, Faculty of Science, Kuwait University, P.O. Box 5969, Safat 13060, Kuwait
3
Dyeing, Printing and Textile Auxiliaries Department, Textile Research Division, National Research Centre, Dokki, Giza 12622, Egypt
*
Author to whom correspondence should be addressed.
Received: 19 October 2012 / Revised: 14 November 2012 / Accepted: 16 November 2012 / Published: 23 November 2012
Abstract
A series of new monoazo disperse dyes containing pyrazolopyrimidine moieties was synthesized by coupling malononitrile or 3-aminocrotononitrile with 4-hydroxy- benzenediazonium chloride. Treatment of the resulting products with hydrazine hydrate yields the corresponding 4-arylazoaminopyrazoles, which then react with either 2,4-pentanedione and enaminonitriles or aryl-substituted enaminoketones to give the target pyrazolopyrimidine monoazo disperse dyes. Structural assignments of the dyes were made using both NMR spectroscopic and X-ray crystallographic methods. A high temperature dyeing method, by microwave irradiation, was employed with polyester fabrics. Most of the dyed fabrics tested displayed moderate light fastness and excellent washing and perspiration fastness levels.
View Full-Text
►

▼

Figures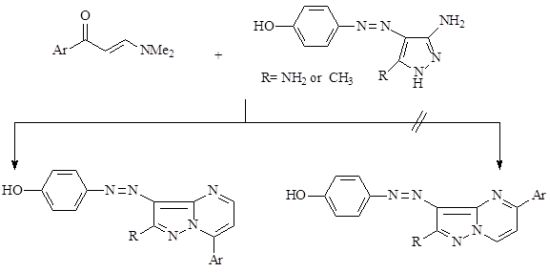 Share & Cite This Article
MDPI and ACS Style
Al-Etaibi, A.M.; El-Apasery, M.A.; Ibrahim, M.R.; Al-Awadi, N.A. A Facile Synthesis of New Monoazo Disperse Dyes Derived from 4-Hydroxyphenylazopyrazole-5-amines: Evaluation of Microwave Assisted Dyeing Behavior. Molecules 2012, 17, 13891-13909.
Related Articles
Comments
[Return to top]