Vectors for Inhaled Gene Therapy in Lung Cancer. Application for Nano Oncology and Safety of Bio Nanotechnology
1
Pulmonary Department-Oncology Unit, "G. Papanikolaou" General Hospital, Aristotle University of Thessaloniki, Thessaloniki 57010, Greece
2
Pulmonary Department-Interventional Unit, "Ruhrland Klinik", University of Essen, Essen 45239, Germany
3
Laboratory of Biochemistry, University of Patras, Patras 25200, Greece
4
Department of Respiratory diseases, Changhai hospital, Second Military Medical University, Shanghai 200433, China
5
II Medical Clinic, Hospital of Coburg, University of Wurzburg, Coburg 96450, Germany
6
Biomaterials Science & Engineering, Department of Materials Science & Engineering, University of Florida, FL 32611, USA
*
Author to whom correspondence should be addressed.
Received: 30 July 2012 / Revised: 21 August 2012 / Accepted: 22 August 2012 / Published: 29 August 2012
Abstract
Novel aerosol therapeutic modalities have been investigated for lung cancer. Inhaled gene therapy has presented safety and effectiveness previously in cystic fibrosis. However, safety concerns have been raised regarding the safety of non-viral vectors for inhaled gene therapy in lung cancer, and therefore small steps have been made towards this multifunctional treatment modality. During the last decade, numerous new nanocomplexes have been created and investigated as a safe gene delivery nano-vehicle. These formulations are multifunctional; they can be used as either local therapy or carrier for an effective inhaled gene therapy for lung cancer. Herein, we present current and future perspectives of nanocomplexes for inhaled gene therapy treatment in lung cancer.
View Full-Text
►

▼

Figures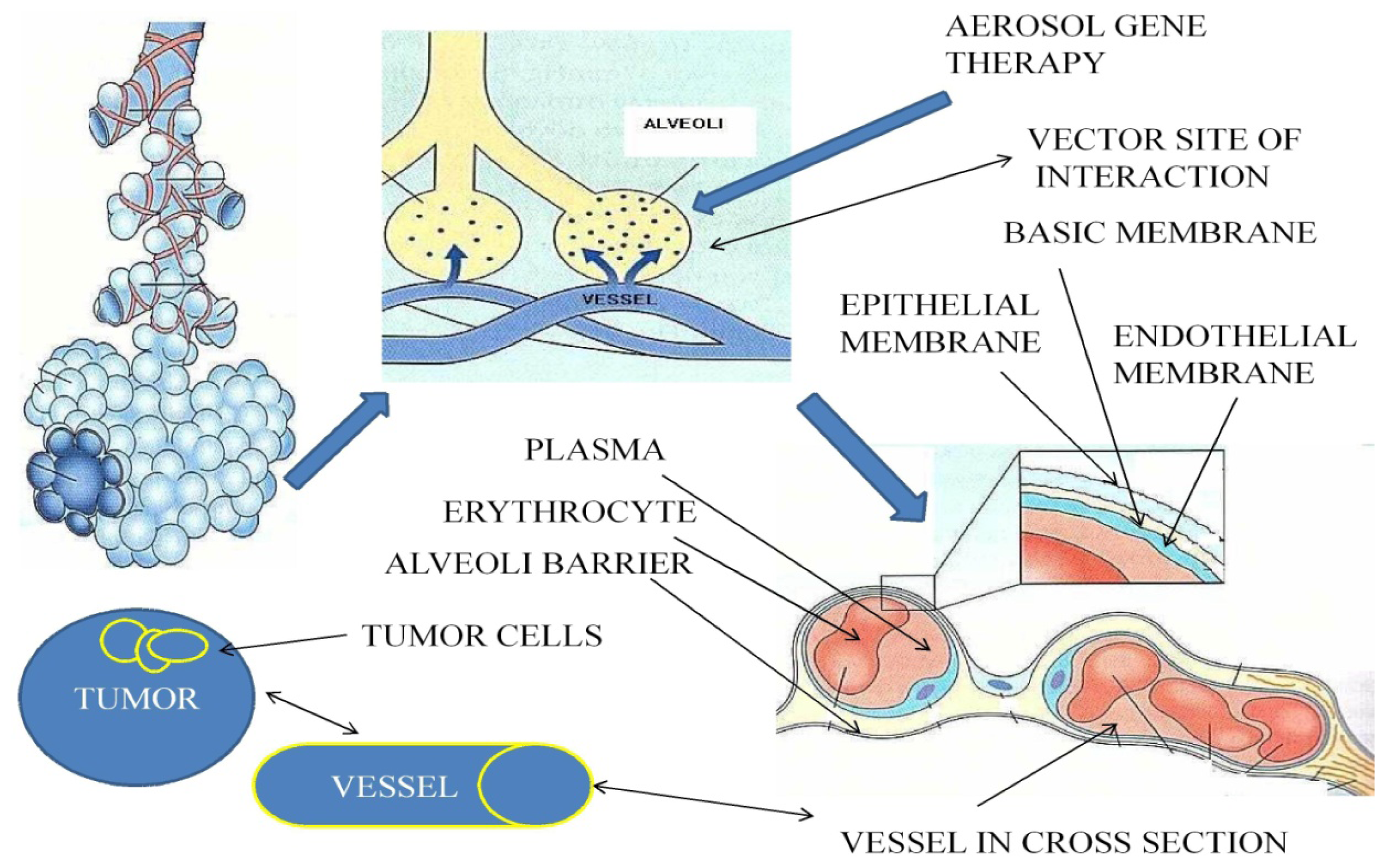 Supplementary material
Correction

A correction was published on 18 December 2012: http://www.mdpi.com/1422-0067/13/12/17290 (PDF, 129 KB)

The authors wish to add this correction on their paper published in IJMS [1]. The first author's name is misspelled and the correct name is Paul Zarogoulidis. In addition, the 6th author's name is incorrect and should be corrected to Wolfgang Hohenforst-Schmidt. These errors have been amended in an amended version of the manuscript, which is available from the International Journal of Molecular Sciences website. The authors and publisher apologize for the inconvenience.
Share & Cite This Article
MDPI and ACS Style
Zarogouldis, P.; Karamanos, N.K.; Porpodis, K.; Domvri, K.; Huang, H.; Hohenforst-Schimdt, W.; Goldberg, E.P.; Zarogoulidis, K. Vectors for Inhaled Gene Therapy in Lung Cancer. Application for Nano Oncology and Safety of Bio Nanotechnology. Int. J. Mol. Sci. 2012, 13, 10828-10862.
Related Articles
Comments
[Return to top]