Identification and Dynamic Regulation of microRNAs Involved in Salt Stress Responses in Functional Soybean Nodules by High-Throughput Sequencing
1
Key State Laboratory of Plant Cell & Chromosome Engineering, Center of Agricultural Resources Research, Institute of Genetics and Developmental Biology, Chinese Academy of Sciences, Shijiazhuang 050021, Hebei, China
2
Graduate School of Chinese Academy of Sciences, 19A Yuquanlu Shijingshanqu, Beijing 100049, China
3
Shijiazhuang Academy of Agriculture and Forestry Sciences, Shijiazhuang 050041, Hebei, China
4
National Engineering Laboratory for Tree Breeding, Key Laboratory of Genetics and Breeding in Forest Trees and Ornamental Plants, College of Biological Sciences and Biotechnology, Beijing Forestry University, Beijing 100083, China
5
Key Laboratory of Plant Molecular Physiology, Institute of Botany, Chinese Academy of Sciences, Beijing 100093, China
*
Author to whom correspondence should be addressed.
Received: 10 November 2012 / Revised: 9 January 2013 / Accepted: 15 January 2013 / Published: 28 January 2013
Abstract
Both symbiosis between legumes and rhizobia and nitrogen fixation in functional nodules are dramatically affected by salt stress. Better understanding of the molecular mechanisms that regulate the salt tolerance of functional nodules is essential for genetic improvement of nitrogen fixation efficiency. microRNAs (miRNAs) have been implicated in stress responses in many plants and in symbiotic nitrogen fixation (SNF) in soybean. However, the dynamic regulation of miRNAs in functioning nodules during salt stress response remains unknown. We performed deep sequencing of miRNAs to understand the miRNA expression profile in normal or salt stressed-soybean mature nodules. We identified 110 known miRNAs belonging to 61 miRNA families and 128 novel miRNAs belonging to 64 miRNA families. Among them, 104 miRNAs were dramatically differentially expressed (>2-fold or detected only in one library) during salt stress. qRT-PCR analysis of eight miRNAs confirmed that these miRNAs were dynamically regulated in response to salt stress in functional soybean nodules. These data significantly increase the number of miRNAs known to be expressed in soybean nodules, and revealed for the first time a dynamic regulation of miRNAs during salt stress in functional nodules. The findings suggest great potential for miRNAs in functional soybean nodules during salt stress.
View Full-Text
►

▼

Figures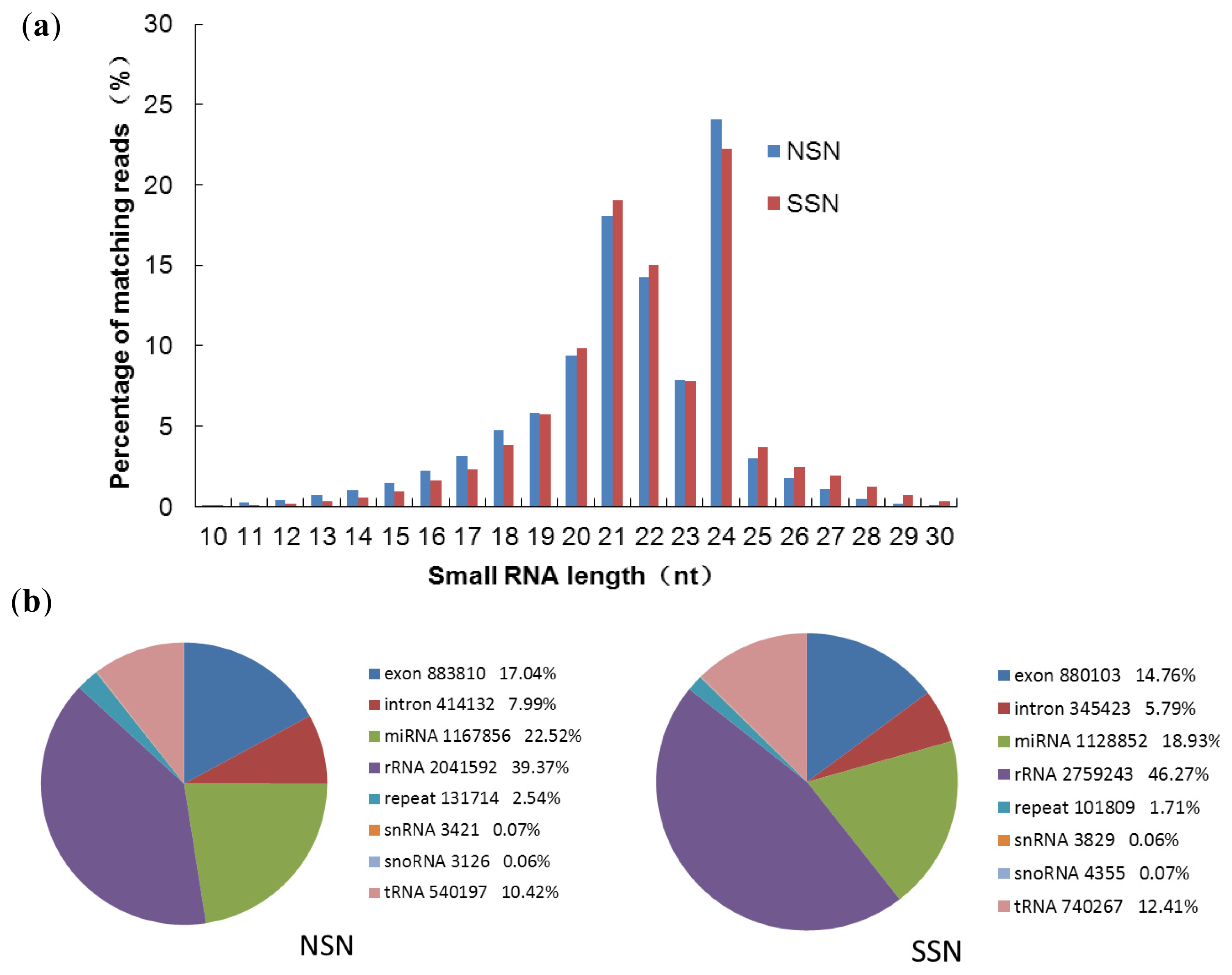 Share & Cite This Article
MDPI and ACS Style
Dong, Z.; Shi, L.; Wang, Y.; Chen, L.; Cai, Z.; Wang, Y.; Jin, J.; Li, X. Identification and Dynamic Regulation of microRNAs Involved in Salt Stress Responses in Functional Soybean Nodules by High-Throughput Sequencing. Int. J. Mol. Sci. 2013, 14, 2717-2738.
Related Articles
Comments
[Return to top]