Optimization of β-Glucosidase, β-Xylosidase and Xylanase Production by Colletotrichum graminicola under Solid-State Fermentation and Application in Raw Sugarcane Trash Saccharification
1
Department of Chemistry, Faculty of Philosophy, Sciences and Languages of Ribeirão Preto, University of SãoPaulo, Bandeirantes Avenue, 3900, Ribeirão Preto, SP 14040-901, Brazil
2
Department of Biology, Faculty of Philosophy, Sciences and Languages of Ribeirão Preto, University of São Paulo, Bandeirantes Avenue, 3900, Ribeirão Preto, SP 14040-901, Brazil
3
Laboratory of Gene Expression and Microbiology, Department of Graduation, University Nilton Lins, Prof. Nilton Lins Avenue, 3259, Manaus, AM 69058-040, Brazil
*
Author to whom correspondence should be addressed.
Received: 5 September 2012 / Revised: 12 December 2012 / Accepted: 9 January 2013 / Published: 30 January 2013
Abstract
Efficient, low-cost enzymatic hydrolysis of lignocellulosic residues is essential for cost-effective production of bioethanol. The production of β-glucosidase, β-xylosidase and xylanase
by
Colletotrichum graminicola
was optimized using Response Surface Methodology (RSM). Maximal production occurred in wheat bran. Sugarcane trash, peanut hulls and corncob enhanced β-glucosidase, β-xylosidase and xylanase production, respectively. Maximal levels after optimization reached 159.3 ± 12.7 U g
−1
, 128.1 ± 6.4 U g
−1
and 378.1 ± 23.3 U g
−1
, respectively, but the enzymes were produced simultaneously at good levels under culture conditions optimized for each one of them. Optima of pH and temperature were 5.0 and 65 °C for the three enzymes, which maintained full activity for 72 h at 50 °C and for 120 min at 60 °C (β-glucosidase) or 65 °C (β-xylosidase and xylanase). Mixed with
Trichoderma reesei
cellulases,
C. graminicola
crude extract hydrolyzed raw sugarcane trash with glucose yield of 33.1% after 48 h, demonstrating good potential to compose efficient cocktails for lignocellulosic materials hydrolysis.
View Full-Text
►

▼

Figures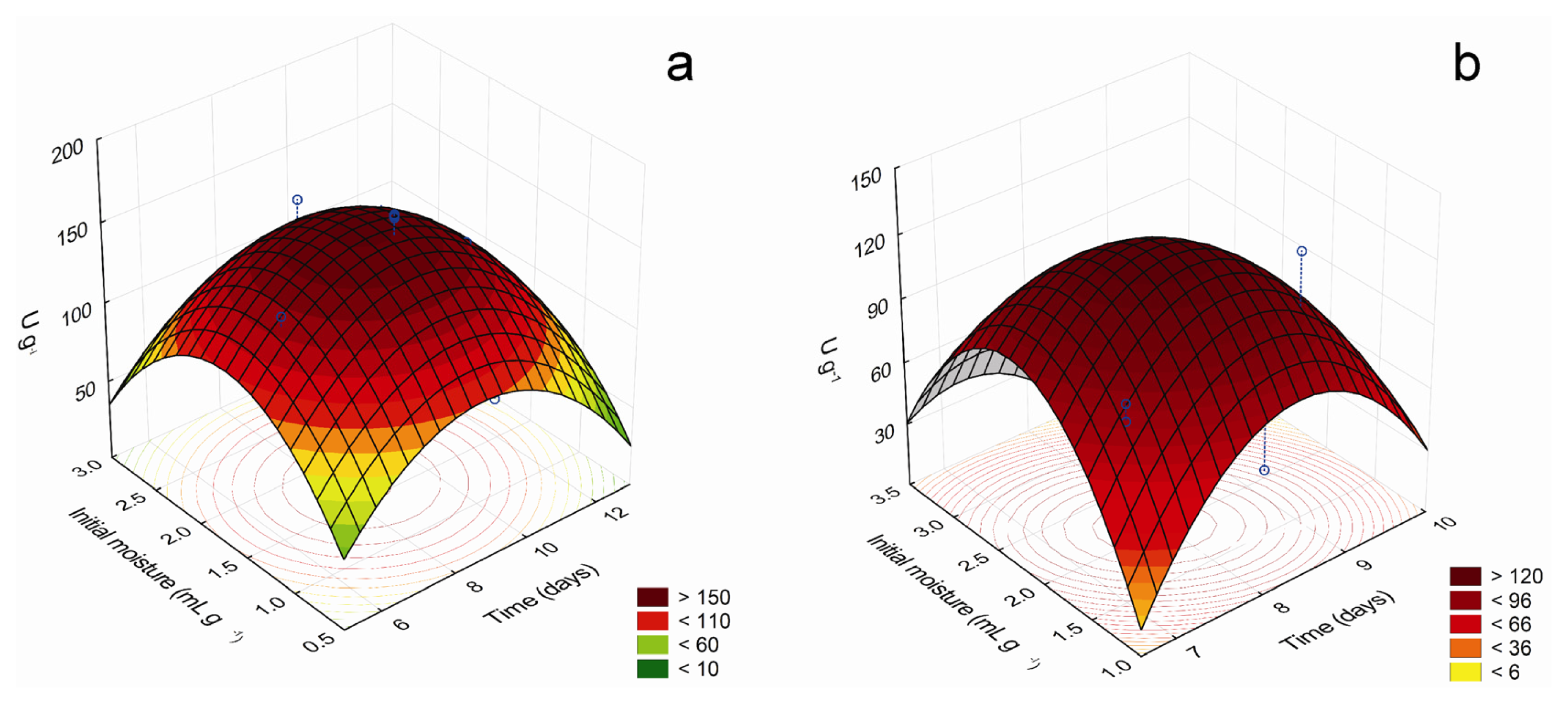 Share & Cite This Article
MDPI and ACS Style
Zimbardi, A.L.R.L.; Sehn, C.; Meleiro, L.P.; Souza, F.H.M.; Masui, D.C.; Nozawa, M.S.F.; Guimarães, L.H.S.; Jorge, J.A.; Furriel, R.P.M. Optimization of β-Glucosidase, β-Xylosidase and Xylanase Production by Colletotrichum graminicola under Solid-State Fermentation and Application in Raw Sugarcane Trash Saccharification. Int. J. Mol. Sci. 2013, 14, 2875-2902.
Related Articles
Comments
[Return to top]