Gonadotropins Activate Oncogenic Pathways to Enhance Proliferation in Normal Mouse Ovarian Surface Epithelium
Department of Medicinal Chemistry and Pharmacognosy, University of Illinois at Chicago, 900 S. Ashland Ave. Chicago, IL 60607, USA
†
These authors contributed equally to this work.
*
Author to whom correspondence should be addressed.
Received: 31 January 2013 / Revised: 21 February 2013 / Accepted: 25 February 2013 / Published: 28 February 2013
Abstract
Ovarian cancer is the most lethal gynecological malignancy affecting American women. The gonadotropins, follicle stimulating hormone (FSH) and luteinizing hormone (LH), have been implicated as growth factors in ovarian cancer. In the present study, pathways activated by FSH and LH in normal ovarian surface epithelium (OSE) grown in their microenvironment were investigated. Gonadotropins increased proliferation in both three-dimensional (3D) ovarian organ culture and in a two-dimensional (2D) normal mouse cell line. A mouse cancer pathway qPCR array using mRNA collected from 3D organ cultures identified Akt as a transcriptionally upregulated target following stimulation with FSH, LH and the combination of FSH and LH. Activation of additional pathways, such as Birc5, Cdk2, Cdk4, and Cdkn2a identified in the 3D organ cultures, were validated by western blot using the 2D cell line. Akt and epidermal growth factor receptor (EGFR) inhibitors blocked gonadotropin-induced cell proliferation in 3D organ and 2D cell culture. OSE isolated from 3D organ cultures stimulated with LH or hydrogen peroxide initiated growth in soft agar. Hydrogen peroxide stimulated colonies were further enhanced when supplemented with FSH. LH colony formation and FSH promotion were blocked by Akt and EGFR inhibitors. These data suggest that the gonadotropins stimulate some of the same proliferative pathways in normal OSE that are activated in ovarian cancers.
View Full-Text
►

▼

Figures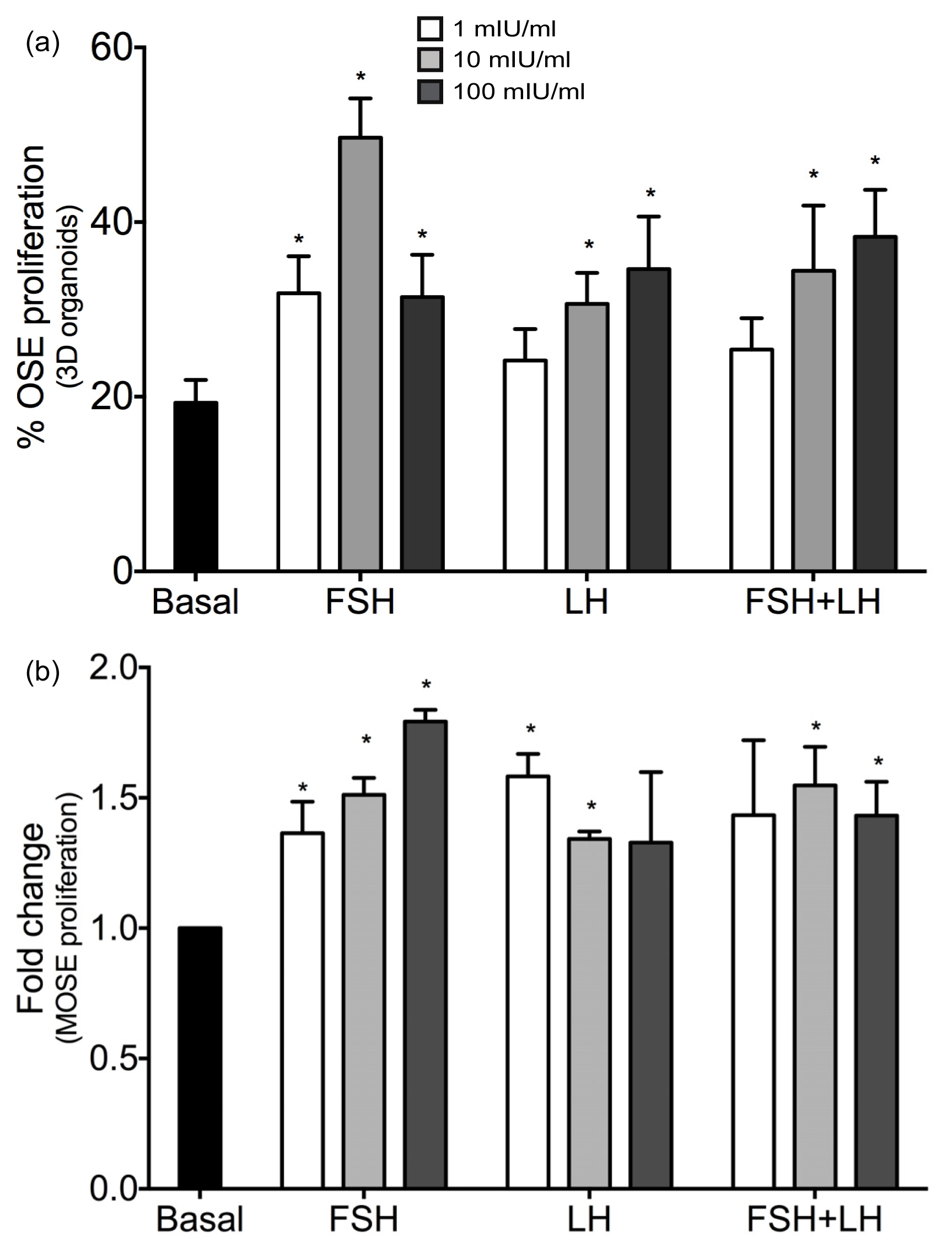 Share & Cite This Article
MDPI and ACS Style
Hilliard, T.S.; Modi, D.A.; Burdette, J.E. Gonadotropins Activate Oncogenic Pathways to Enhance Proliferation in Normal Mouse Ovarian Surface Epithelium. Int. J. Mol. Sci. 2013, 14, 4762-4782.
Related Articles
Comments
[Return to top]