Voltammetric Determination of Cocaine in Confiscated Samples Using a Carbon Paste Electrode Modified with Different [UO2(X-MeOsalen)(H2O)]·H2O Complexes
1
Departamento de Química, Faculdade de Filosofia, Ciências e Letras de Ribeirão Preto, Universidade de São Paulo, Ribeirão Preto 14040-901, São Paulo, Brasil
2
Centro de Ciências Exatas e de Tecnologia, Departamento de Química, Universidade Federal de São Carlos, São Carlos 13565-905, São Paulo, Brasil
3
Perícias Criminalísticas de Ribeirão Preto, Superintendência de Polícia Técnico-Científica do Estado de São Paulo, Ribeirão Preto14015-040, São Paulo, Brasil
*
Author to whom correspondence should be addressed.
Received: 20 April 2013 / Revised: 27 May 2013 / Accepted: 5 June 2013 / Published: 14 June 2013
Abstract
A fast and non-destructive voltammetric method to detect cocaine in confiscated samples based on carbon paste electrode modified with methoxy-substituted N,N'-ethylene-bis(salcylideneiminato)uranyl(VI)complexes, [UO
2
(X-MeOSalen)(H
2
O)]·H
2
O, where X corresponds to the positions 3, 4 or 5 of the methoxy group on the aromatic ring, is described. The electrochemical behavior of the modified electrode and the electrochemical detection of cocaine were investigated using cyclic voltammetry. Using 0.1 mol·L
−1
KCl as supporting-electrolyte, a concentration-dependent, well-defined peak current for cocaine at 0.62 V, with an amperometric sensitivity of 6.25 × 10
4
μA·mol·L
−1
for cocaine concentrations ranging between 1.0 × 10
−7
and 1.3 × 10
−6
mol·L
−1
was obtained. Chemical interference studies using lidocaine and procaine were performed. The position of the methoxy group affects the results, with the 3-methoxy derivative being the most sensitive.
View Full-Text
►

▼

Figures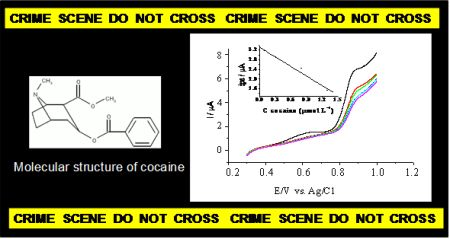 Share & Cite This Article
MDPI and ACS Style
de Oliveira, L.S.; dos Santos Poles, A.P.; Balbino, M.A.; Teles de Menezes, M.M.; de Andrade, J.F.; Dockal, E.R.; Tristão, H.M.; de Oliveira, M.F. Voltammetric Determination of Cocaine in Confiscated Samples Using a Carbon Paste Electrode Modified with Different [UO2(X-MeOsalen)(H2O)]·H2O Complexes. Sensors 2013, 13, 7668-7679.
Related Articles
Comments
[Return to top]