Synthesis, Characterization, and Antibacterial Activity of Cross-Linked Chitosan-Glutaraldehyde
1
State Key Laboratory of Rice Biology, Institute of Biotechnology, Zhejiang University, Hangzhou 310058, China
2
State Key Laboratory Breeding Base for Zhejiang Sustainable Plant Pest and Disease Control, Zhejiang Academy of Agricultural Sciences, Hangzhou 310021, China
3
College of Chemistry and Life Sciences, Zhejiang Normal University, Jinhua 321004, China
4
Institute of Digital Agriculture, Zhejiang Academy of Agricultural Sciences, Hangzhou 310021, China
5
Research and Development Center of Biorational Pesticides, Northwest A & F University, Yangling, Shaanxi 712100, China
6
State Key Laboratory of Rice Biology, China National Rice Research Institute, Hangzhou 310006, China
*
Authors to whom correspondence should be addressed.
Received: 18 February 2013 / Revised: 17 April 2013 / Accepted: 26 April 2013 / Published: 13 May 2013
Abstract
This present study deals with synthesis, characterization and antibacterial activity of cross-linked chitosan-glutaraldehyde. Results from this study indicated that cross-linked chitosan-glutaraldehyde markedly inhibited the growth of antibiotic-resistant
Burkholderia cepacia
complex regardless of bacterial species and incubation time while bacterial growth was unaffected by solid chitosan. Furthermore, high temperature treated cross-linked chitosan-glutaraldehyde showed strong antibacterial activity against the selected strain 0901 although the inhibitory effects varied with different temperatures. In addition, physical-chemical
and structural characterization revealed
that the cross-linking of chitosan with glutaraldehyde resulted in a rougher surface morphology, a characteristic Fourier transform infrared (FTIR) band at 1559 cm
−1
,
a specific X-ray diffraction peak centered at 2
θ
= 15°
,
a lower contents of carbon, hydrogen and nitrogen, and a higher stability of glucose units compared to chitosan based on scanning electron microscopic observation, FTIR spectra, X-ray diffraction pattern, as well as elemental and thermo gravimetric analysis. Overall, this study indicated that cross-linked chitosan-glutaraldehyde is promising to be developed as a new antibacterial drug.
View Full-Text
►

▼

Figures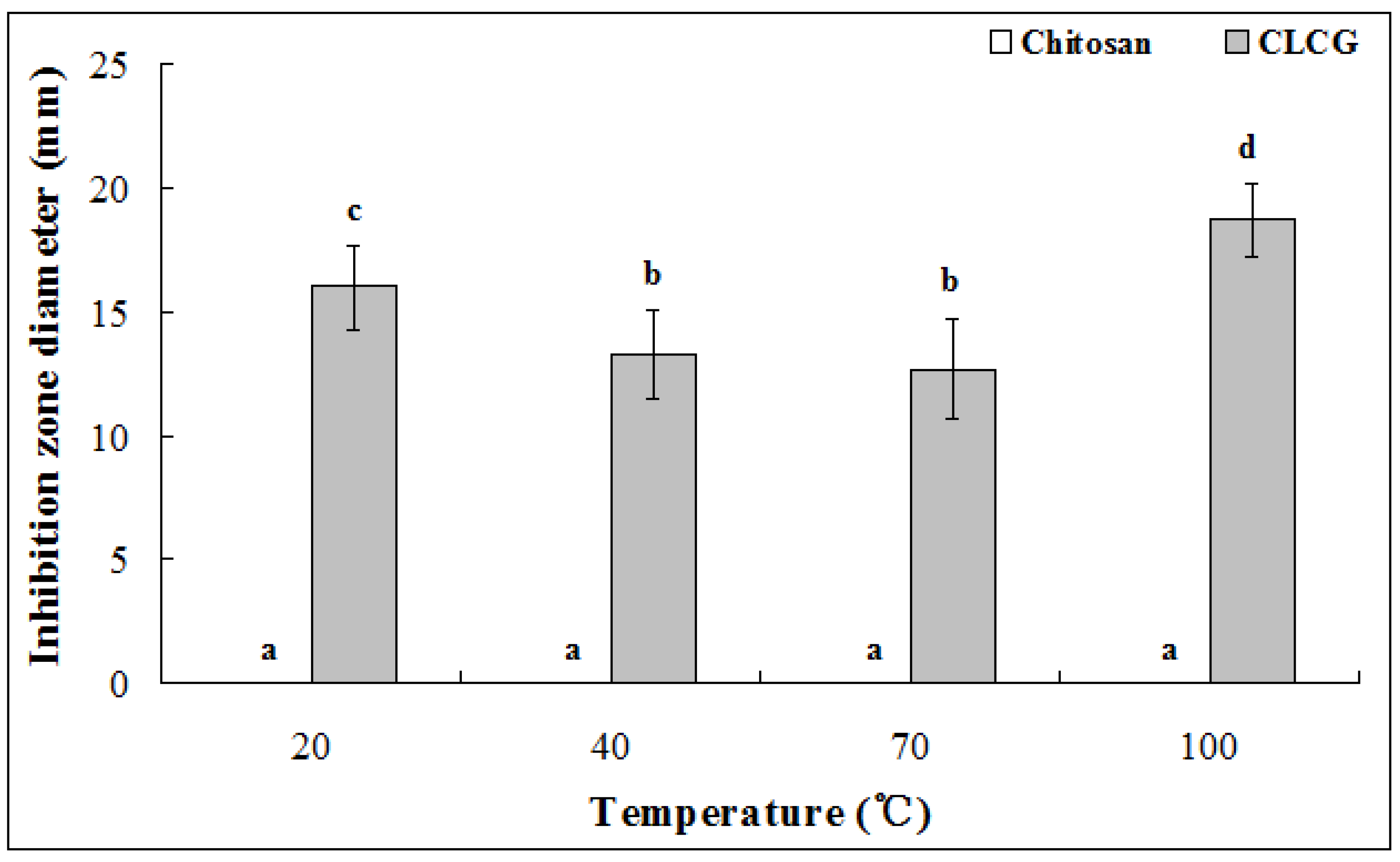 Figure 1
Share & Cite This Article
MDPI and ACS Style
Li, B.; Shan, C.-L.; Zhou, Q.; Fang, Y.; Wang, Y.-L.; Xu, F.; Han, L.-R.; Ibrahim, M.; Guo, L.-B.; Xie, G.-L.; Sun, G.-C. Synthesis, Characterization, and Antibacterial Activity of Cross-Linked Chitosan-Glutaraldehyde. Mar. Drugs 2013, 11, 1534-1552.
Related Articles
Comments
[Return to top]