Deep Sea Water Modulates Blood Pressure and Exhibits Hypolipidemic Effects via the AMPK-ACC Pathway: An in Vivo Study
1
School of Pharmacy, China Medical University, 91 Hsueh-Shih Road, Taichung 404, Taiwan
2
Department of Nutrition, China Medical University, 91 Hsueh-Shih Road, Taichung 404, Taiwan
3
Department of Pharmacy, Da-Chien General Hospital, Miaoli 36052, Taiwan
*
Authors to whom correspondence should be addressed.
Received: 12 April 2013 / Revised: 14 May 2013 / Accepted: 22 May 2013 / Published: 17 June 2013
Abstract
Deep sea water (DSW), originally pumped from the Pacific Rim off the coast of Hualien County (Taiwan), and its mineral constituents, were concentrated by a low-temperature vacuum evaporation system to produce a hardness of approximately 400,000 mg/L of seawater mineral concentrate. The primary composition of this seawater mineral concentrate was ionic magnesium (Mg
2+
), which was approximately 96,000 mg/L. Referring to the human recommended daily allowance (RDA) of magnesium, we diluted the mineral concentrate to three different dosages: 0.1 × DSW (equivalent to 3.75 mg Mg
2+
/kg DSW); 1 × DSW (equivalent to 37.5 mg Mg
2+
/kg DSW); and 2 × DSW (equivalent to 75 mg Mg
2+
/kg DSW). Additionally, a magnesium chloride treatment was conducted for comparison with the DSW supplement. The study indicated that 0.1 × DSW, 1 × DSW and 2 × DSW decreased the systolic and diastolic pressures in spontaneous hypertensive rats in an eight-week experiment. DSW has been shown to reduce serum lipids and prevent atherogenesis in a hypercholesterolemic rabbit model. Our results demonstrated that 1 × DSW and 2 × DSW significantly suppressed the serum cholesterol levels, reduced the lipid accumulation in liver tissues, and limited aortic fatty streaks. These findings indicated that the antiatherogenic effects of DSW are associated with 5′-adenosine monophosphate-activated protein kinase (AMPK) stimulation and the consequent inhibition of phosphorylation of acetyl-CoA carboxylase (ACC) in atherosclerotic rabbits. We hypothesize that DSW could potentially be used as drinking water because it modulates blood pressure, reduces lipids, and prevents atherogenesis.
View Full-Text
►

▼

Figures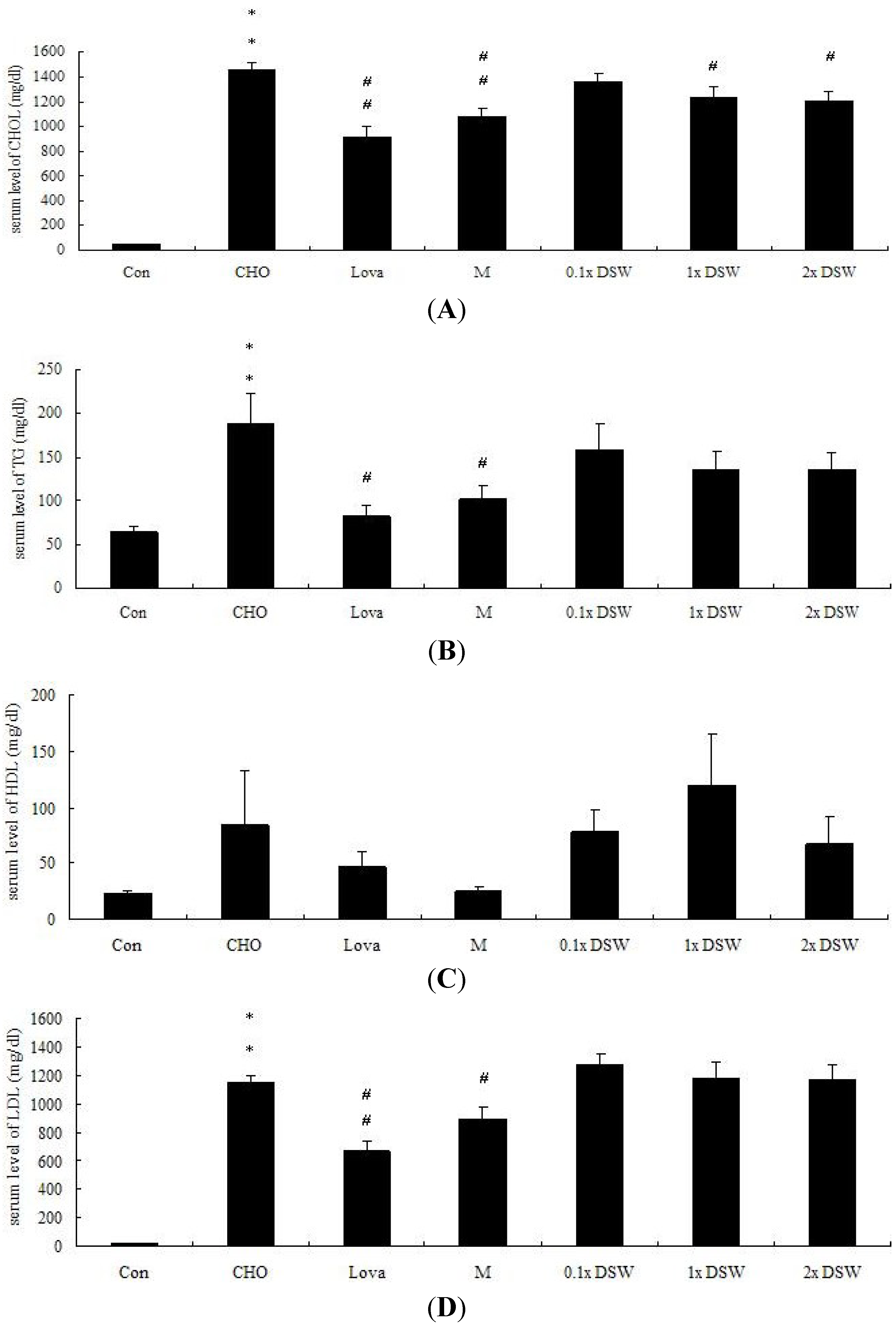 Figure 1
Share & Cite This Article
MDPI and ACS Style
Sheu, M.-J.; Chou, P.-Y.; Lin, W.-H.; Pan, C.-H.; Chien, Y.-C.; Chung, Y.-L.; Liu, F.-C.; Wu, C.-H. Deep Sea Water Modulates Blood Pressure and Exhibits Hypolipidemic Effects via the AMPK-ACC Pathway: An in Vivo Study. Mar. Drugs 2013, 11, 2183-2202.
Related Articles
Comments
[Return to top]