Cytotoxicity, Fractionation and Dereplication of Extracts of the Dinoflagellate Vulcanodinium rugosum, a Producer of Pinnatoxin G
1
Ifremer, Laboratoire Phycotoxines, Centre Atlantique, 44311 Nantes Cedex, France
2
MMS EA2160, Faculté de Pharmacie, LUNAM, Université de Nantes, 44035 Nantes, France
3
Unité de Toxicologie des Contaminants, ANSES, 35302 Fougères, France
†
These authors contributed equally to this work.
*
Author to whom correspondence should be addressed.
Received: 5 June 2013 / Revised: 18 July 2013 / Accepted: 7 August 2013 / Published: 2 September 2013
Abstract
Pinnatoxin G (PnTX-G) is a marine toxin belonging to the class of cyclic imines and produced by the dinoflagellate
Vulcanodinium rugosum
. In spite of its strong toxicity to mice, leading to the classification of pinnatoxins into the class of "fast-acting toxins", its hazard for human health has never been demonstrated. In this study, crude extracts of
V. rugosum
exhibited significant cytotoxicity against Neuro2A and KB cells. IC
50
values of 0.38 µg mL
−1
and 0.19 µg mL
−1
were estimated on Neuro2A cells after only 24 h of incubation and on KB cells after 72 h of incubation, respectively. In the case of Caco-2 cells 48 h after exposure, the crude extract of
V
.
rugosum
induced cell cycle arrest accompanied by a dramatic increase in double strand DNA breaks, although only 40% cytotoxicity was observed at the highest concentration tested (5 µg mL
−1
). However, PnTX-G was not a potent cytotoxic compound as no reduction of the cell viability was observed on the different cell lines. Moreover, no effects on the cell cycle or DNA damage were observed following treatment of undifferentiated Caco-2 cells with PnTX-G. The crude extract of
V. rugosum
was thus partially purified using liquid-liquid partitioning and SPE clean-up.
In vitro
assays revealed strong activity of some fractions containing no PnTX-G. The crude extract and the most potent fraction were evaluated using full scan and tandem high resolution mass spectrometry. The dereplication revealed the presence of a major compound that could be putatively annotated as nakijiquinone A,
N
-carboxy-methyl-smenospongine or stachybotrin A, using the MarinLit™ database. Further investigations will be necessary to confirm the identity of the compounds responsible for the cytotoxicity and genotoxicity of the extracts of
V. rugosum
.
View Full-Text
►

▼

Figures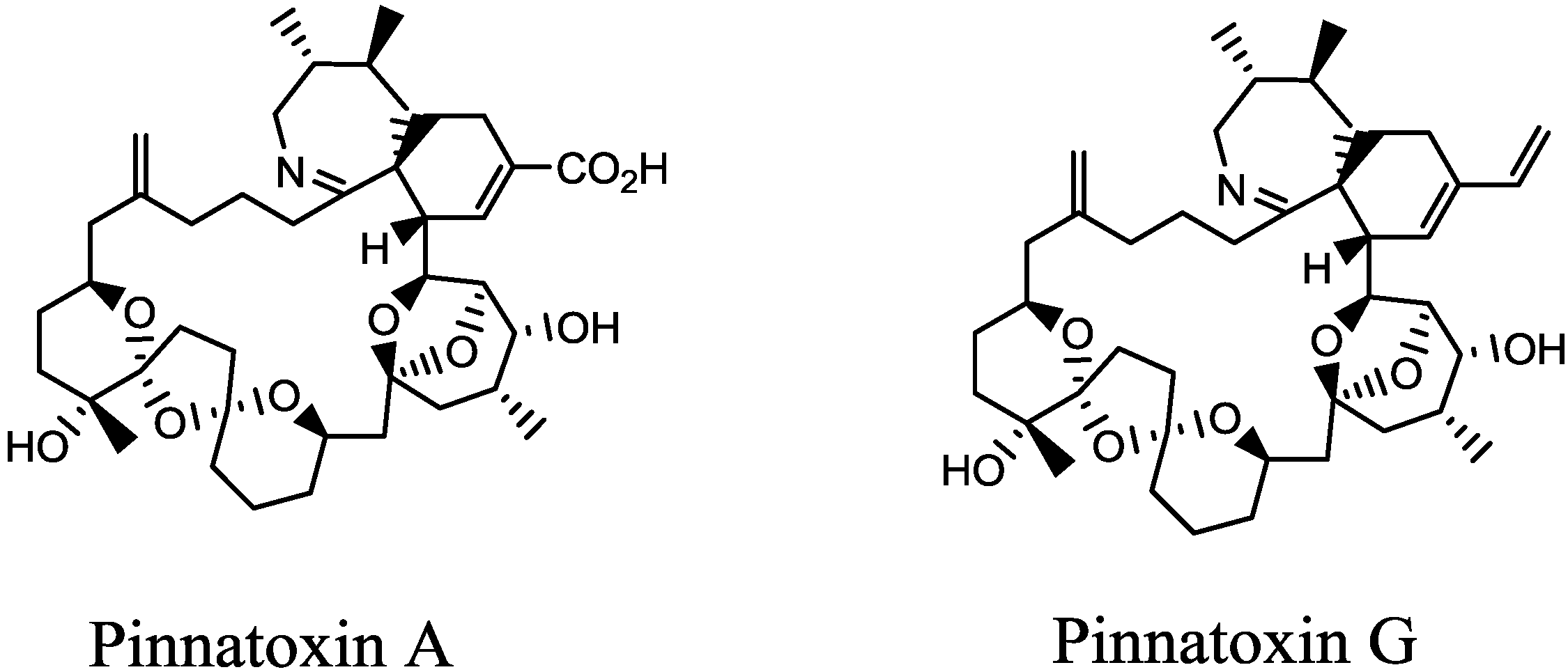 Figure 1
Share & Cite This Article
MDPI and ACS Style
Geiger, M.; Desanglois, G.; Hogeveen, K.; Fessard, V.; Leprêtre, T.; Mondeguer, F.; Guitton, Y.; Hervé, F.; Séchet, V.; Grovel, O.; Pouchus, Y.-F.; Hess, P. Cytotoxicity, Fractionation and Dereplication of Extracts of the Dinoflagellate Vulcanodinium rugosum, a Producer of Pinnatoxin G. Mar. Drugs 2013, 11, 3350-3371.
Related Articles
Comments
[Return to top]