Structural Studies of the Lipopolysaccharide from the Fish Pathogen Aeromonas veronii Strain Bs19, Serotype O16
1
Department of Genetics and Microbiology, M. Curie-Sklodowska University, Akademicka 19, Lublin 20-033, Poland
2
Division of Structural Biochemistry, Research Center Borstel, Leibniz-Center for Medicine and Biosciences, Parkallee 4a/c, Borstel D-23845, Germany
3
Division of Bioanalytical Chemistry, Research Center Borstel, Leibniz-Center for Medicine and Biosciences, Parkallee 10, Borstel D-23845, Germany
4
Department of Fish Diseases, National Veterinary Research Institute, Partyzantow 57, Pulawy 24-100, Poland
*
Author to whom correspondence should be addressed.
Received: 24 December 2013 / Revised: 27 January 2014 / Accepted: 8 February 2014 / Published: 7 March 2014
Abstract
Chemical analyses, mass spectrometry, and NMR spectroscopy were applied to study the structure of the lipopolysaccharide (LPS) isolated from
Aeromonas veronii
strain Bs19, serotype O16. ESI-MS revealed that the most abundant LPS glycoforms have tetra-acylated or hexa-acylated lipid A species, consisting of a bisphosphorylated GlcN disaccharide with an AraN residue as a non-stoichiometric substituent, and a core oligosaccharide composed of Hep
5
Hex
3
HexN
1
Kdo
1
P
1
. Sugar and methylation analysis together with 1D and 2D
1
H and
13
C NMR spectroscopy were the main methods used, and revealed that the
O
-specific polysaccharide (OPS) of
A. veronii
Bs19 was built up of tetrasaccharide repeating units with the structure: →4)-α-d-Qui
p
3NAc-(1→3)-α-l-Rha
p
-(1→4)-β-d-Gal
p
-(1→3)-α-d-Gal
p
NAc-(1→. This composition was confirmed by mass spectrometry. The charge-deconvoluted ESI FT-ICR MS recorded for the LPS preparations identified mass peaks of
SR
- and
R
-form LPS species, that differed by Δm = 698.27 u, a value corresponding to the calculated molecular mass of one OPS repeating unit (6dHexNAc6dHexHexHexNAc-H
2
O). Moreover, unspecific fragmentation spectra confirmed the sequence of the sugar residues in the OPS and allowed to assume that the elucidated structure also represented the biological repeating unit.
View Full-Text
►

▼

Figures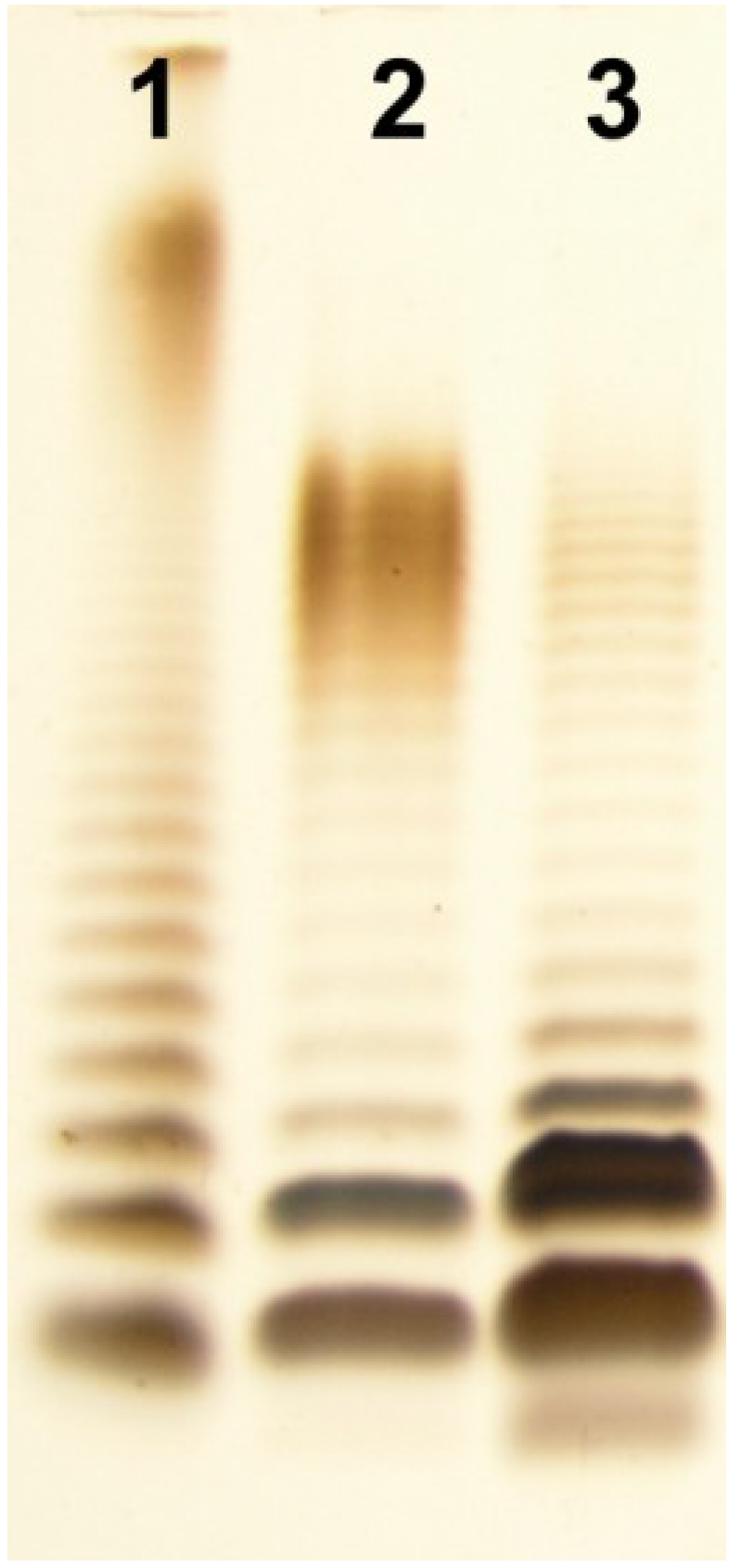 Figure 1
Share & Cite This Article
MDPI and ACS Style
Turska-Szewczuk, A.; Duda, K.A.; Schwudke, D.; Pekala, A.; Kozinska, A.; Holst, O. Structural Studies of the Lipopolysaccharide from the Fish Pathogen Aeromonas veronii Strain Bs19, Serotype O16. Mar. Drugs 2014, 12, 1298-1316.
Related Articles
Comments
[Return to top]