Cracking the Cytotoxicity Code: Apoptotic Induction of 10-Acetylirciformonin B is Mediated through ROS Generation and Mitochondrial Dysfunction
1
Department of Nursing, Meiho University, Pingtung 912, Taiwan
2
Department of Pharmacognosy and Natural Products Chemistry, Faculty of Pharmacy, Ain-Shams University, Organization of African Unity Street, Abassia, Cairo 11566, Egypt
3
Department of Urology, Kaohsiung Municipal Hsiao-Kang Hospital, Kaohsiung 812, Taiwan
4
Department of Urology, College of Medicine, Kaohsiung Medical University, Kaohsiung 807, Taiwan
5
Department of Urology, Kaohsiung Medical University Hospital, Kaohsiung 807, Taiwan
6
Department of Anatomy, College of Medicine, Kaohsiung Medical University, Kaohsiung 807, Taiwan
7
Graduate Institute of Marine Biotechnology, National Dong Hwa University, Pingtung 944, Taiwan
8
National Museum of Marine Biology & Aquarium, Pingtung 944, Taiwan
9
Pingtung Branch of Kaohsiung Veterans General Hospital, Nutrition Branch, Pingtung 912, Taiwan
10
Natural Medicinal Products Research Center, China Medical University Hospital, Taichung 404, Taiwan
11
Center for Molecular Medicine, China Medical University Hospital, Taichung 404, Taiwan
†
These authors contributed equally to this work.
*
Authors to whom correspondence should be addressed.
Received: 21 November 2013 / Revised: 4 April 2014 / Accepted: 16 April 2014 / Published: 22 May 2014
Abstract
A marine furanoterpenoid derivative, 10-acetylirciformonin B (10AB), was found to inhibit the proliferation of leukemia, hepatoma, and colon cancer cell lines, with selective and significant potency against leukemia cells. It induced DNA damage and apoptosis in leukemia HL 60 cells. To fully understand the mechanism behind the 10AB apoptotic induction against HL 60 cells, we extended our previous findings and further explored the precise molecular targets of 10AB. We found that the use of 10AB increased apoptosis by 8.9%–87.6% and caused disruption of mitochondrial membrane potential (MMP) by 15.2%–95.2% in a dose-dependent manner, as demonstrated by annexin-V/PI and JC-1 staining assays, respectively. Moreover, our findings indicated that the pretreatment of HL 60 cells with
N
-acetyl-l-cysteine (NAC), a reactive oxygen species (ROS) scavenger, diminished MMP disruption and apoptosis induced by 10AB, suggesting that ROS overproduction plays a crucial rule in the cytotoxic activity of 10AB. The results of a cell-free system assay indicated that 10AB could act as a topoisomerase catalytic inhibitor through the inhibition of topoisomerase IIα. On the protein level, the expression of the anti-apoptotic proteins
Bcl-xL
and
Bcl-2
, caspase inhibitors XIAP and survivin, as well as hexokinase II were inhibited by the use of 10AB. On the other hand, the expression of the pro-apoptotic protein Bax was increased after 10AB treatment. Taken together, our results suggest that 10AB-induced apoptosis is mediated through the overproduction of ROS and the disruption of mitochondrial metabolism.
View Full-Text
►

▼

Figures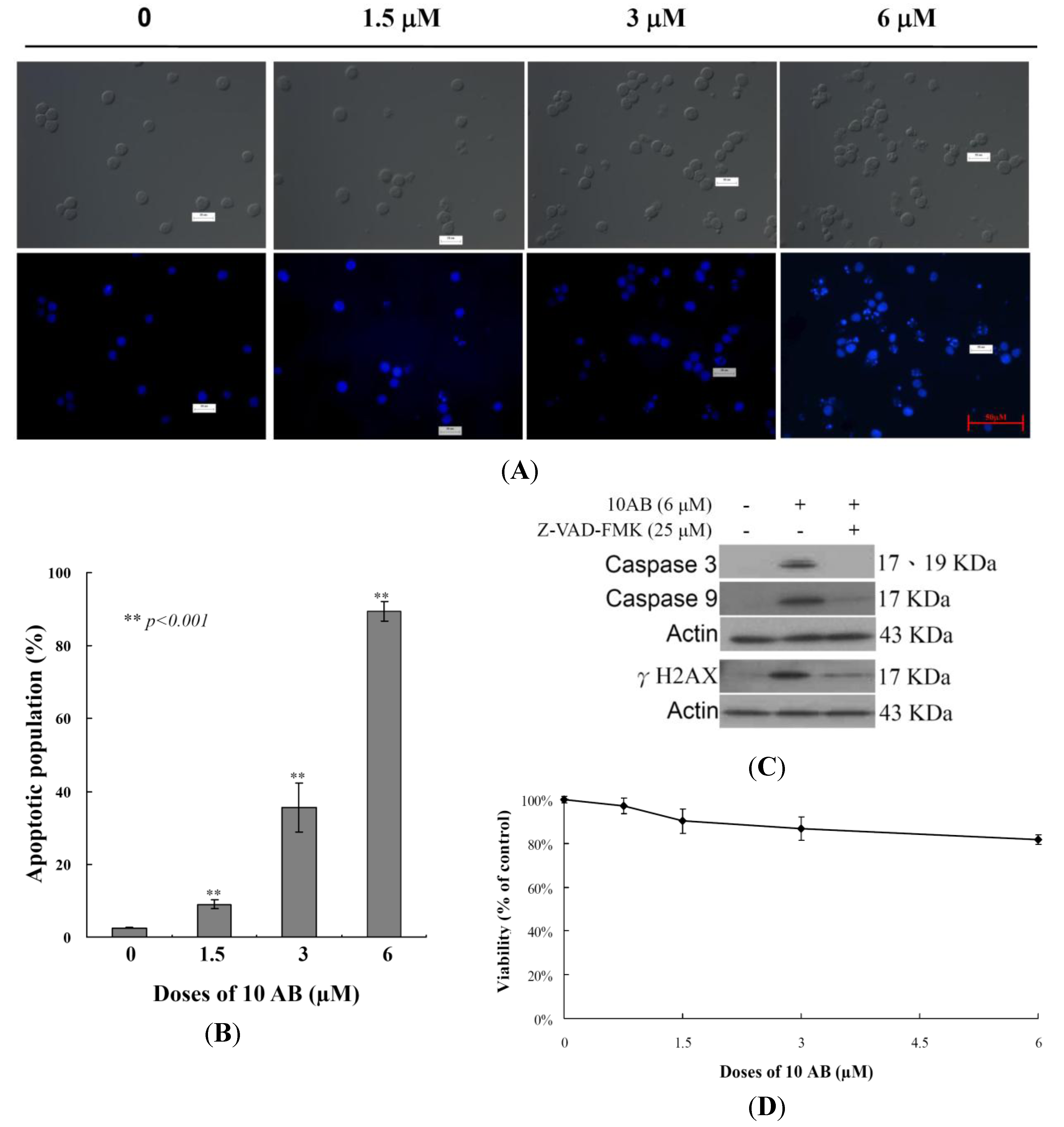 Figure 1
Share & Cite This Article
MDPI and ACS Style
Shih, H.-C.; El-Shazly, M.; Juan, Y.-S.; Chang, C.-Y.; Su, J.-H.; Chen, Y.-C.; Shih, S.-P.; Chen, H.-M.; Wu, Y.-C.; Lu, M.-C. Cracking the Cytotoxicity Code: Apoptotic Induction of 10-Acetylirciformonin B is Mediated through ROS Generation and Mitochondrial Dysfunction. Mar. Drugs 2014, 12, 3072-3090.
Related Articles
Comments
[Return to top]