Zn-Driven Discovery of a Hydrothermal Vent Fungal Metabolite Clavatustide C, and an Experimental Study of the Anti-Cancer Mechanism of Clavatustide B
1
Eye Center, The Second Affiliated Hospital, Zhejiang University School of Medicine, Hangzhou 310000, China
2
Ocean College, Zhejiang University, Hangzhou 310058, China
3
Institute of Marine Geology and Chemistry, National Sun Yat-sen University, Kaohsiung 80424, Taiwan
4
Department of Applied Chemistry, Zhejiang Gongshang University, Hangzhou 310058, China
*
Author to whom correspondence should be addressed.
Received: 15 February 2014 / Revised: 7 April 2014 / Accepted: 24 April 2014 / Published: 28 May 2014
Abstract
A naturally new cyclopeptide, clavatustide C, was produced as a stress metabolite in response to abiotic stress elicitation by one of the hydrothermal vent fluid components Zn in the cultured mycelia of
Aspergillus clavatus
C2WU, which were isolated from
Xenograpsus testudinatus
.
X. testudinatus
lives at extreme, toxic habitat around the sulphur-rich hydrothermal vents in Taiwan Kueishantao. The known compound clavatustide B was also isolated and purified. This is the first example of a new hydrothermal vent microbial secondary metabolite produced in response to abiotic Zn treatment. The structures were established by spectroscopic means. The regulation of G1-S transition in hepatocellular carcinoma cell lines by clavatustide B was observed in our previous study. The purpose of the present study was to verify these results in other types of cancer cell lines and elucidate the possible molecular mechanism for the anti-cancer activities of clavatustide B. In different human cancer cell lines, including pancreatic cancer (Panc-1), gastric cancer (MGC-803), colorectal cancer (SW-480), retinoblastoma (WERI-Rb-1) and prostate cancer (PC3), clavatustide B efficiently suppressed cell proliferations in a dose-dependent manner. Although different cancer cell lines presented variety in Max effect dose and IC
50
dose, all cancer cell lines showed a lower Max effect dose and IC
50
dose compared with human fibroblasts (hFB) (
p
< 0.05). Moreover, significant accumulations in G1 phases and a reduction in S phases (
p
< 0.05) were observed under clavatustide B treatment. The expression levels of 2622 genes including 39 cell cycle-associated genes in HepG2 cells were significantly altered by the treatment with 15 μg/mL clavatustide B after 48 h.
CCNE2
(cyclin E2) was proved to be the key regulator of clavatustide B-induced G1-S transition blocking in several cancer cell lines by using real-time PCR.
View Full-Text
►

▼

Figures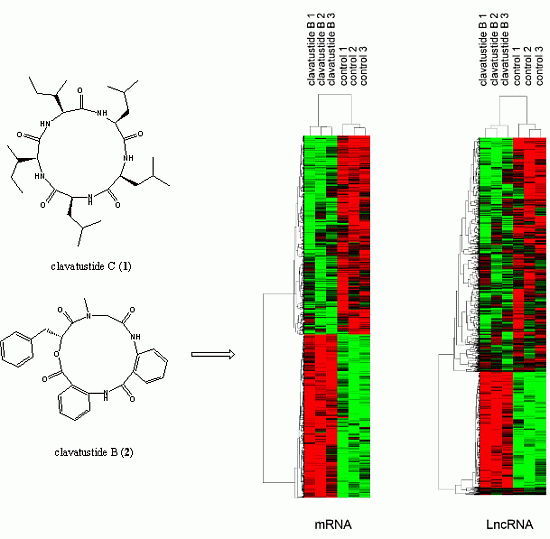 Share & Cite This Article
MDPI and ACS Style
Ye, P.; Shen, L.; Jiang, W.; Ye, Y.; Chen, C.-T.A.; Wu, X.; Wang, K.; Wu, B. Zn-Driven Discovery of a Hydrothermal Vent Fungal Metabolite Clavatustide C, and an Experimental Study of the Anti-Cancer Mechanism of Clavatustide B. Mar. Drugs 2014, 12, 3203-3217.
Related Articles
Comments
[Return to top]