The Kinetic Signature of Toxicity of Four Heavy Metals and Their Mixtures on MCF7 Breast Cancer Cell Line†
1
Department of Natural Sciences, University of Maryland Eastern Shore, Princess Anne, MD 21853, USA
2
Department of Biology, Chemistry and Environmental Health Sciences, Benedict College, Columbia, SC 29204, USA
†
This paper is an extended version of paper presented at the Ninth International Symposium on Recent Advances in Environmental Health Research, Jackson, MS, USA; 16–19 September 2012.
*
Author to whom correspondence should be addressed.
Received: 11 October 2012 / Revised: 30 November 2012 / Accepted: 4 December 2012 / Published: 21 October 2013
Abstract
This study evaluated the kinetic signature of toxicity of four heavy metals known to cause severe health and environmental issues—cadmium (Cd), mercury (Hg) lead (Pb) arsenic (As)—and the mixture of all four metals (Mix) on MCF7 cancer cells, in the presence and absence of the antioxidant glutathione (GSH). The study was carried out using real time cell electronic sensing (RT-CES). RT-CES monitors in real time the electrical impedance changes at the electrode/culture medium interface due to the number of adhered cells, which is used as an index of cell viability. Cells were seeded for 24 h before exposure to the metals and their mixtures. The results showed that in the presence and absence of cellular glutathione, arsenic was the most cytotoxic of all five treatments, inducing cell death after 5 h of exposure. Lead was the least cytotoxic in both scenarios. In the presence of cellular GSH, the cytotoxic trend was As > Cd > MIX > Hg > Pb, while in the absence of GSH, the cytotoxic trend was As > Hg > MIX > Cd > Pb. The findings from this study indicate the significance of glutathione-mediated toxicity of the metals examined—particularly for mercury—and may be clinically relevant for disorders such as autism spectrum disorder where decreased glutathione-based detoxification capacity is associated with increased mercury intoxication.
View Full-Text
►

▼

Figures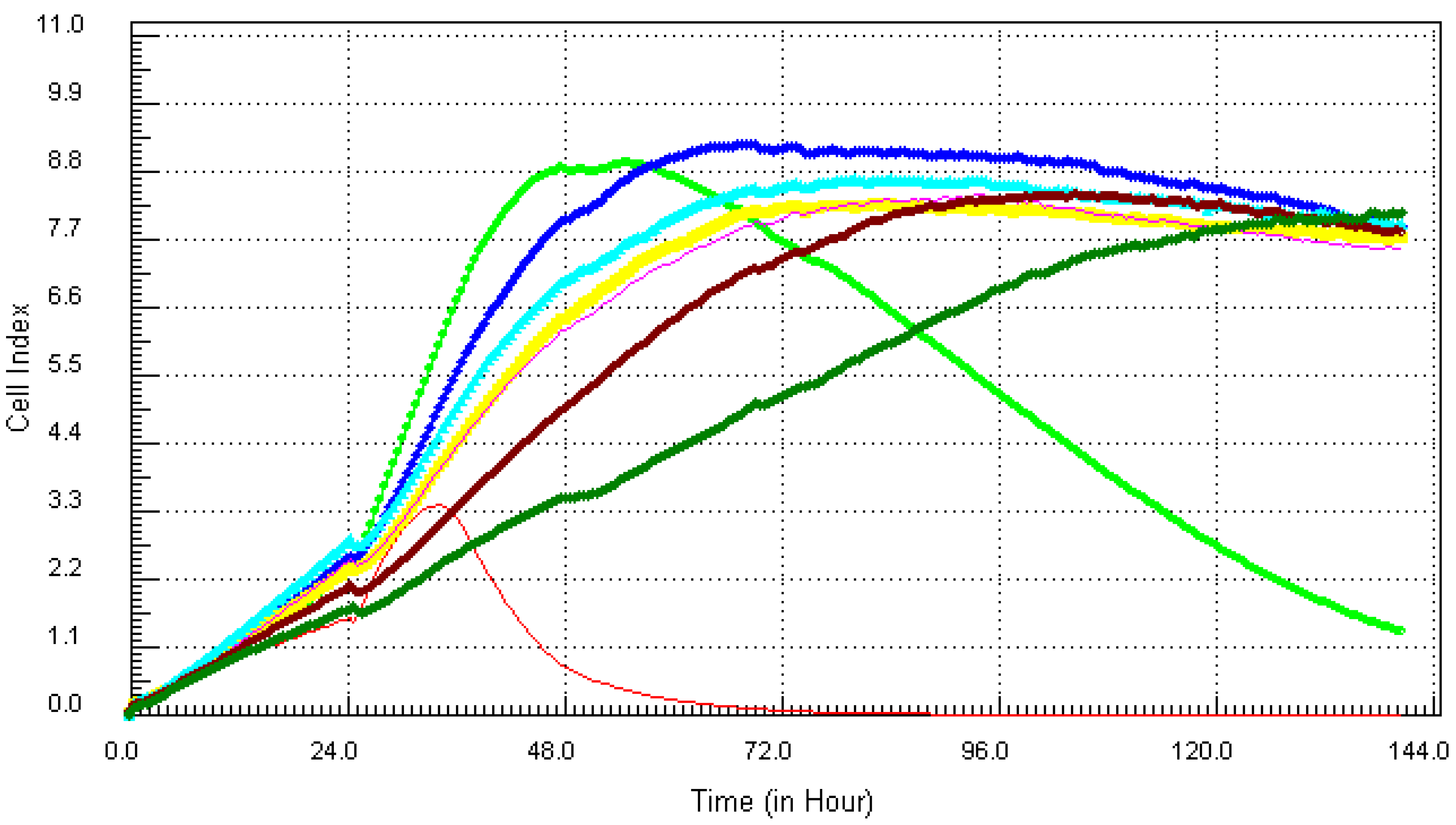 Figure 1
Share & Cite This Article
MDPI and ACS Style
Egiebor, E.; Tulu, A.; Abou-Zeid, N.; Aighewi, I.T.; Ishaque, A. The Kinetic Signature of Toxicity of Four Heavy Metals and Their Mixtures on MCF7 Breast Cancer Cell Line. Int. J. Environ. Res. Public Health 2013, 10, 5209-5220.
Related Articles
Comments
[Return to top]