Basic Concepts in the Taxonomy of Health-Related Behaviors, Habits and Lifestyle
1
Centre for Disability Research and Policy, Faculty of Health Sciences, University of Sydney, 75 East St. Lidcombe, NSW 2141, Australia
2
Spanish Association for Research of Healthy Aging (Asociación Española para el Estudio Científico del Envejecimiento Saludable, AECES), Calle Infante Don Fernando 17, 29200 Antequera (Málaga), Spain
3
Boston Combined Residency Program in Pediatrics, Boston Children's Hospital and Boston Medical Center, 300 Longwood Ave, Boston, MA 02115, USA
4
Faculty of Nursing and Physiotherapy, University of Cadiz, Av. Ana de Viya 52, 11009 Cádiz, Spain
5
Scientific Association PSICOST, Plaza de San Marcos 6, 11403 Jerez de la Frontera (Cádiz), Spain
6
VITAL group, Spanish Association for Research of Healthy Aging (Asociación Española para el Estudio Científico del Envejecimiento Saludable, AECES), Calle Infante Don Fernando 17, 29200 Antequera (Málaga), Spain
*
Author to whom correspondence should be addressed.
Received: 12 March 2013 / Revised: 22 April 2013 / Accepted: 28 April 2013 / Published: 13 May 2013
Abstract
Background
: Health-related Habits (HrH) are a major priority in healthcare. However there is little agreement on whether exercise, diet, smoking or dental hygiene are better described as lifestyles, habits or behaviors, and on what is their hierarchical relationship. This research is aimed at representing the basic concepts which are assumed to constitute the conceptual framework enabling us to interpret and organize the field of HrH.
Methods
: A group of 29 experts with different backgrounds agreed on the definition and hierarchy of HrH following an iterative process which involved framing analysis and nominal group techniques.
Results
: Formal definitions of health-related behavior, habit, life-style and life-style profile were produced. In addition a series of basic descriptors were identified: health reserve, capital, risk and load. Six main categories of HrH were chosen based on relevance to longevity: diet/exercise, vitality/stress, sleep, cognition, substance use and other risk. Attributes of HrH are clinical meaningfulness, quantifiability, temporal stability, associated morbidity, and unitarity (non-redundancy). Two qualifiers (polarity and stages of change) have also been described.
Conclusions
:
The concepts represented here lay the groundwork for the development of clinical and policy tools related to HrH and lifestyle. An adaptation of this system to define targets of health interventions and to develop the classification of person factors in ICF may be needed in the future.
View Full-Text
►

▼

Figures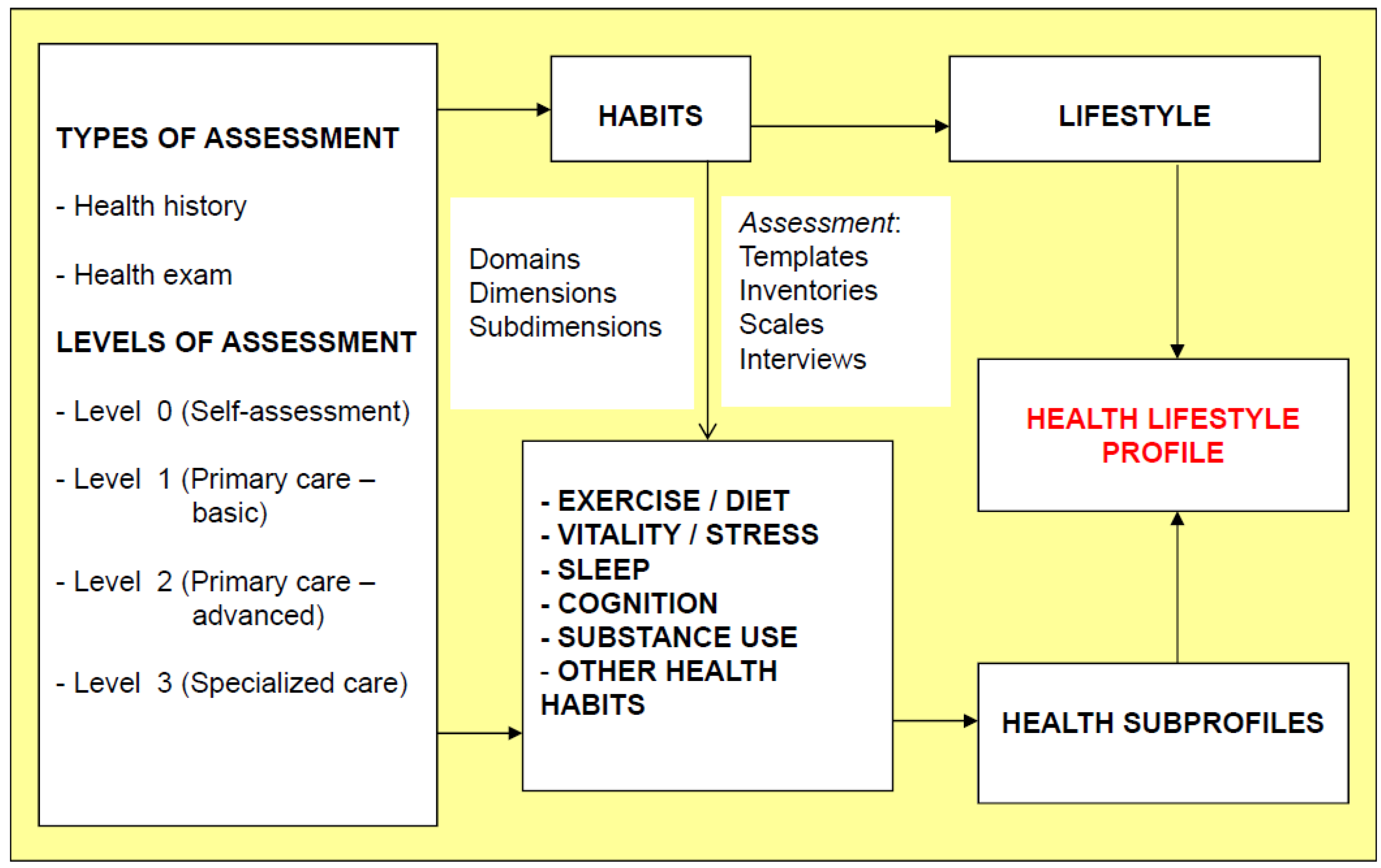 Figure 1
Share & Cite This Article
MDPI and ACS Style
Salvador-Carulla, L.; Alonso, F.; Gomez, R.; Walsh, C.O.; Almenara, J.; Ruiz, M.; Abellán, M.J.; group, E. Basic Concepts in the Taxonomy of Health-Related Behaviors, Habits and Lifestyle. Int. J. Environ. Res. Public Health 2013, 10, 1963-1976.
Related Articles
Comments
[Return to top]