Function and Regulation of Clustered Regularly Interspaced Short Palindromic Repeats (CRISPR) / CRISPR Associated (Cas) Systems
Department of Microbiology and Immunology, University of Otago, PO Box 56, Dunedin 9054, New Zealand
*
Author to whom correspondence should be addressed.
Received: 4 September 2012 / Revised: 10 October 2012 / Accepted: 11 October 2012 / Published: 19 October 2012
Abstract
Phages are the most abundant biological entities on earth and pose a constant challenge to their bacterial hosts. Thus, bacteria have evolved numerous 'innate' mechanisms of defense against phage, such as abortive infection or restriction/modification systems. In contrast, the
c
lustered
r
egularly
i
nterspaced
s
hort
p
alindromic
r
epeats (CRISPR) systems provide acquired, yet heritable, sequence-specific 'adaptive' immunity against phage and other horizontally-acquired elements, such as plasmids. Resistance is acquired following viral infection or plasmid uptake when a short sequence of the foreign genome is added to the CRISPR array. CRISPRs are then transcribed and processed, generally by
C
RISPR
as
sociated (Cas) proteins, into short interfering RNAs (crRNAs), which form part of a ribonucleoprotein complex. This complex guides the crRNA to the complementary invading nucleic acid and targets this for degradation. Recently, there have been rapid advances in our understanding of CRISPR/Cas systems. In this review, we will present the current model(s) of the molecular events involved in both the acquisition of immunity and interference stages and will also address recent progress in our knowledge of the regulation of CRISPR/Cas systems.
View Full-Text
►

▼

Figures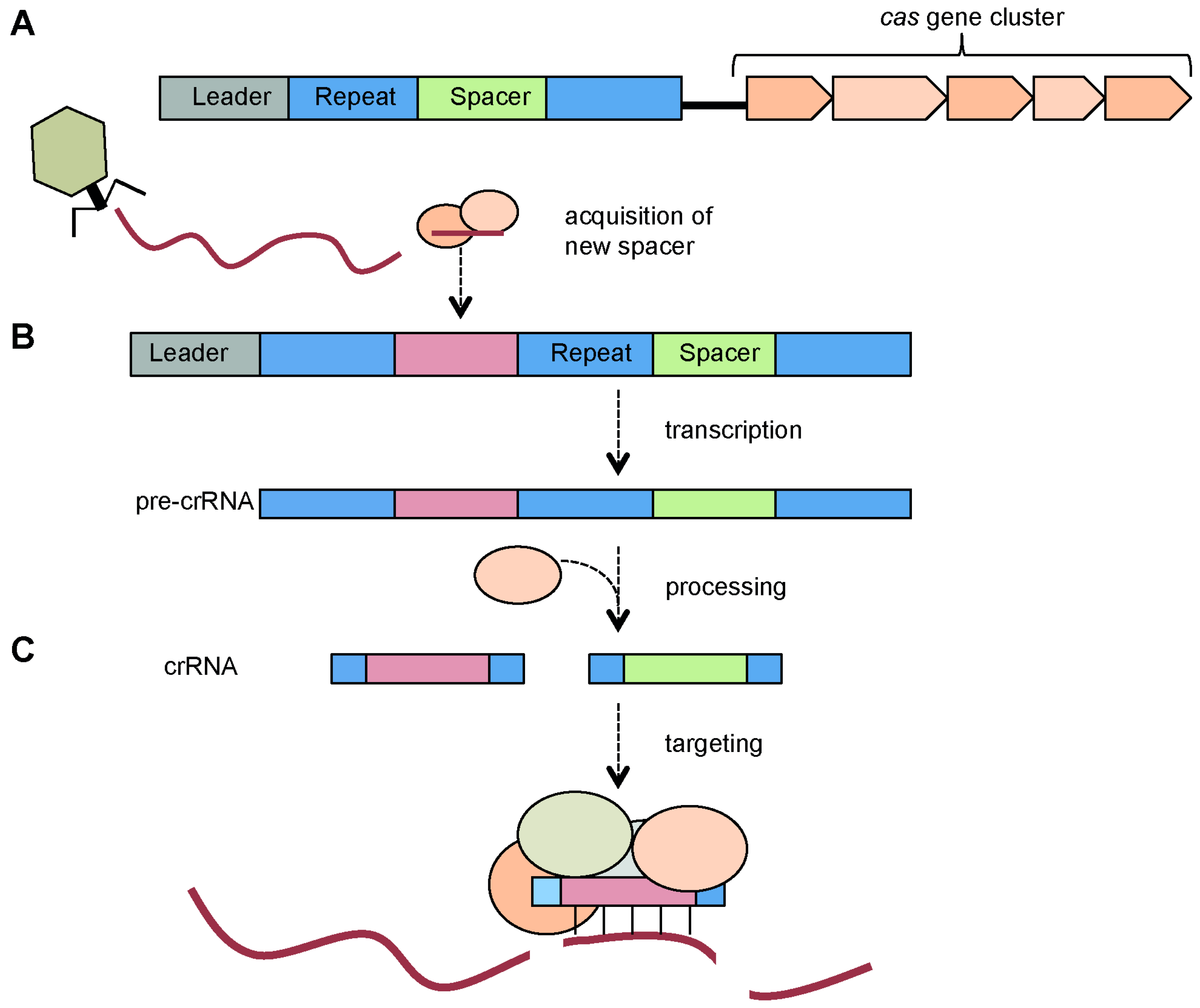 Figure 1
Share & Cite This Article
MDPI and ACS Style
Richter, C.; Chang, J.T.; Fineran, P.C. Function and Regulation of Clustered Regularly Interspaced Short Palindromic Repeats (CRISPR) / CRISPR Associated (Cas) Systems. Viruses 2012, 4, 2291-2311.
Related Articles
Comments
[Return to top]