Characterization of a Proposed Dichorhavirus Associated with the Citrus Leprosis Disease and Analysis of the Host Response
1
Departamento de Biotecnología y Bioingeniería, Centro de Investigación y de Estudios Avanzados del Instituto Politécnico Nacional Av. IPN 2508, Zacatenco 07360, México D.F., Mexico
2
LaNSE, Centro de Investigación y de Estudios Avanzados del IPN Av. IPN 2508, Zacatenco 07360, México D.F., Mexico
3
Servicio Nacional de Sanidad Inocuidad y Calidad Agroalimentaria, Guillermo Pérez Valenzuela 127, Coyoacán 04100, México D.F., Mexico
*
Author to whom correspondence should be addressed.
Received: 28 February 2014 / Revised: 22 May 2014 / Accepted: 28 May 2014 / Published: 7 July 2014
Abstract
The causal agents of Citrus leprosis are viruses; however, extant diagnostic methods to identify them have failed to detect known viruses in orange, mandarin, lime and bitter orange trees with severe leprosis symptoms in Mexico, an important citrus producer. Using high throughput sequencing, a virus associated with citrus leprosis was identified, belonging to the proposed
Dichorhavirus
genus. The virus was termed Citrus Necrotic Spot Virus (CNSV) and contains two negative-strand RNA components; virions accumulate in the cytoplasm and are associated with plasmodesmata—channels interconnecting neighboring cells—suggesting a mode of spread within the plant. The present study provides insights into the nature of this pathogen and the corresponding plant response, which is likely similar to other pathogens that do not spread systemically in plants.
View Full-Text
►

▼

Figures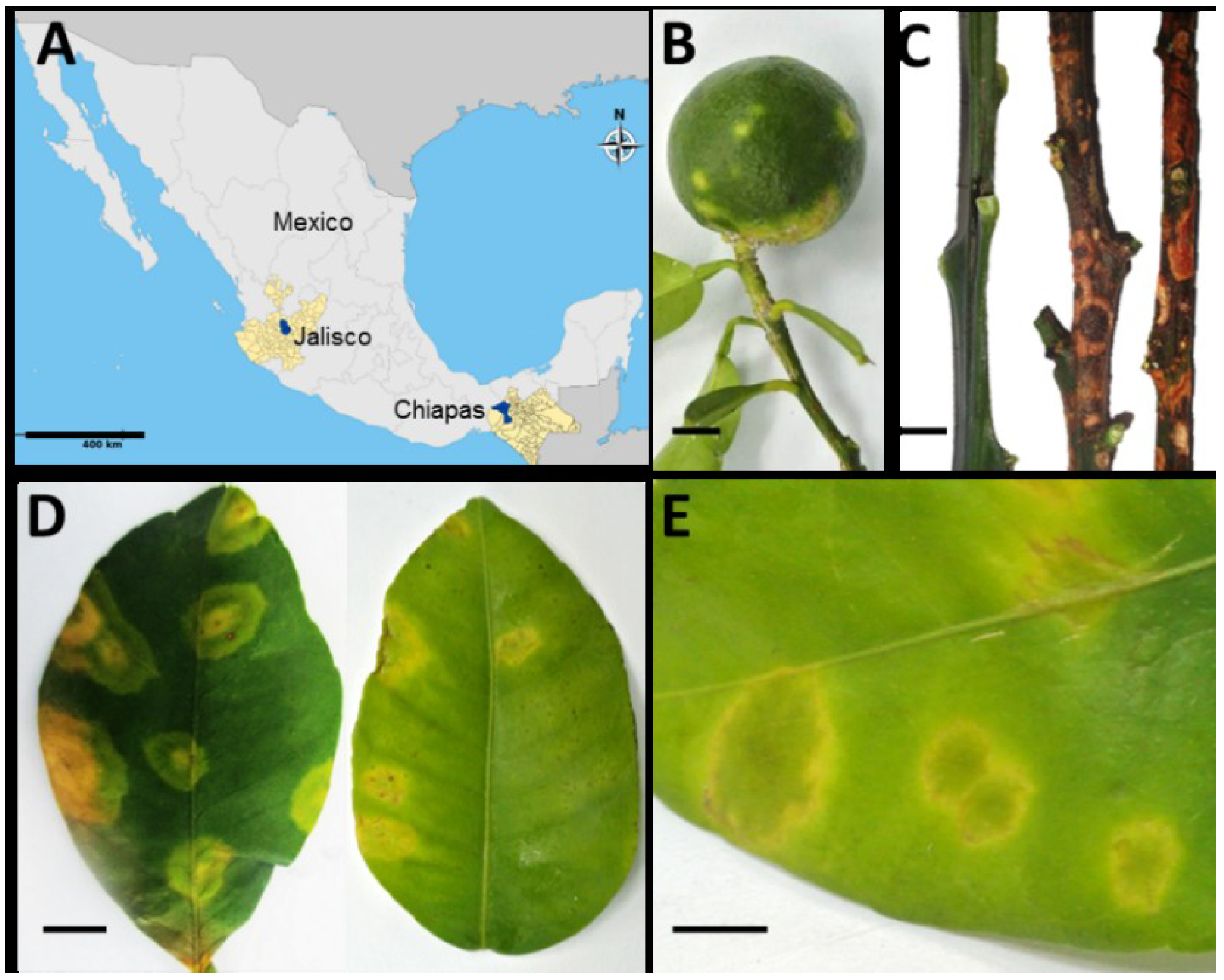 Figure 1
Share & Cite This Article
MDPI and ACS Style
Cruz-Jaramillo, J.L.; Ruiz-Medrano, R.; Rojas-Morales, L.; López-Buenfil, J.A.; Morales-Galván, O.; Chavarín-Palacio, C.; Ramírez-Pool, J.A.; Xoconostle-Cázares, B. Characterization of a Proposed Dichorhavirus Associated with the Citrus Leprosis Disease and Analysis of the Host Response. Viruses 2014, 6, 2602-2622.
Related Articles
Comments
[Return to top]