Impacts of Spatial Variability on Aboveground Biomass Estimation from L-Band Radar in a Temperate Forest
1
Department of Geography, University of California-Los Angeles, Los Angeles, CA 90095, USA
2
Jet Propulsion Laboratory, California Institute of Technology, Pasadena, CA 91109, USA
*
Author to whom correspondence should be addressed.
Received: 20 December 2012 / Revised: 17 February 2013 / Accepted: 18 February 2013 / Published: 26 February 2013
Abstract
Estimation of forest aboveground biomass (AGB) has become one of the main challenges of remote sensing science for global observation of carbon storage and changes in the past few decades. We examine the impact of plot size at different spatial resolutions, incidence angles, and polarizations on the forest biomass estimation using L-band polarimetric Synthetic Aperture Radar data acquired by NASA's Unmanned Aerial Vehicle Synthetic Aperture Radar (UAVSAR) airborne system. Field inventory data from 32 1.0 ha plots (AGB < 200 Mg ha
−1
) in approximately even-aged forests in a temperate to boreal transitional region in the state of Maine were divided into subplots at four different spatial scales (0.0625 ha, 0.25 ha, 0.5 ha, and 1.0 ha) to quantify aboveground biomass variations. The results showed a large variability in aboveground biomass at smaller plot size (0.0625 ha). The variability decreased substantially at larger plot sizes (>0.5 ha), suggesting a stability of field-estimated biomass at scales of about 1.0 ha. UAVSAR backscatter was linked to the field estimates of aboveground biomass to develop parametric equations based on polarized returns to accurately map biomass over the entire radar image. Radar backscatter values at all three polarizations (HH, VV, HV) were positively correlated with field aboveground biomass at all four spatial scales, with the highest correlation at the 1.0 ha scale. Among polarizations, the cross-polarized HV had the highest sensitivity to field estimated aboveground biomass (R
2
= 0.68). Algorithms were developed that combined three radar backscatter polarizations (HH, HV, and VV) to estimate aboveground biomass at the four spatial scales. The predicted aboveground biomass from these algorithms resulted in decreasing estimation error as the pixel size increased, with the best results at the 1 ha scale with an R
2
of 0.67 (p < 0.0001), and an overall RMSE of 44 Mg·ha
−1
. For AGB < 150 Mg·ha
−1
, the error reduced to 23 Mg·ha
−1
(±15%), suggesting an improved AGB prediction below the L-band sensitivity range to biomass. Results also showed larger bias in aboveground biomass estimation from radar at smaller scales that improved at larger spatial scales of 1.0 ha with underestimation of −3.62 Mg·ha
−1
over the entire biomass range.
View Full-Text
►

▼

Figures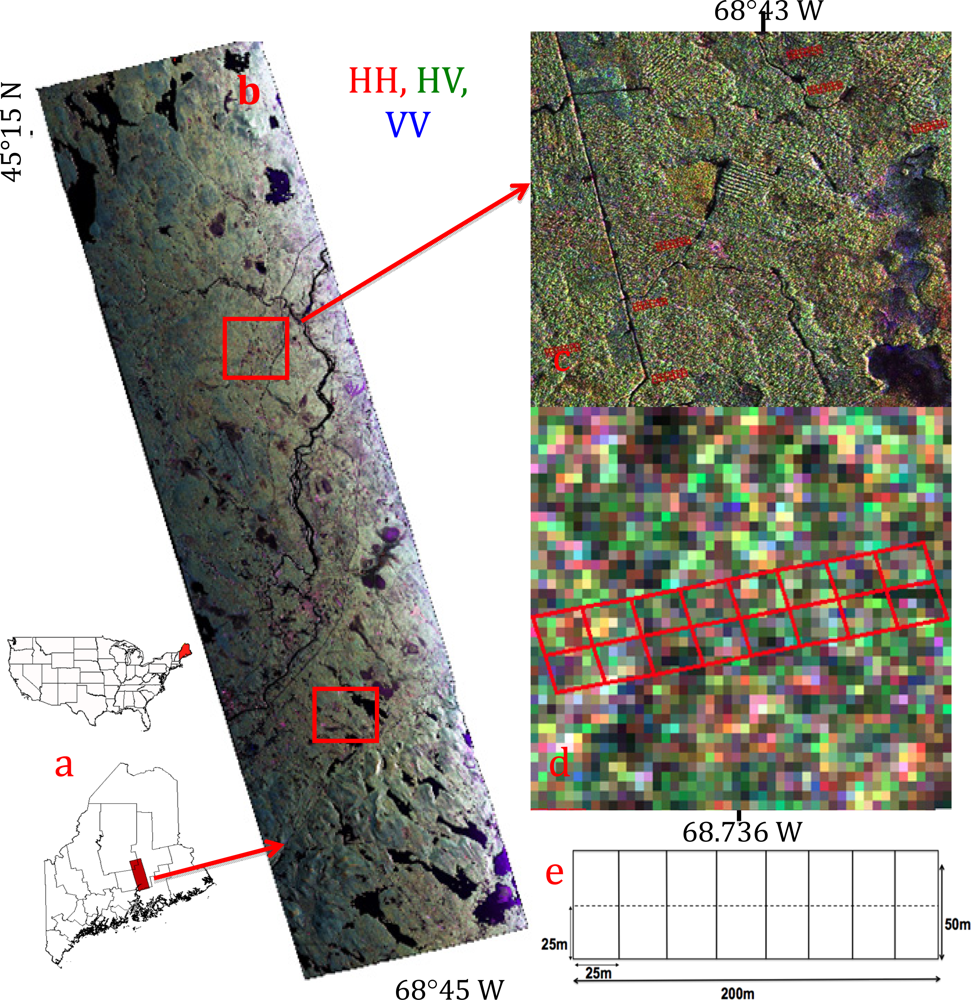 Share & Cite This Article
MDPI and ACS Style
Robinson, C.; Saatchi, S.; Neumann, M.; Gillespie, T. Impacts of Spatial Variability on Aboveground Biomass Estimation from L-Band Radar in a Temperate Forest. Remote Sens. 2013, 5, 1001-1023.
Related Articles
Comments
[Return to top]