The Expression of MTUS1/ATIP and Its Major Isoforms, ATIP1 and ATIP3, in Human Prostate Cancer
Clinical Pharmacology and Therapeutics Unit, Department of Medicine, University of Melbourne, Austin Health, Heidelberg 3084, Victoria, Australia
*
Author to whom correspondence should be addressed.
Received: 5 August 2011 / Revised: 22 September 2011 / Accepted: 28 September 2011 / Published: 11 October 2011
Abstract
Angiotensin II (Ang II), the main effector of the renin angiotensin system, acts upon two distinct transmembrane receptors, the Ang II type 1 and the type 2 (AT
2
-) receptor, to induce promotion and inhibition of ERK2 phosphorylation. The AT
2
-receptor, through an interaction with its putative signaling partner MTUS1/ATIP (AT
2
-receptor interacting protein), inhibits the mitogenic effects of EGF in prostate cancer cell lines representing both early and late stage disease. This is the first report on the expression of ATIP in normal and malignant human prostatic biopsies. The expression of ATIP and its major isoforms, ATIP1 and ATIP3, in normal prostatic cells and three prostate cancer cell lines was examined using QPCR and immunohistochemistry. Human biopsies containing benign prostatic hyperplasia (BPH), high grade prostatic intraepithelial neoplasia (HGPIN) and well, moderately and poorly differentiated prostate cancer were also examined. Overall, ATIP1 and ATIP3 mRNA expression was increased in malignant compared to normal tissues and cell lines. ATIP immunostaining was low or absent in both the basal and columnar epithelial cell layers surrounding BPH acini; however, it was observed in high concentration in neoplastic epithelial cells of HGPIN and was clearly evident in cytoplasms of malignant cells in all prostate cancer grades. ATIP immunostaining was also identified in the cytoplasms of LNCaP and PC3 prostate cancer cells. As the AT
2
-receptor/ATIP inhibitory signaling pathway exists in malignant cells in all grades of prostate cancer, enhancement of this pathway may be a therapeutic target even after the development of androgen-independence.
View Full-Text
►

▼

Figures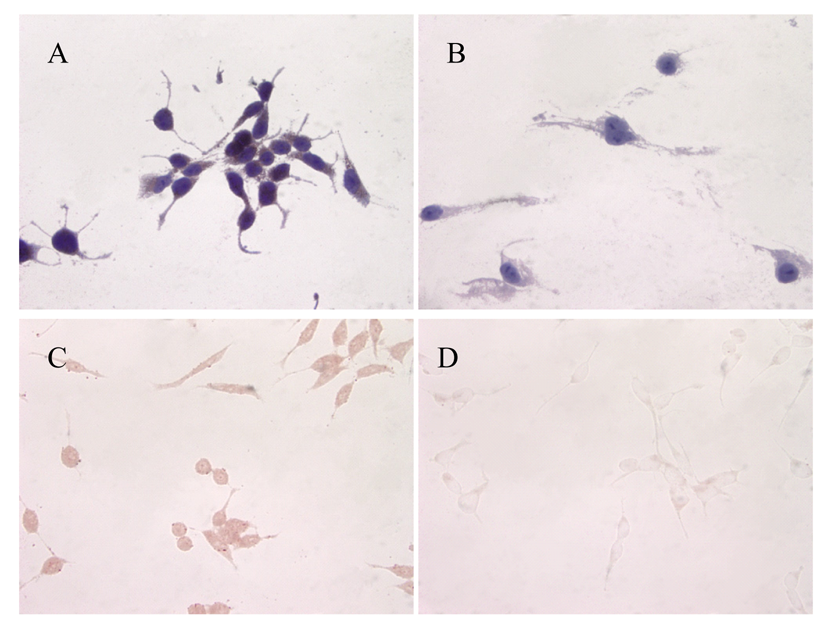 Share & Cite This Article
MDPI and ACS Style
Louis, S.N.; Chow, L.T.; Varghayee, N.; Rezmann, L.A.; Frauman, A.G.; Louis, W.J. The Expression of MTUS1/ATIP and Its Major Isoforms, ATIP1 and ATIP3, in Human Prostate Cancer. Cancers 2011, 3, 3824-3837.
Related Articles
Comments
[Return to top]