Temperature-Dependent Ordering of the Methyl Group in the Crystal Structure of 5-(2-Chlorophenyl)-7-ethyl-1H-thieno [2,3-E][1,4]diazepin-2(3H)-one
1
Department of Chemistry, Adam Mickiewicz University, Grunwaldzka 6, 60-780 Poznań, Poland
2
Department of Studies in Chemistry, University of Mysore, Mysore-570 006, India
3
R. L. Fine Chem., Bangalore-560 064, India
*
Author to whom correspondence should be addressed.
Received: 15 May 2012 / Revised: 23 July 2012 / Accepted: 26 July 2012 / Published: 18 September 2012
Abstract
5-(2-Chlorophenyl)-7-ethyl-1
H
-thieno[2,3-e][1,4]diazepin-2(3
H
)-one, a close analogue of clotiazepam (full agonist at GABA receptor), crystallizes in monoclinic
P
2
1
/c
space group with
a
= 15.6941(6) Å,
b
= 10.7909(4) Å,
c
= 8.6586(3) Å, and
β
= 102.184(4)° (at 125 K). Seven-Membered diazepine ring has approximate mirror plane of symmetry, planar thieno and phenyl rings are almost perpendicular to one another, dihedral angle between their mean planes is 84.11(5)°. N–H···O hydrogen bonds connect molecules into centrosymmetric dimers which are further expanded into 3D crystal structure with the help of weaker C–H···O and C–H···π interactions. The methyl group is disordered at room temperature, but it gets gradually ordered at lower temperatures and becomes fully ordered at approximately 200 K. The changes in structure with temperature were studied between 125 and 380 K. The unit cell volume—as expected—increases almost monotonically when the temperature rises, but one of the parameters shortens significantly.
View Full-Text
►

▼

Figures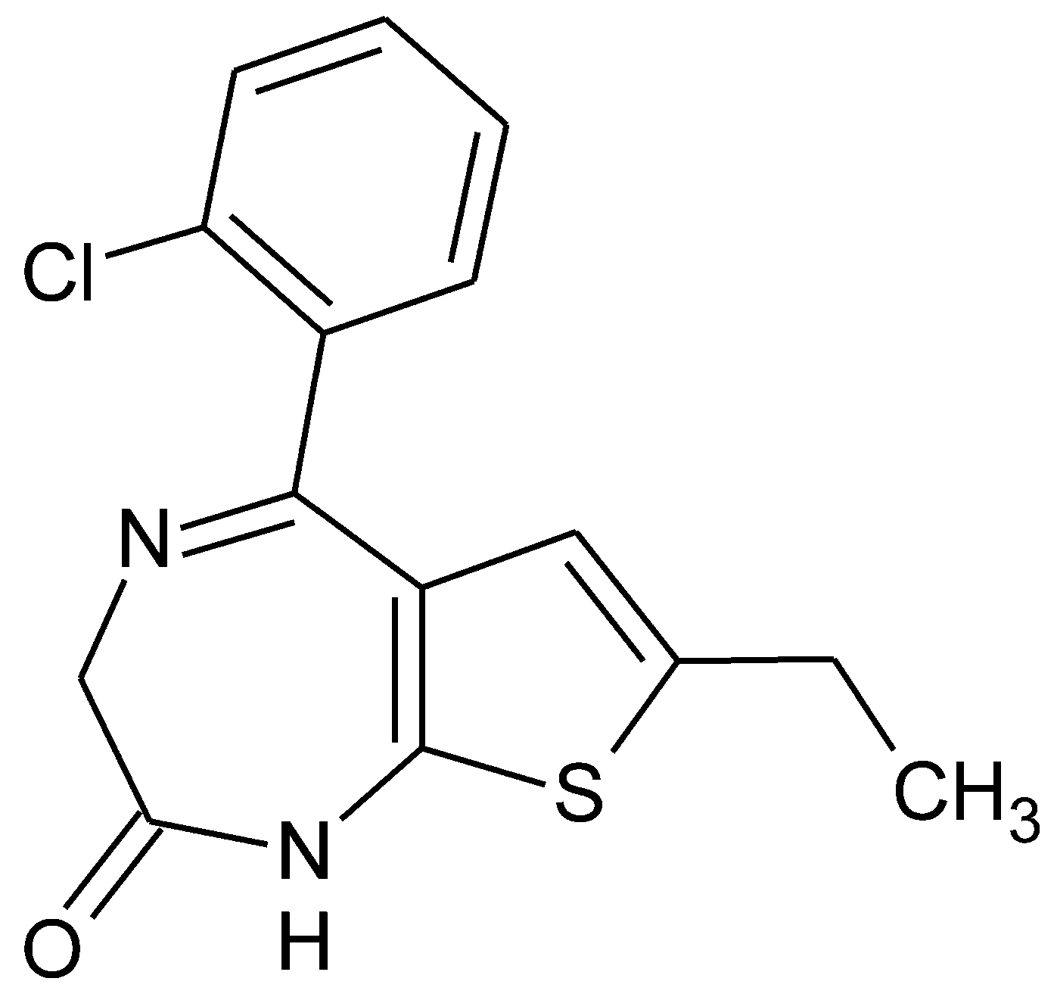 Figure 1
Share & Cite This Article
MDPI and ACS Style
Dutkiewicz, G.; Kubicki, M.; Dayananda, A.S.; Yathirajan, H.S.; Ramesha, A.R. Temperature-Dependent Ordering of the Methyl Group in the Crystal Structure of 5-(2-Chlorophenyl)-7-ethyl-1H-thieno [2,3-E][1,4]diazepin-2(3H)-one. Crystals 2012, 2, 1347-1356.
Related Articles
Comments
[Return to top]