Impact of Molecular Technologies on Faba Bean (Vicia faba L.) Breeding Strategies
1
Department of Primary Industries, Biosciences Research Division, Grains Innovation Park, Private Bag 260, Horsham, Victoria 3401, Australia
2
School of Agriculture, Food and Wine, The University of Adelaide, Waite Campus, Glen Osmond, South Australia 5064, Australia
3
IFAPA, Centre Alameda del Obispo, Breeding and Biotechnology Area, Apdo. 3092, Córdoba E-14080, Spain
4
Department of Primary Industries, Biosciences Research Division, VABC, 1 Park Drive, Bundoora, Victoria 3083, Australia
5
Institute of Crop Sciences (ICS), Chinese Academy of Agricultural Sciences (CAAS), 12 Zhong Guan Cun South Street, Haidian District, Beijing 100081, China
*
Author to whom correspondence should be addressed.
Received: 10 May 2012 / Revised: 3 June 2012 / Accepted: 4 June 2012 / Published: 4 July 2012
Abstract
Faba bean (
Vicia faba
L.) is a major food and feed legume because of the high nutritional value of its seeds. The main objectives of faba bean breeding are to improve yield, disease resistance, abiotic stress tolerance, seed quality and other agronomic traits. The partial cross-pollinated nature of faba bean introduces both challenges and opportunities for population development and breeding. Breeding methods that are applicable to self-pollinated crops or open-pollinated crops are not highly suitable for faba bean. However, traditional breeding methods such as recurrent mass selection have been established in faba bean and used successfully in breeding for resistance to diseases. Molecular breeding strategies that integrate the latest innovations in genetics and genomics with traditional breeding strategies have many potential applications for future faba bean cultivar development. Hence, considerable efforts have been undertaken in identifying molecular markers, enriching genetic and genomic resources using high-throughput sequencing technologies and improving genetic transformation techniques in faba bean. However, the impact of research on practical faba bean breeding and cultivar release to farmers has been limited due to disconnects between research and breeding objectives and the high costs of research and implementation. The situation with faba bean is similar to other small crops and highlights the need for coordinated, collaborative research programs that interact closely with commercially focused breeding programs to ensure that technologies are implemented effectively.
View Full-Text
►

▼

Figures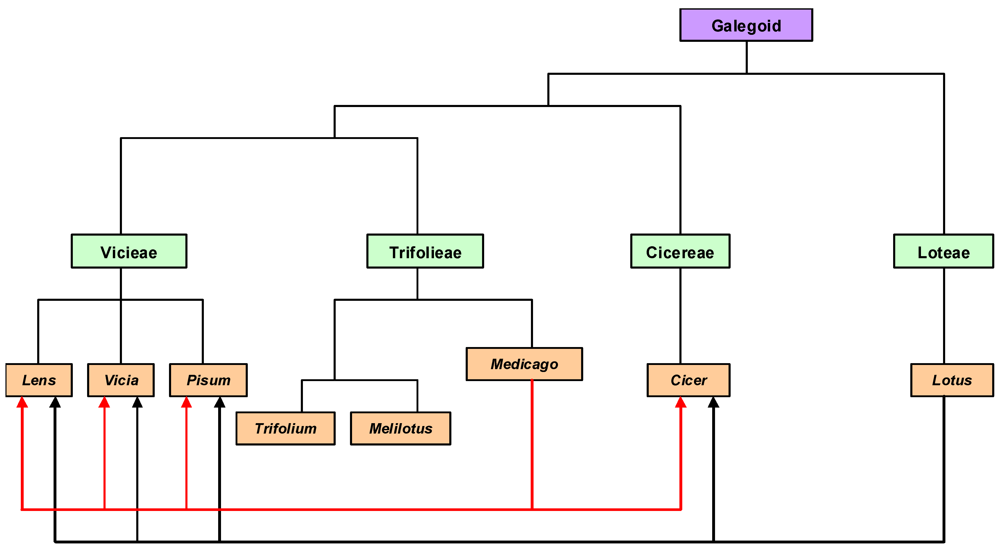 Figure 1
Share & Cite This Article
MDPI and ACS Style
Gnanasambandam, A.; Paull, J.; Torres, A.; Kaur, S.; Leonforte, T.; Li, H.; Zong, X.; Yang, T.; Materne, M. Impact of Molecular Technologies on Faba Bean (Vicia faba L.) Breeding Strategies. Agronomy 2012, 2, 132-166.
Related Articles
Comments
[Return to top]