A Novel Function for the Conserved Glutamate Residue in the Walker B Motif of Replication Factor C
1
Department of Biochemistry and Molecular Biology, University of Florida, Gainesville, FL 32610, USA
2
Howard Hughes Medical Institute, The Rockefeller University, New York, NY 10021, USA
*
Author to whom correspondence should be addressed.
Received: 8 January 2013 / Revised: 19 March 2013 / Accepted: 20 March 2013 / Published: 26 March 2013
Abstract
In all domains of life, sliding clamps tether DNA polymerases to DNA to increase the processivity of synthesis. Clamp loaders load clamps onto DNA in a multi-step process that requires ATP binding and hydrolysis. Like other AAA+ proteins, clamp loaders contain conserved Walker A and Walker B sequence motifs, which participate in ATP binding and hydrolysis, respectively. Mutation of the glutamate residue in Walker B motifs (or DExx-boxes) in AAA+ proteins typically reduces ATP hydrolysis by as much as a couple orders of magnitude, but has no effect on ATP binding. Here, the Walker B Glu in each of the four active ATP sites of the eukaryotic clamp loader, RFC, was mutated to Gln and Ala separately, and ATP binding- and hydrolysis-dependent activities of the quadruple mutant clamp loaders were characterized. Fluorescence-based assays were used to measure individual reaction steps required for clamp loading including clamp binding, clamp opening, DNA binding and ATP hydrolysis. Our results show that the Walker B mutations affect ATP-binding-dependent interactions of RFC with the clamp and DNA in addition to reducing ligand-dependent ATP hydrolysis activity. Here, we show that the Walker B glutamate is required for ATP-dependent ligand binding activity, a previously unknown function for this conserved Glu residue in RFC.
View Full-Text
►

▼

Figures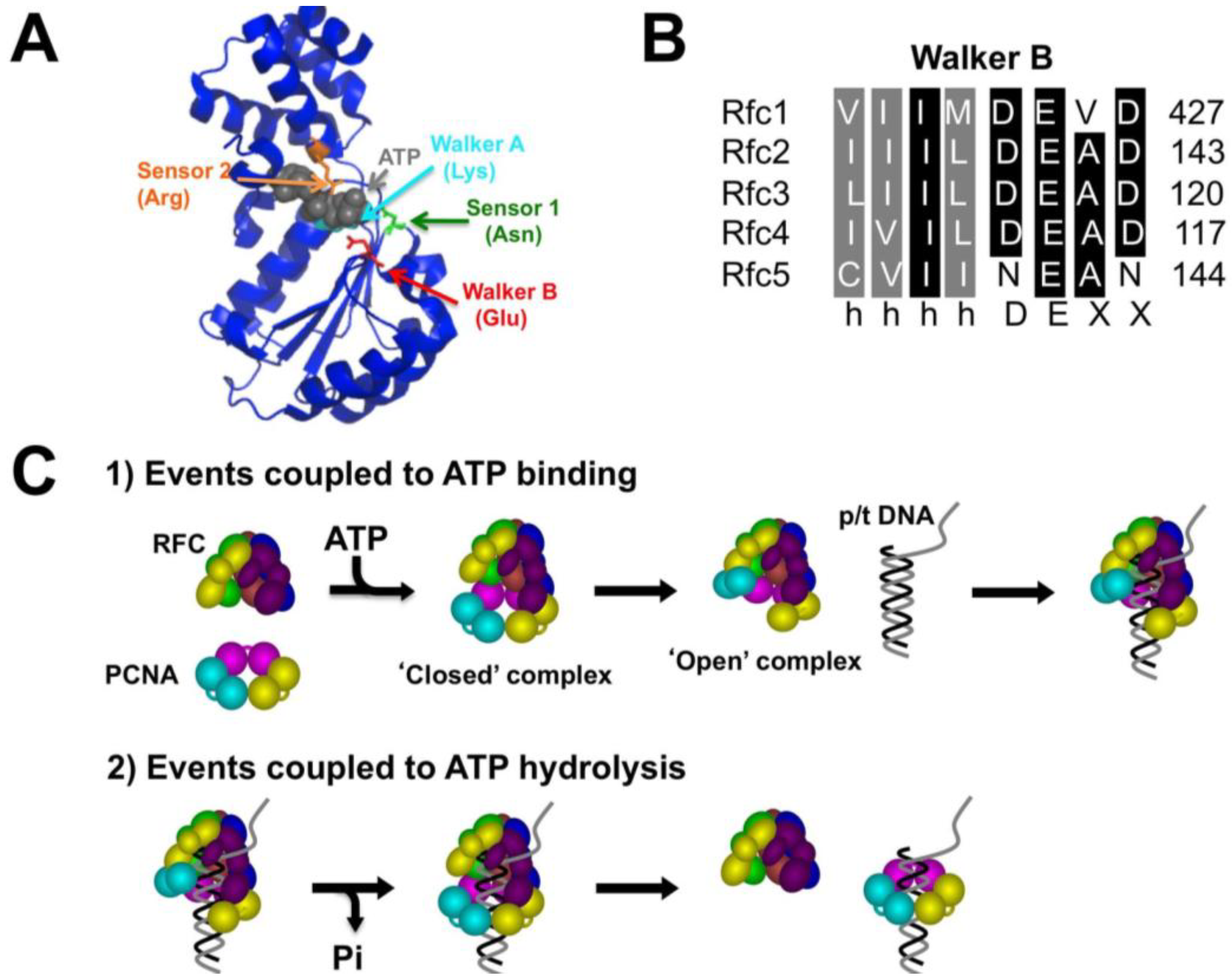 Figure 1
Share & Cite This Article
MDPI and ACS Style
Chiraniya, A.; Finkelstein, J.; O'Donnell, M.; Bloom, L.B. A Novel Function for the Conserved Glutamate Residue in the Walker B Motif of Replication Factor C. Genes 2013, 4, 134-151.
Related Articles
Comments
[Return to top]