TNFR1 and TNFR2 Expression and Induction on Human Treg Cells from Type 1 Diabetic Subjects
Immunobiology Laboratories, Massachusetts General Hospital and Harvard Medical School, Building 149, 13th Street, Rm 3502, Boston, MA 02129, USA
*
Author to whom correspondence should be addressed.
Academic Editor: Olaf Maier
Received: 21 January 2015 / Revised: 12 February 2015 / Accepted: 26 February 2015 / Published: 3 March 2015
Abstract
Several autoimmune diseases are marked by a deficiency of soluble tumor necrosis factor (TNF). The TNF deficiency is caused in at least one autoimmune disease, multiple sclerosis, by an overabundance of TNF receptor 1 (TNFR1). Excess TNFR1 binds and inactivates TNF and this leaves less TNF bioavailable. This study sought to determine if expression of fresh or IL2-stimulated TNF receptors on Tregs cells, an important immunoregulatory cell involved in autoimmunity, is altered in type I diabetes. Standard fluorescence analysis was used to examine the levels of TNFR1 and TNFR2 on human Tregs in patients with type I diabetes (T1D) or controls. Fresh Tregs from T1D compared to control Tregs had identical levels of TNFR1. In marked contrast, Type 1 diabetic patients Treg cells had statistically elevated levels of TNFR2 compared to controls. Tregs stimulated with IL2 from both T1D and controls showed marked increase of TNFR2 expression in a dose-response manner, but the dose response increase in TNFR2 was significantly higher for T1D Treg cells. No IL2 dose-response was present for TNFR1 on either T1D or control Tregs exposed to IL2. A large study of serum for secreted levels of TNFR2 also revealed elevated circulating levels consistent with the elevated surface expression on Tregs. These findings suggest that abnormal regulation of TNFR2 expression with elevated cellular and secreted levels of TNFR2 is a characteristic of Type 1 diabetes. It is possible that the relative deficiency of TNF in type I diabetes, in contrast to multiple sclerosis, is caused by excess expression of TNFR such as TNFR2, a binding structure for inactivating TNF.
View Full-Text
►

▼

Figures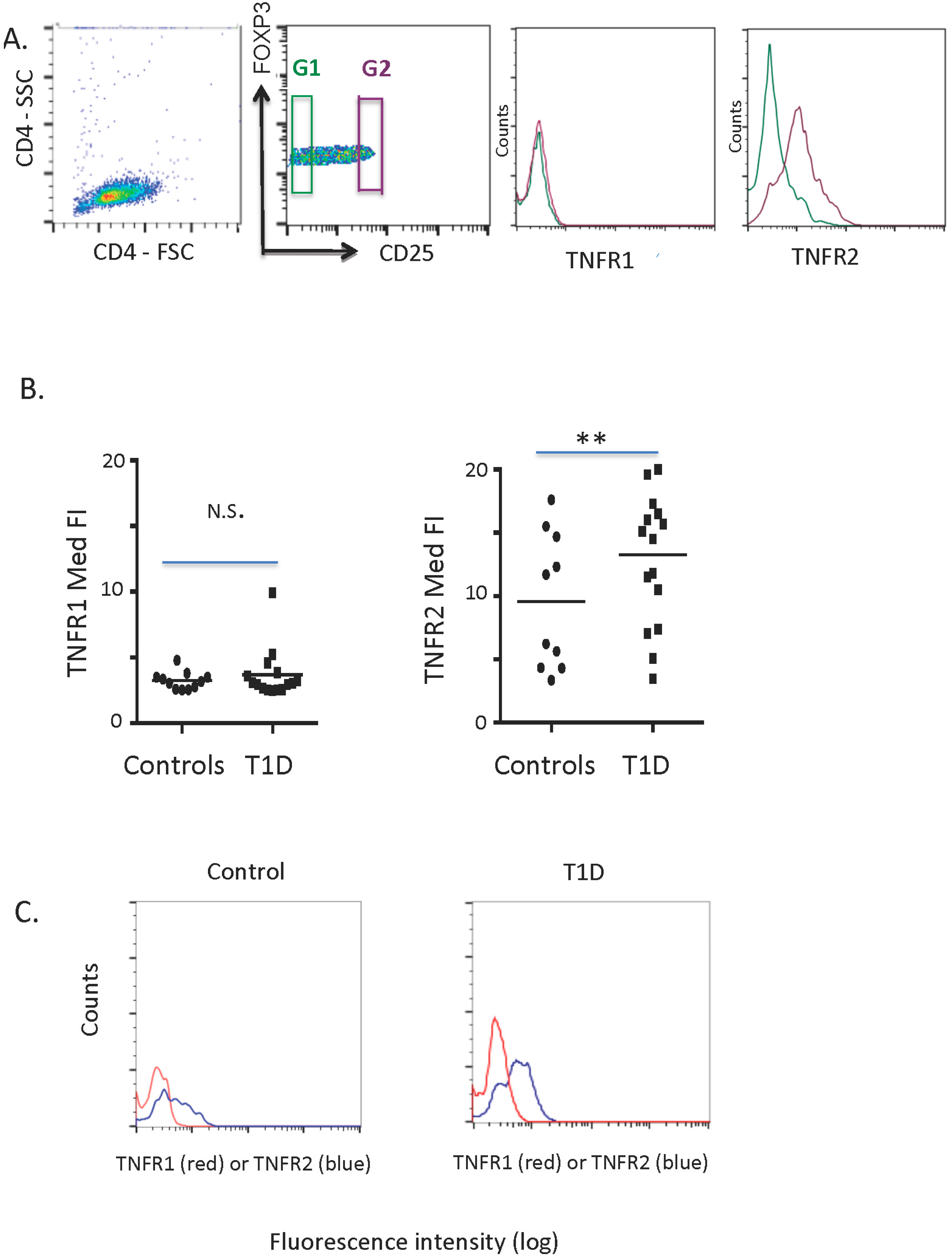 Figure 1
This is an open access article distributed under the
Creative Commons Attribution License
which permits unrestricted use, distribution, and reproduction in any medium, provided the original work is properly cited. (CC BY 4.0).
Share & Cite This Article
MDPI and ACS Style
Heinrich, M.; Burger, D.; Wang, L.; Tahhan, G.; Reinhold, P., III; Zhao, M.; Hsu, E.; Warden, S.; Baum, D.; Faustman, D.L. TNFR1 and TNFR2 Expression and Induction on Human Treg Cells from Type 1 Diabetic Subjects. Antibodies 2015, 4, 34-47.
Related Articles
Comments
[Return to top]