Extremely Re-Rich Molybdenite from Porphyry Cu-Mo-Au Prospects in Northeastern Greece: Mode of Occurrence, Causes of Enrichment, and Implications for Gold Exploration
1
Department of Mineralogy-Petrology, University of Athens, Athens 15784, Greece
2
Department of Mineralogy, Petrology and Economic Geology, Aristotle University of Thessaloniki, Thessaloniki 54124, Greece
3
Department of Geological and Atmospheric Sciences, 253 Science I, Iowa State University, Ames, IA 50011-3212, USA
4
Department of Earth Sciences, University of Florence, Florence I–50121, Italy
5
Department of Mineralogy, University of Geneva, Geneva CH-1205, Switzerland
6
Institute of Mineralogy-Petrology, University of Hamburg, Hamburg D-20146, Germany
*
Author to whom correspondence should be addressed.
Received: 19 February 2013 / Revised: 1 April 2013 / Accepted: 19 April 2013 / Published: 2 May 2013
Abstract
Extremely Re-rich molybdenite occurs with pyrite in sodic–calcic, sodic–sericitic and sericitic-altered porphyritic stocks of granodioritic–tonalitic and granitic composition in the Sapes–Kirki–Esymi, Melitena and Maronia areas, northeastern Greece. Molybdenite in the Pagoni Rachi and Sapes deposits is spatially associated with rheniite, as well as with intermediate (Mo,Re)S
2
and (Re,Mo)S
2
phases, with up to 46 wt % Re. Nanodomains and/or microinclusions of rheniite may produce the observed Re enrichment in the intermediate molybdenite–rheniite phases. The extreme Re content in molybdenite and the unique presence of rheniite in porphyry-type mineralization, combined with preliminary geochemical data (Cu/Mo ratio, Au grades) may indicate that these deposits have affinities with Cu–Au deposits, and should be considered potential targets for gold mineralization in the porphyry environment. In the post-subduction tectonic regime of northern Greece, the extreme Re and Te enrichments in the magmatic-hydrothermal systems over a large areal extent are attributed to an anomalous source (e.g., chemical inhomogenities in the mantle-wedge triggered magmatism), although local scale processes cannot be underestimated.
View Full-Text
►

▼

Figures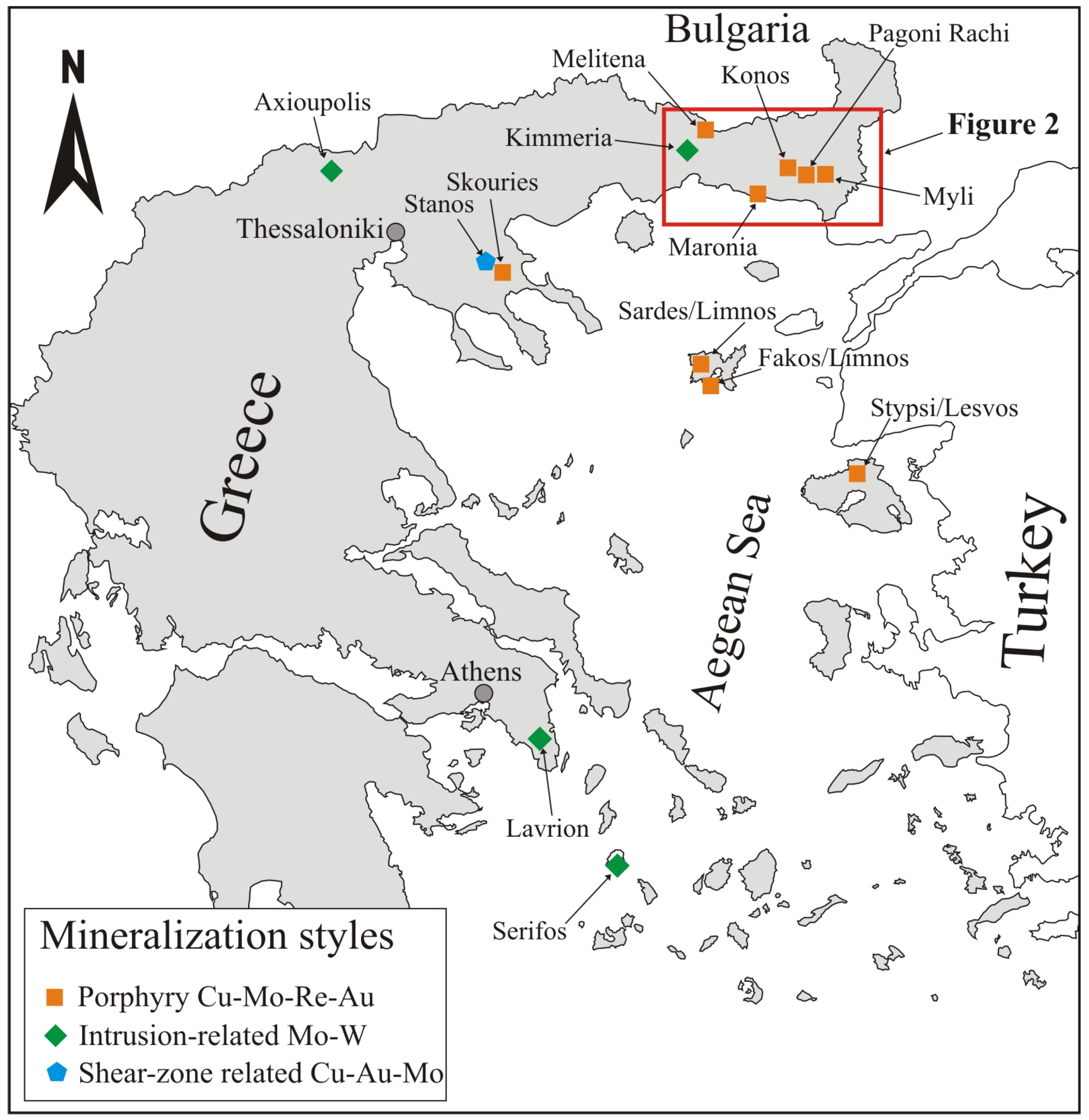 Figure 1
Share & Cite This Article
MDPI and ACS Style
Voudouris, P.; Melfos, V.; Spry, P.G.; Bindi, L.; Moritz, R.; Ortelli, M.; Kartal, T. Extremely Re-Rich Molybdenite from Porphyry Cu-Mo-Au Prospects in Northeastern Greece: Mode of Occurrence, Causes of Enrichment, and Implications for Gold Exploration. Minerals 2013, 3, 165-191.
Related Articles
Comments
[Return to top]