Pavilion Lake Microbialites: Morphological, Molecular and Biochemical Evidence for a Cold-Water Transition to Colonial Aggregates
1
School of the Environment, Washington State University, Pullman, WA 99164, USA
2
NASA Ames Research Center, Mail-Stop 245-3, Moffett Field, CA 94035, USA
3
Department of Civil Engineering, University of British Columbia, Vancouver, BC, V6T 1Z4, Canada
4
Mayo Clinic, Medical Sciences Building, 321 Third Avenue SW, Rochester, MN 55905, USA
5
School of Biological Sciences, The University of Hongkong, Hong Kong
6
Department of Biological Sciences, University of Calgary, 2500 University Drive NW, Calgary, Alberta, T2N 1N4, Canada
7
Nuytco Research Ltd, 216 East Esplanade, North Vancouver, BC, V7L 1A3, Canada
8
Department of Biological Sciences, University of Texas at El Paso, TX 79968, USA
*
Author to whom correspondence should be addressed.
Received: 28 September 2012 / Revised: 27 November 2012 / Accepted: 20 December 2012 / Published: 27 December 2012
Abstract
The presence of microbialite structures in a freshwater, dimictic mid-latitudelake and their establishment after the last ice age about 10,000 years ago is puzzling.Freshwater calcite microbialites at Pavilion Lake, British Columbia, Canada, consist of acomplex community of microorganisms that collectively form large, ordered structuredaggregates. This distinctive assemblage of freshwater calcite microbialites was studied through standard microbial methods, morphological observations, phospholipid fatty acid(PLFA) analysis, DNA sequencing and the identification of quorum sensing molecules.Our results suggest that the microbialites may represent a transitional form from theexclusively prokaryotic colonial precursors of stromatolites to the multicellular organismicaggregates that give rise to coral reefs.
View Full-Text
►

▼

Figures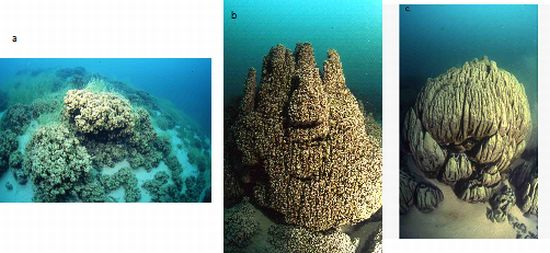 Share & Cite This Article
MDPI and ACS Style
Schulze-Makuch, D.; Lim, D.; Laval, B.; Turse, C.; António, M.R.S.; Chan, O.; Pointing, S.B.; Brady, A.; Reid, D.; Irwin, L.N. Pavilion Lake Microbialites: Morphological, Molecular and Biochemical Evidence for a Cold-Water Transition to Colonial Aggregates. Life 2013, 3, 21-37.
Related Articles
Comments
[Return to top]