Myosin Gene Expression and Protein Abundance in Different Castes of the Formosan Subterranean Termite (Coptotermes formosanus)
1
United States Department of Agriculture, Agriculture Research Service, Honey Bee Breeding, Genetics and Physiology Laboratory, 1157 Ben Hur Road, Baton Rouge, LA 70820, USA
2
United States Department of Agriculture, Agriculture Research Service, Southern Regional Research Center Cotton Fiber Bioscience Unit, 1100 Robert E. Lee Blvd., New Orleans, LA 70124, USA
3
United States Department of Agriculture, Agriculture Research Service, Southern Regional Research Center Food Processing and Sensory Quality Unit, 1100 Robert E. Lee Blvd., New Orleans, LA 70124, USA
4
United States Department of Agriculture, Agriculture Research Service, Southern Regional Research Center Formosan Subterranean Research Unit, 1100 Robert E. Lee Blvd., New Orleans, LA 70124, USA
*
Author to whom correspondence should be addressed.
Received: 13 September 2012 / Revised: 6 November 2012 / Accepted: 7 November 2012 / Published: 16 November 2012
Abstract
The Formosan subterranean termite (
Coptotermes formosanus
) is an important worldwide pest, each year causing millions of dollars in structural damage and control costs. Termite colonies are composed of several phenotypically distinct castes. Termites utilize these multiple castes to efficiently perform unique roles within the colony. During the molting/caste differentiation process, multiple genes are believed to be involved in the massive reorganization of the body plan. The objective of this research was to analyze the muscle gene,
myosin
, to further understand the role it plays in
C
.
formosanus
development. We find that comparing worker
vs
. solider caste
myosin
gene expression is up-regulated in the soldier and a myosin antibody-reactive protein suggests changes in splicing. Comparison of body regions of mature soldier and worker castes indicates a greater level of myosin transcript in the heads. The differential expression of this important muscle-related gene is anticipated considering the large amount of body plan reorganization and muscle found in the soldier caste. These results have a direct impact on our understanding of the downstream genes in the caste differentiation process and may lead to new targets for termite control.
View Full-Text
►

▼

Figures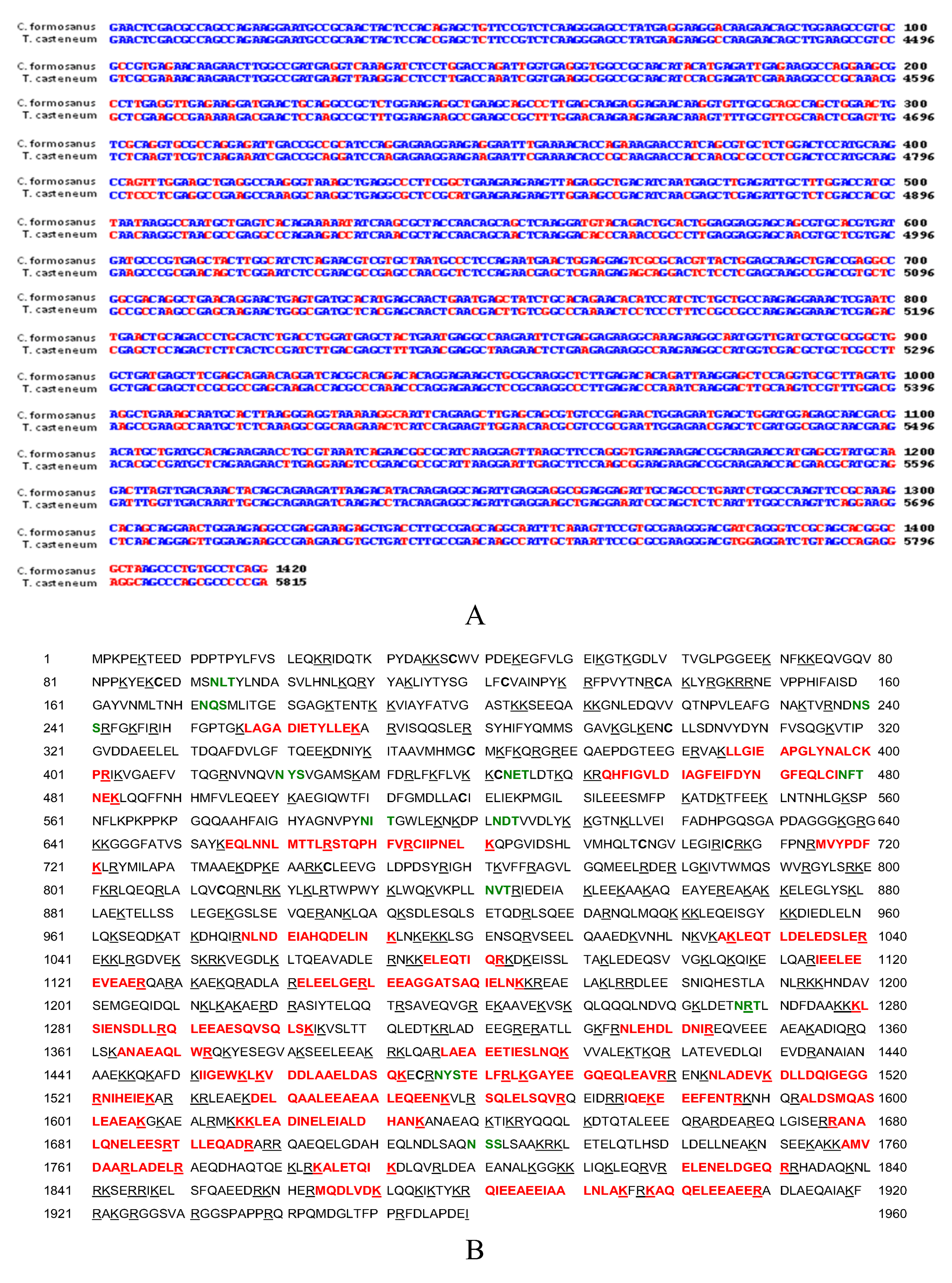 Figure 1
Share & Cite This Article
MDPI and ACS Style
Tarver, M.R.; Florane, C.B.; Mattison, C.P.; Holloway, B.A.; Lax, A. Myosin Gene Expression and Protein Abundance in Different Castes of the Formosan Subterranean Termite (Coptotermes formosanus). Insects 2012, 3, 1190-1199.
Related Articles
Comments
[Return to top]