Modification of the Continental Crust by Subduction Zone Magmatism and Vice-Versa: Across-Strike Geochemical Variations of Silicic Lavas from Individual Eruptive Centers in the Andean Central Volcanic Zone
1
Department of Earth Sciences, Montana State University, Bozeman, MT 59717, USA
2
Department of Geosciences, Denison University, Granville, OH 43023, USA
†
Present Address: Department of Geography, Geology and Planning, Missouri State University, Springfield, MO 65897, USA.
*
Author to whom correspondence should be addressed.
Received: 2 May 2013 / Revised: 8 November 2013 / Accepted: 14 November 2013 / Published: 27 November 2013
Abstract
To better understand the origin of across-strike K
2
O enrichments in silicic volcanic rocks from the Andean Central Volcanic Zone, we compare geochemical data for Quaternary volcanic rocks erupted from three well-characterized composite volcanoes situated along a southeast striking transect between 21° and 22° S latitude (Aucanquilcha, Ollagüe, and Uturuncu). At a given SiO
2
content, lavas erupted with increasing distance from the arc front display systematically higher K
2
O, Rb, Th, Y, REE and HFSE contents; Rb/Sr ratios; and Sr isotopic ratios. In contrast, the lavas display systematically lower Al
2
O
3
, Na
2
O, Sr, and Ba contents; Ba/La, Ba/Zr, K/Rb, and Sr/Y ratios; Nd isotopic ratios; and more negative Eu anomalies toward the east. We suggest that silicic magmas along the arc front reflect melting of relatively young, mafic composition amphibolitic source rocks and that the mid- to deep-crust becomes increasingly older with a more felsic bulk composition in which residual mineralogies are progressively more feldspar-rich toward the east. Collectively, these data suggest the continental crust becomes strongly hybridized beneath frontal arc localities due to protracted intrusion of primary, mantle-derived basaltic magmas with a diminishing effect behind the arc front because of smaller degrees of mantle partial melting and primary melt generation.
View Full-Text
►

▼

Figures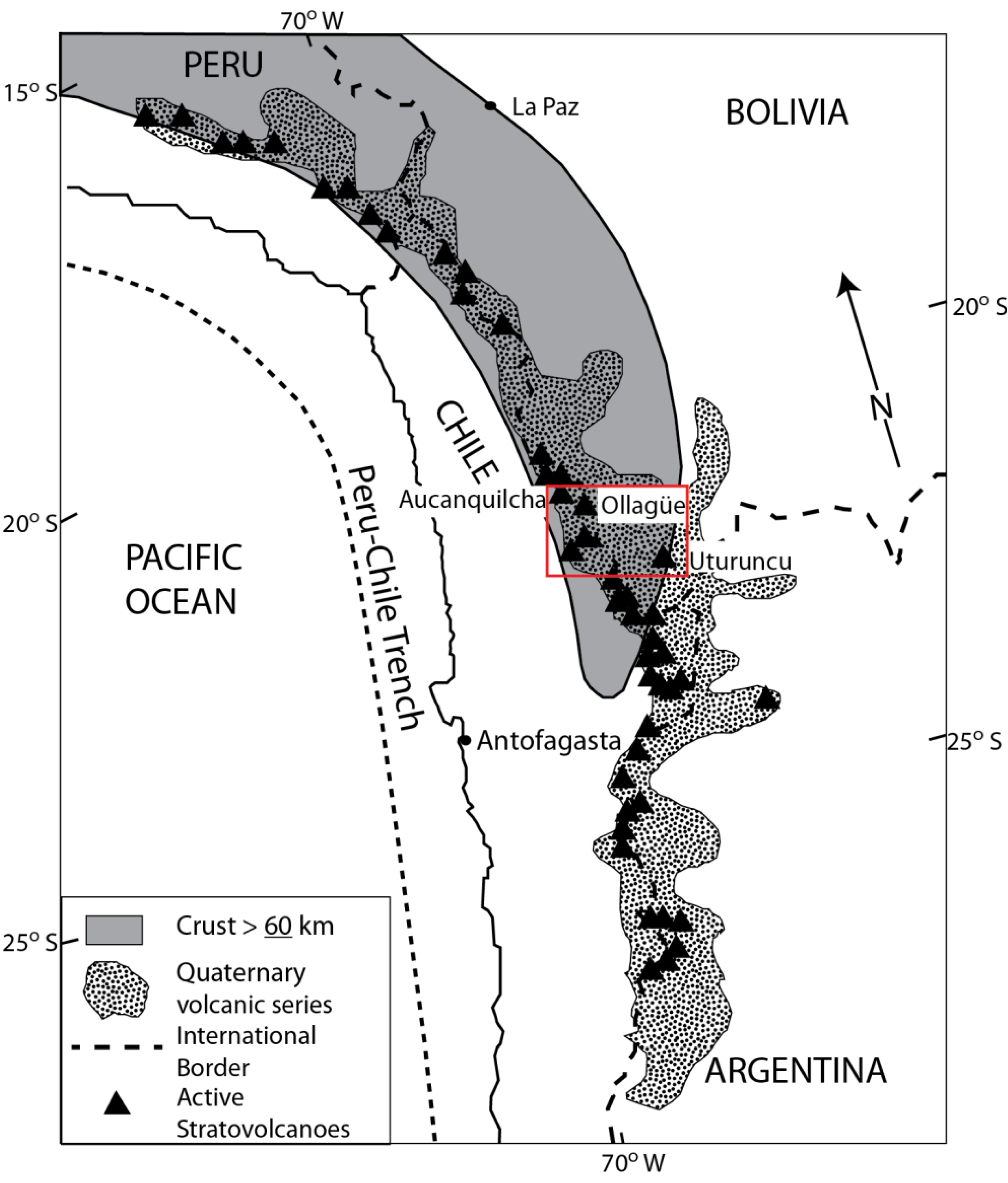 Figure 1
Share & Cite This Article
MDPI and ACS Style
Michelfelder, G.S.; Feeley, T.C.; Wilder, A.D.; Klemetti, E.W. Modification of the Continental Crust by Subduction Zone Magmatism and Vice-Versa: Across-Strike Geochemical Variations of Silicic Lavas from Individual Eruptive Centers in the Andean Central Volcanic Zone. Geosciences 2013, 3, 633-667.
Related Articles
Comments
[Return to top]