Cellular Immunotherapy: Using Alloreactivity to Induce Anti-Leukemic Responses without Prolonged Persistence of Donor Cells
1
Division of Hematology/Oncology, Rhode Island Hospital, Warren Alpert School of Medicine at Brown University, One Hoppin Street Coro West Suite 5.0.1, Providence, RI 02903, USA
2
Division of Hematology/Oncology, Warren Alpert School of Medicine at Brown University, Rhode Island Hospital, 593 Eddy Street, Providence, RI 02903, USA
†
These authors contributed equally to this work.
*
Author to whom correspondence should be addressed.
Received: 29 September 2013 / Revised: 21 October 2013 / Accepted: 11 November 2013 / Published: 15 November 2013
Abstract
A goal of cancer immunologists is to harness cellular immune responses to achieve anti-cancer responses. One of the strongest activating stimuli for the immune system is the encounter with cells expressing allogeneic HLA molecules. While alloreactive responses can negatively impact of the outcome of hematopoietic stem cell transplant because of graft-versus-host disease (GVHD), these same responses can have anti-leukemic effects. Donor lymphocyte infusions have been used in an attempt to harness alloreactive responses to achieve anti-leukemic responses. Because this protocol is usually carried out in the absence of recipient anti-donor responses, this protocol often induces GVHD as well as anti-leukemic responses. A recent study indicated the infusion of large number of haploidentical donor cells (1–2 × 10
8
CD3
+
cells/kg) into patients with refractory hematological malignancies (100 cGy total body irradiation) resulted in 14 (7 major) responses/26 patients. A rapidly developing cytokine storm was observed, while no persisting donor cells could be detected at two weeks after infusion eliminating the possibility of GVHD. Characterization of the effector mechanisms responsible for the anti-leukemic responses in this protocol, should guide new approaches for achieving enhanced anti-leukemic responses using this protocol.
View Full-Text
►

▼

Figures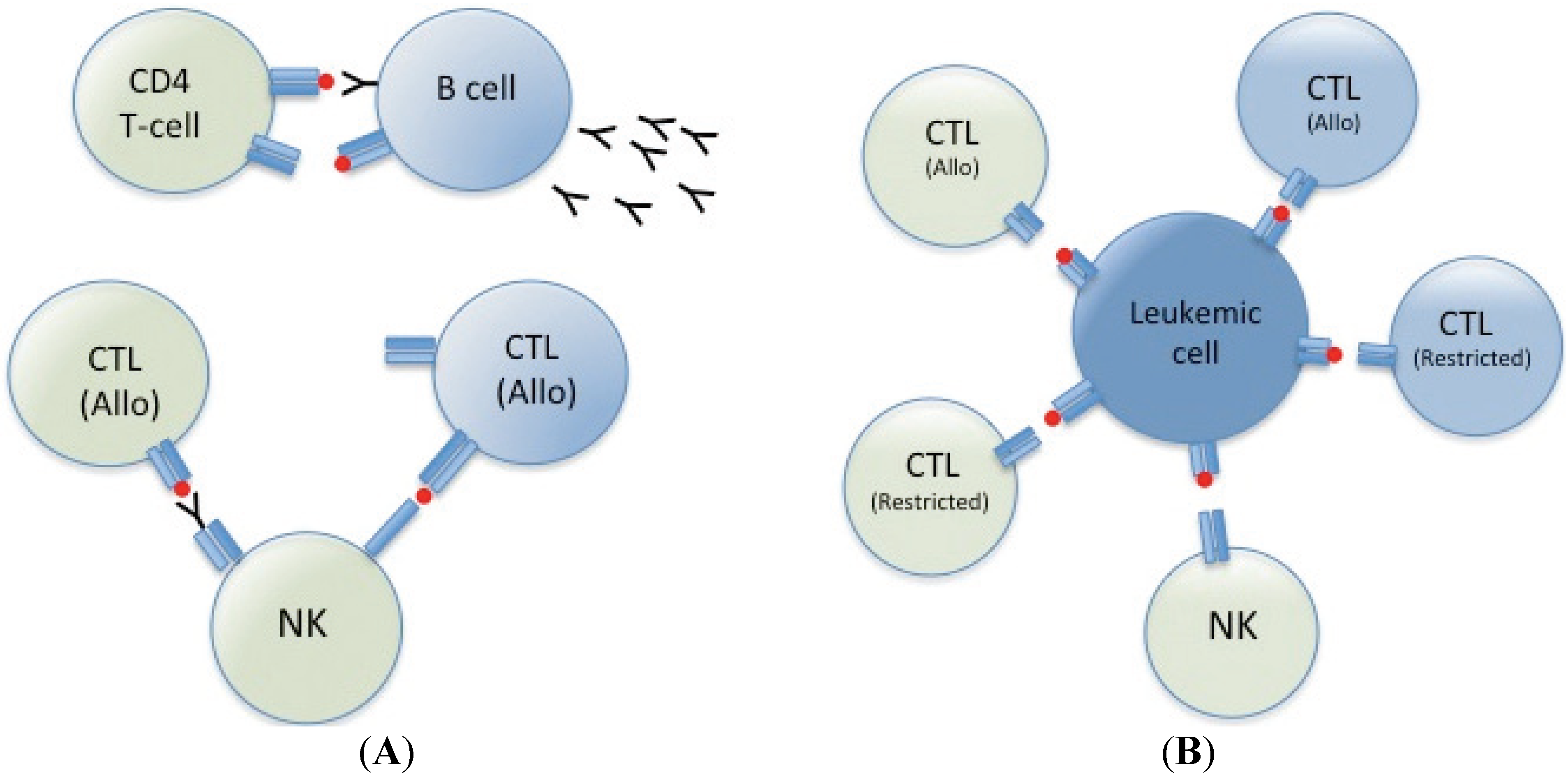 Figure 1
Share & Cite This Article
MDPI and ACS Style
Fast, L.D.; Reagan, J.; Quesenberry, P. Cellular Immunotherapy: Using Alloreactivity to Induce Anti-Leukemic Responses without Prolonged Persistence of Donor Cells. Med. Sci. 2013, 1, 37-48.
Related Articles
Comments
[Return to top]