Investigation of Cross-Linked and Additive Containing Polymer Materials for Membranes with Improved Performance in Pervaporation and Gas Separation
1
Institute of Physical Chemistry, Heinrich-Heine-University, Düsseldorf 40225, Germany
2
Institute of Organic Chemistry and Macromolecular Chemistry, Heinrich-Heine-University, Düsseldorf 40225, Germany
3
Institute of Inorganic and Structural Chemistry, Heinrich-Heine-University, Düsseldorf 40225, Germany
4
BASF SE, Advanced Materials and Systems Research, Carl-Bosch Str., Ludwigshafen 67056, Germany
*
Authors to whom correspondence should be addressed.
Received: 31 July 2012 / Revised: 24 September 2012 / Accepted: 25 September 2012 / Published: 22 October 2012
Abstract
Pervaporation and gas separation performances of polymer membranes can be improved by crosslinking or addition of metal-organic frameworks (MOFs). Crosslinked copolyimide membranes show higher plasticization resistance and no significant loss in selectivity compared to non-crosslinked membranes when exposed to mixtures of CO
2
/CH
4
or toluene/cyclohexane. Covalently crosslinked membranes reveal better separation performances than ionically crosslinked systems. Covalent interlacing with 3-hydroxypropyldimethylmaleimide as photocrosslinker can be investigated
in situ
in solution as well as in films, using transient UV/Vis and FTIR spectroscopy. The photocrosslinking yield can be determined from the FTIR-spectra. It is restricted by the stiffness of the copolyimide backbone, which inhibits the photoreaction due to spatial separation of the crosslinker side chains. Mixed-matrix membranes (MMMs) with MOFs as additives (fillers) have increased permeabilities and often also selectivities compared to the pure polymer. Incorporation of MOFs into polysulfone and Matrimid
®
polymers for MMMs gives defect-free membranes with performances similar to the best polymer membranes for gas mixtures, such as O
2
/N
2
H
2
/CH
4
, CO
2
/CH
4
, H
2
/CO
2
, CH
4
/N
2
and CO
2
/N
2
(preferentially permeating gas is named first). The MOF porosity, its particle size and content in the MMM are factors to influence the permeability and the separation performance of the membranes.
View Full-Text
►

▼

Figures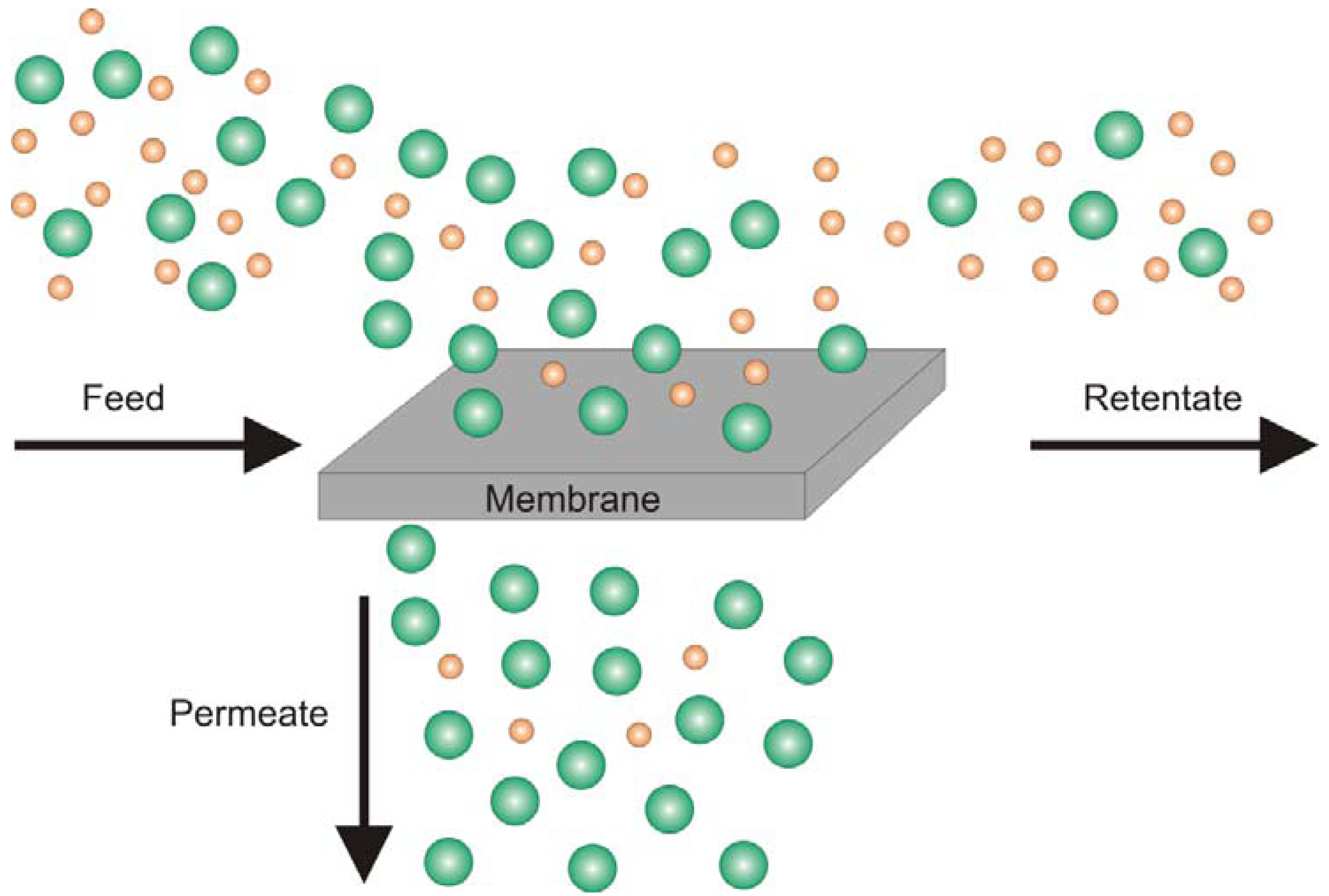 Figure 1
Share & Cite This Article
MDPI and ACS Style
Hunger, K.; Schmeling, N.; Jeazet, H.B.T.; Janiak, C.; Staudt, C.; Kleinermanns, K. Investigation of Cross-Linked and Additive Containing Polymer Materials for Membranes with Improved Performance in Pervaporation and Gas Separation. Membranes 2012, 2, 727-763.
Related Articles
Comments
[Return to top]