Citrate-Linked Keto- and Aldo-Hexose Monosaccharide Cellulose Conjugates Demonstrate Selective Human Neutrophil Elastase-Lowering Activity in Cotton Dressings
1
USDA-ARS, Southern Regional Research Center, 1100 Robert E. Lee Blvd., New Orleans, LA 70124, USA
2
Dillard University, 2601 Gentilly Boulevard, New Orleans, LA 70122, USA
*
Author to whom correspondence should be addressed.
Received: 20 January 2013 / Revised: 12 April 2013 / Accepted: 17 April 2013 / Published: 17 May 2013
Abstract
Sequestration of harmful proteases as human neutrophil elastase (HNE) from the chronic wound environment is an important goal of wound dressing design and function. Monosaccharides attached to cellulose conjugates as ester-appended aldohexoses and ketohexoses were prepared on cotton gauze as monosccharide-citrate-cellulose-esters for HNE sequestration. The monosaccharide-cellulose analogs demonstrated selective binding when the derivatized cotton dressings were measured for sequestration of HNE. Each monosaccharide-cellulose conjugate was prepared as a cellulose citrate-linked monosaccharide ester on the cotton wound dressing, and assayed under wound exudate-mimicked conditions for elastase sequestration activity. A series of three aldohexose and four ketohexose ester cellulose conjugates were prepared on cotton gauze through citric acid-cellulose cross linking esterification. The monosaccharide portion of the conjugate was characterized by hydrolysis of the citrate-monosaccharide ester bond, and subsequent analysis of the free monosaccharide with high performance anion exchange chromatography. The ketohexose and aldohexose conjugate levels on cotton were quantified on cotton using chromatography and found to be present in milligram/gram amounts. The citrate-cellulose ester bonds were characterized with FTIR. Ketohexose-citrate-cellulose conjugates sequestered more elastase activity than aldohexose-citrate-cellulose conjugates. The monosaccharide cellulose conjugate families each gave distinctive profiles in elastase-lowering effects. Possible mechanisms of elastase binding to the monosaccharide-cellulose conjugates are discussed.
View Full-Text
►

▼

Figures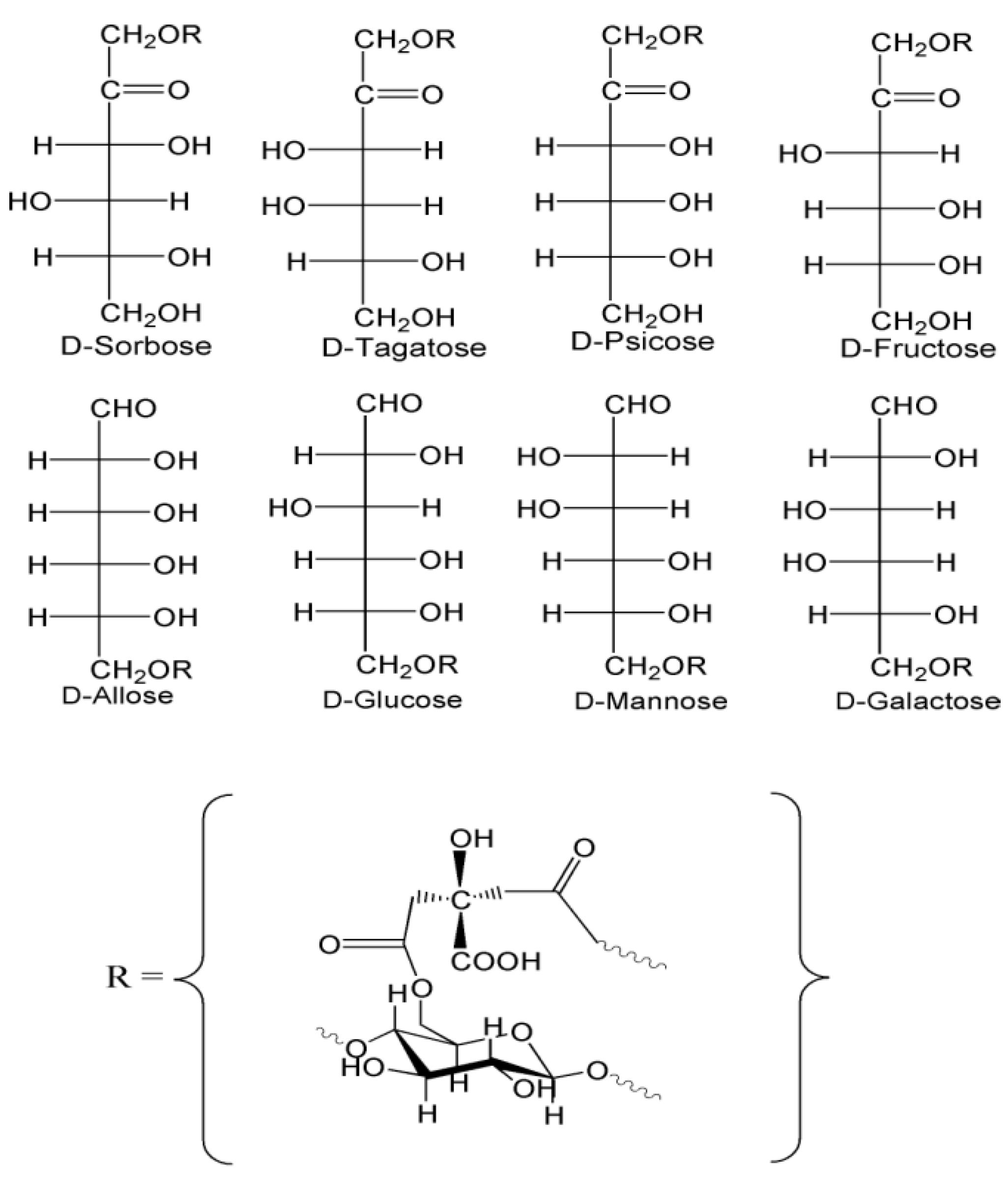 Figure 1
Share & Cite This Article
MDPI and ACS Style
Edwards, J.V.; Caston-Pierre, S. Citrate-Linked Keto- and Aldo-Hexose Monosaccharide Cellulose Conjugates Demonstrate Selective Human Neutrophil Elastase-Lowering Activity in Cotton Dressings. J. Funct. Biomater. 2013, 4, 59-73.
Related Articles
Comments
[Return to top]