3-Amino-8-hydroxy-4-imino-6-methyl-5-phenyl-4,5-dihydro-3H-chromeno [2,3-d ]pyrimidine: An Effecient Key Precursor for Novel Synthesis of Some Interesting Triazines and Triazepines as Potential Anti-Tumor Agents
1
Chemistry Department, Faculty of Science, Fayoum University, El-Fayoum, 63514, Egypt
2
Department of Chemistry, Faculty of Science, University of Cairo, Giza, 12613, Egypt
*
Author to whom correspondence should be addressed.
Received: 6 August 2012 / Revised: 27 August 2012 / Accepted: 20 September 2012 / Published: 27 September 2012
Abstract
A number of interesting heterocycles were prepared through interaction of the intermediate 3-amino-8-hydroxy-4-imino-6-methyl-5-phenyl-4,5-dihydro-3
H
-chromeno-[2,3-d]pyrimidine (
1
) and reagents such as hydrazonyl halides
2
to furnish triazine derivatives
4a
–
l
. Reaction of
1
with phenacyl bromide afforded compound
5
. Moreover, the title compound
1
was subjected to condensation with active methylene compounds (ethyl acetoacetate and ethyl benzoylacetate) to give triazipinones
8a,b
. The condensation with aromatic aldehydes afforded either the triazole derivatives
10a
–
d
or Schiff base
11
. In addition, the behaviour of compound
1
towards activated unsaturated compounds namely dimethyl acetylene dicarboxylate and ethoxymethylenemalonitrile was studied and it was found to furnish the triazine
13
and triazepine derivative
15
, respectively. Combination of title compound
1
with chlorinated active methylene compounds delivered the triazine derivatives
18a
–
c
. Reaction of
1
with chloroacetonitrile furnished compound
20
. The structures of the products were elucidated based on their microanalyses and spectroscopic data. Finally, the antitumor activity of the new compounds
4a
and
8a
against human breast cell MCF-7 line and liver carcinoma cell line HepG2 were recorded.
View Full-Text
►

▼

Figures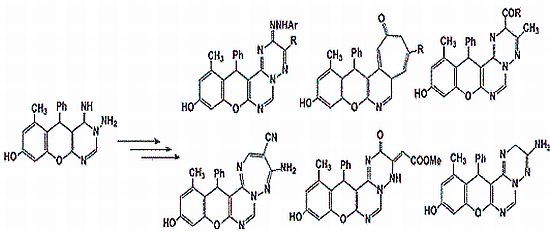 Share & Cite This Article
MDPI and ACS Style
Badrey, M.G.; Gomha, S.M. 3-Amino-8-hydroxy-4-imino-6-methyl-5-phenyl-4,5-dihydro-3H-chromeno [2,3-d ]pyrimidine: An Effecient Key Precursor for Novel Synthesis of Some Interesting Triazines and Triazepines as Potential Anti-Tumor Agents. Molecules 2012, 17, 11538-11553.
Related Articles
Comments
[Return to top]