Interaction Profile of Diphenyl Diselenide with Pharmacologically Significant Thiols
1
Department of Chemistry, Center of Natural and Exact Sciences, Federal University of Santa Maria, CEP 97105-900 Santa Maria, RS, Brazil
2
Institute of Chemical Sciences, University of Peshawar, Peshawar 25120, Khyber Pakhtunkhwa, Pakistan
*
Authors to whom correspondence should be addressed.
Received: 24 August 2012 / Revised: 27 September 2012 / Accepted: 29 September 2012 / Published: 19 October 2012
Abstract
Diphenyl diselenide has shown interesting biological activities in various free-radical-induced damage models and can be considered as a potential candidate drug against oxidative stress. Apart from its anti-oxidant activity, this compound can oxidize various thiols. However there are no detailed studies in the literature about the thiol oxidase-like activity of this compound against biologically significant mono and di-thiols with respect to various pH conditions. Keeping in mind the scarcity of data in this area of organochalcogen chemistry, we report for the first time the kinetics of thiol oxidation by diphenyl diselenide, which was carried out in a commonly used phosphate buffer, not only at physiological pH, but also at a number of acidic values. The relative reactivities of the different thiols with diphenyl diselenide were independent of the pKa of the thiol group, such that at pH 7.4, cysteine and dithiothreitol were the most reactive, while 2,3-dimercapto-1-propanesulfonic acid and glutathione were weakly reactive and extremely low reactivity was observed with dimercaptosuccinic acid. Rate of oxidation was dependent on the pH of the incubation medium. The results obtained will help us in the design of rational strategies for the safe pharmacological use of diphenyl diselenide.
View Full-Text
►

▼

Figures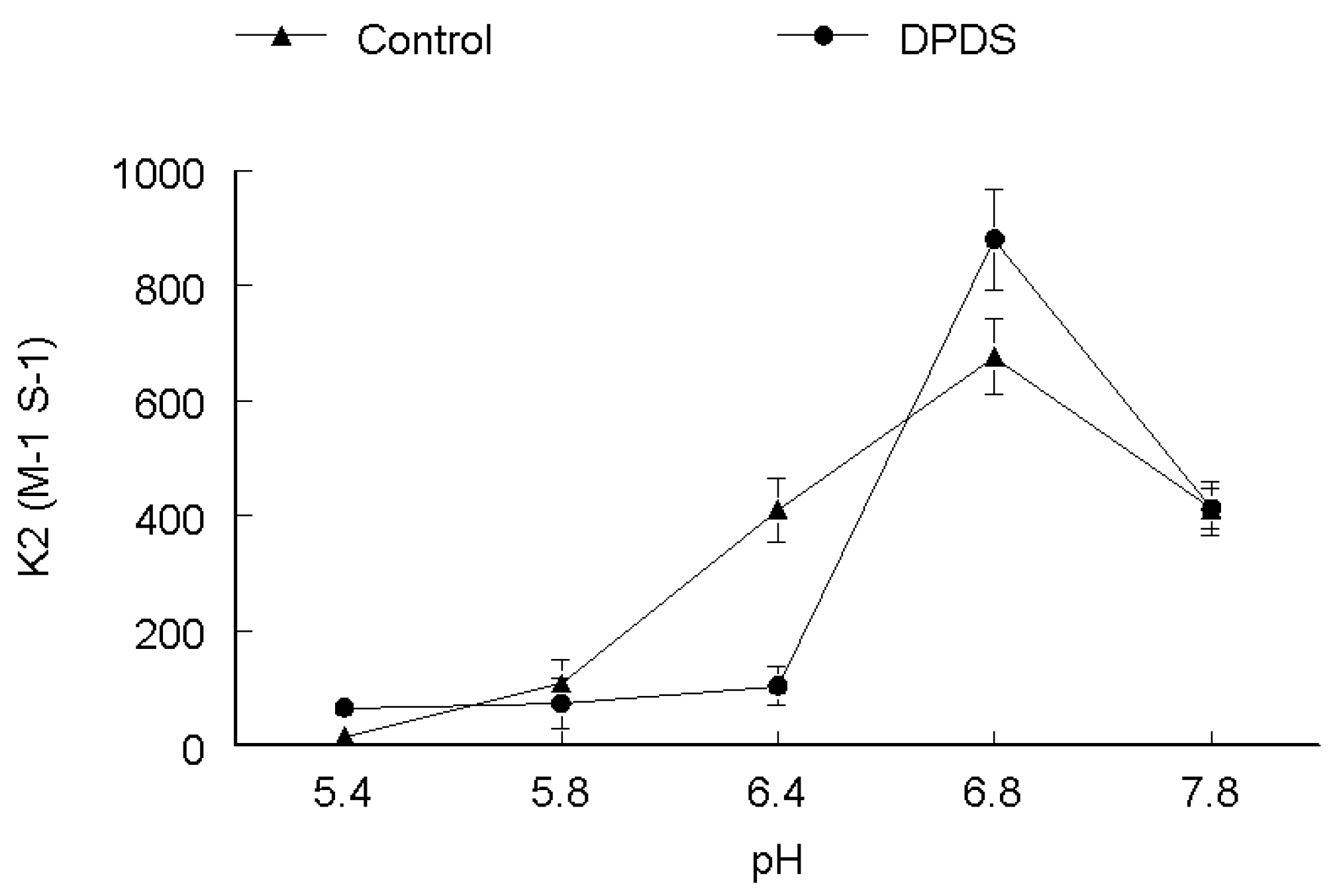 Figure 1
Share & Cite This Article
MDPI and ACS Style
Hassan, W.; Rocha, J.B.T. Interaction Profile of Diphenyl Diselenide with Pharmacologically Significant Thiols. Molecules 2012, 17, 12287-12296.
Related Articles
Comments
[Return to top]